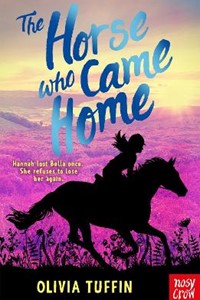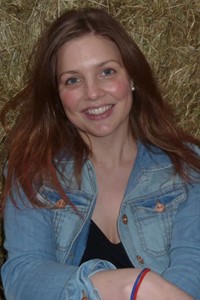 About Author
Olivia Tuffin lives on an arable farm in Dorset with her farmer husband Clive, two children, and an assortment of ponies, dogs, pet sheep and chickens. She never outgrew the pony-mad stage and her favourite thing to do is to ride off for hours into the countryside with her children.
She's always loved writing and wanted to write the kind of pony story she adored as a child. Her own ponies and their funny antics provide inspiration for her stories every day.
Interview
The Horse Who Came Home  (Nosy Crow)
July 2023
Read a Chapter from The Horse Who Came Home
The Horse Who Came Home is a heartwarming story about a girl's fight for justice, the truth that lies behind social media, and it's about horses and the special bonds that some people forge with them.  
In The Horse Who Came Home, Hannah decides to track the history of a pony she rescues, and discovers some alarming truths about her family and the horse racing industry. It's a story for people who love horses, or those who are looking for a great mystery adventure.  We asked author Olivia Tuffin to tell us more about The Horse Who Came Home. You can also enjoy a short reading in this author video.
"I hope my passion for horses shows in my writing. They are all horse focused, but I do weave in other storylines, friendship issues, family dramas, navigating life as an early teen."
Q&A with Olivia Tuffin
1.   You're obviously passionate about horses, when did you discover your passion? 
I was the quintessential pony mad but pony-less child. I had my first riding lesson aged eight, and was hooked from there on. I was the child who would leave my parents' home number pinned to a gate with horses in the field to ask if they needed any help, who would cycle the steepest uphill for the chance to ride a pony belonging to the big house at the top of the village.
I firmly believe that if you are passionate about something, it stays with you one way or the other - for me, that was from my very first loan pony as a teen; throughout my 20's when I bought a semi-wild pony from a dealer (and keeping him for the rest of his life); to now, pony club mum of two small children who both appear to love it as much as I do. My life with horses now is very much on the ground watching my children fly about on their ponies, which I enjoy just as much, if not more, than riding myself.

Olivia's passion for horses started as a young teen (pictured), and is one she now shares with her children.
2.   What kinds of stories did you enjoy as a child, and how have they influenced what you write now?
I read every pony book I could get my hands on. My father was a doctor and I used to wait in the town library for him to finish his clinic after school and discovered the joy of the Saddle Club books, the Jinny series and the older books too, the Pullein-Thompson books and just about everything in between. I think there is a certain snobbery about pony books, with the older books seen as superior, but honestly, I loved them all.
My books were actually more influenced by the modern series (when I was young!), so anything that involved scenarios I could relate to - riding schools, pony camp, friendships at the stables. I write pony books….simply because I don't think I could write, or enjoy writing, about anything else! I hope my passion for horses shows in my writing. They are all horse focused, but I do weave in other storylines, friendship issues, family dramas, navigating life as an early teen.

3.   Can you tell us about your new book, The Horse Who Came Home? Is it very different from what you've written before?
It's very different because it's a 'stand alone' book, whereas I have only ever written six books series before. It's also for a slightly older audience. I wouldn't describe it as 'gritty' but it does delve into some trickier issues surrounding the horse world, as opposed to say, my Sunshine Stables series for those aged six and up which is all pony camp, kittens, fancy dress and micro adventures! I really enjoyed the challenge of writing The Horse Who Came Home and was very grateful my publisher Nosy Crow trusted me with this story.

4.    Do you feel children who aren't keen on horse riding will still enjoy the book? What kinds of themes do you explore in The Horse Who Came Home?
The book is very pony centric, but it also explores the relationship between two very different sisters and their worlds clashing, and the idea that not everything you see on screen is real. I was also keen to steer away from any cliché romance, and so Hannah has a really strong friendship group with a boy and girl she has grown up with. I also explore family dynamics, and the way Hannah feels a bit differently from the rest of her family. I think Henry and Lucy, Hannah's parents, are interesting characters who haven't always made the best decisions.

5.    Do you have particular places or famous 'horse families' in mind when you were writing the book?
I love the moors, Dartmoor and Exmoor in particular, and tried to write them into the background of the yard. Equally, it could be the Yorkshire moors. Somewhere that can be both beautiful, and bleak all at the same time.
Heartwood is based on a house I knew from a previous life, a big, slate grey house that is softened by the moors, and could almost be part of them. I can see it so strongly in my mind. A house that would be described as imposing, rather than beautiful.
I haven't particularly based the people on anyone I know, or know of, but I am interested in the dynamics of well-known horsey dynasties, usually found in the show jumping world, and perhaps how the modern world looks and feels for their children/grandchildren. I guess I pick up snippets from every person I meet and work them into my characters one way or the other.

6.    Can you tell us about the sisters at the heart of the story, Hannah and Millie? How did their characters develop?
I wanted to write two very different characters, who ultimately are close, but who have taken very contrasting paths. I found their sibling dynamics really interesting to explore. I was very keen that I wrote Hannah's character as someone who shuns social media, and who can see straight through the pretty pictures. As the mother of a girl who is just teetering on the edge of 'tweens', I really wanted to set an example. Hannah and Millie really love one another, but often feel like strangers. I'm glad they re-established their bond at the end. Millie, despite a picture-perfect life, was lonely.
"I did really want to put forward the message that not everything is at it appears on screen."
7.    Can you tell us a bit more about why you decided to make Millie an influencer, and to show what life is like on the other side of the lens? 
I don't think there is any escaping the pull of influencers in the equestrian world. When I hear my daughter's conversations with her pony friends, there are several names mentioned, they look up to and admire them, and want to buy the items they use, from grooming brushes to saddle pads.
My daughter is too young for social media and a phone, which just goes to show how influential they are, featuring in her favourite magazines, on youtube, at events and shows. I watch the videos with her to make sure they are suitable, and it's fun, I know I would have loved it all as a child, but perhaps I look at it differently as a mother and adult.  I did really want to put forward the message that not everything is at it appears on screen.
Although Hannah and Millie are different, I actually think at heart they are very similar, but Millie has been pulled into this world, and Hannah has rejected it. I have no experience of influencer life myself, it's all observation! I'm at that in between age where I grew up without social media, or a camera phone, but now can't ignore the influence it holds so I try and understand it a little better, at the very least so I can advise and guide my children as they grow up in a digital age.

8.    What has been your favourite horse / horse moment in your life?  Have you had a connection with a particular horse, like Hannah does with Bella? 
My role now is groom and horsebox driver for my children, and I love watching their connection with their own ponies, it's a beautiful thing to witness, and there are too many favourite moments to mention. From the Shetland pony who taught them both to ride (and who we still own) to watching my daughter throw her arms around the neck of her pony after a great jumping round, or just stand quietly in the field with them.
But I think anyone who has owned horses has one they call their 'heart horse'. When I was in my early twenties, I purchased a pony for a few hundred pounds (the same one mentioned earlier on!). He hadn't had the greatest start to life and had already had a number of homes and I remember my boyfriend (now husband!) at the time questioning whether it was a good idea. But I insisted, so we took him, and I remember stopping at Fleet services on the M3 to check on him in the horsebox. I looked at him, and he looked at me, right in the eye, and it was as though something unspoken passed between us. He knew he was coming home to stay. From there on then, despite many, many tricky moments, he was very much mine. I was devastated to lose him in 2020. I often think about that moment at Fleet services when I write my books. And I can't drive past that same spot without a little smile now.
"Too many times I've seen adverts offering a horse free or very cheap to a good home...
These adverts send chills down my spine."

9.    You also explore what happens in the 'underbelly' of horse riding and stables; how much of this is based on what actually happens to horses that are sold on, and why did you want to write about it?
Owning a horse is a huge responsibility and I think with that comes the responsibility for what happens afterwards, when the pony is outgrown, or not suitable, or just too old to be ridden. Too many times I've seen adverts offering a horse free or very cheap to a good home; perhaps it can't be ridden due to an injury, perhaps it is just downright dangerous, although it will never say that in the ad.
These adverts send chills down my spine. Washing your hands of this responsibility is all too easy, in an 'out of sight and out of mind' way. There is a saying that there are fates worse than death, and for a horse, being dragged from home to progressively worse home and ultimately ending up at a sale, or abandoned, is one of those fates.
This is nothing new, look at Black Beauty. Of course it's not realistic to keep every single pony you own, very few can afford that in terms of space and finances. But finding good and suitable homes, and being totally honest, is a start. There is also the issue, just like dogs, of too many being bred, which is a whole story in itself. In my book, Henry didn't take responsibility for Bella, and the resulting butterfly effect led her to where she was eventually found by Rollo, the man who saved her.

10.   There are a number of loose ends at the end of The Horse Who Came Home - is a sequel on the cards?
For now, no sequel. The end is left open, and there is a lot to unpick. I like to imagine things are better moving forward, but the Bolands have a lot of changes to make as a family first, and I think things will be strained as they all pick up the pieces. But Hannah and Millie, now closer than ever and with Cara on side have their new vision going forwards, and I think eventually it will be ok. I think the stable name plaque was a big sign that things will work out.

11.    Where and when are your favourite times and places to write? Do you find writing hard or do you enjoy writing each and every book?! 
Both my children are at school, so the school days are my 'working hours' but my favourite time to write is either very early in the morning, or late in the night. My husband is an arable farmer and many of my books have been written with the lights of the grain tractors whirling around the kitchen at midnight, it's oddly peaceful.
I enjoy writing, and genuinely look forward to sitting at my desk. I have a tricky few days with every book, at around the one third mark, when I can't see a way forwards and hate the plot, the characters, everything! Once I have pushed through that, it then flows.  I have a rule that I don't read what I have written until the end, and then it's often a relief to find that actually, it's quite ok, and then as I edit it, I grow to really love it and am often sad when it's done because I have immersed myself in it for so many months.

12.    What does a favourite day away from writing look like for you?
It would involve ponies, the children, my husband, a picnic in the boot of the car, a dog or two and an adventure, a river or a moor to explore. Perhaps fish and chips on the way home...
Author's Titles