Patrice Lawrence: Happy Here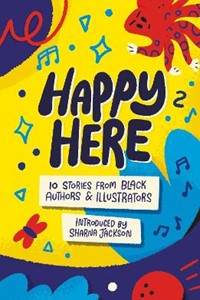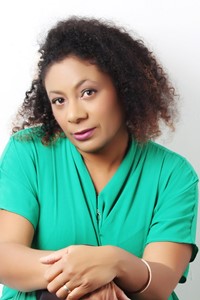 About Author
Patrice Lawrence was brought up in a Trinidadian-Italian family in Sussex, so had no other choice than to be a writer. She writes for adults, children, young people and any passing balls of flame that may be looking for a good read.
Interview
Happy Here: 10 stories from Black British Authors and Illustrators (Knights Of)
August 2021
Happy Here is a celebratory collection of short stories and poems by Black writers and illustrators. Author Patrice Lawrence tells us about her contribution, The After Ever After Bureau, which is illustrated by Onyinye Iwu, and how myths and fairy tales helped inspire the story.
1.  How did the Happy Here collection come about?  Why did you want to contribute a story? 
I've always loved reading and writing short stories. They're fun, but it's also a challenge to fit all your ideas into so few words. It's a tough year for Black people and as the reaction to England losing the Euros final shows, racism is constantly bubbling below the surface. I wanted to write a story that takes us away from the sadness.
2.  What makes The After Ever After Bureau a 'Happy Here' story? Can you tell us a little about it? 
I was inspired a little by Shrek and the idea of fairy tale characters living their best lives outside the stories. Marla and her mum live in a flat in Peckham, south London. They run the After Ever After Bureau which helps mythical, legendary and fairy tale folk have quick, joyful breaks in the real world. When their computer is hacked, Granny has to fly back from her retirement in Trinidad for one last job. Who is trying to destroy happiness?
What are the soucouyant in the story? Is this myth what helped inspire the story? 
Soucouyant pop up in different mythologies, but are basically women who are considered witches. In Trinidad, there's a vampire element. They can shed their skin and fly off into the night as a ball of fire. Come on - who wouldn't want to?
If you could be a soucouyant, how would you use it?
I would hire myself out to firework display organisers. I think a fireball of sparklers would make a great finale.
Why did you want to draw on folklore and mythology for this collection
I've always enjoyed myths and legends. I grew up in Sussex and loved the legend of St Dunstan grabbing the devil's nose with hot pincers! During lockdown, I'd been listening to Stephen Fry narrating his audiobooks on Greek myths and legends, so that must have definitely have had an influence! I am the queen of 'what if?' when developing story ideas - and throwing a mythical character into the modern world is a great way to start.
Who is your favourite character in The After Ever After Bureau?
The grandma! She flies transatlantic without a plane!
Has it become less difficult to draw on your cultural heritage in stories with the current changes in publishing, or is there still some way to go?
My first ever published books were reading scheme books - Granny Ting Ting and Wild Papa Woods that drew on Caribbean legends. I think that drawing on Caribbean heritage is fine if it's positive elements such as music and food, but exploring racism in the UK is still considered challenging.
What are you writing currently?
I have a story in the Egmont/Farshore anthology The Very Merry Murder Club that's being published later this year.
Author's Titles