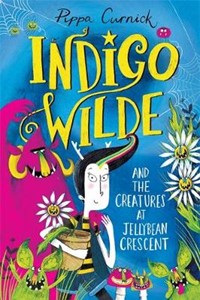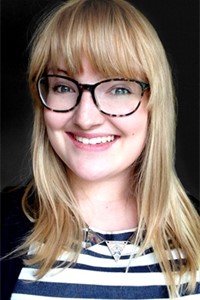 About Author
Pippa Curnick has always written her own stories and loves illustrating, so it's no surprise that she has now written and illustrated her first book, Indigo Wilde and the Creatures at Jellybean Crescent (Hodder Children's Books).
Pippa grew up in rural Essex and studied at Camberwell College of Art. She graduated from the University of Derby with a First Class degree in illustration. Pippa's picture book Lucie Goose was shortlisted for the Evening Standard's Oscar's First Book Prize. Pippa created the cover for Onjali K Rauf's bestselling, award-winning title The Boy at the Back of the Class, as well as beautiful picture books including Chatterbox Bear and Danny Baker's Lucie Goose. 
When she's not painting, drawing or writing you'll find her walking with her family in their back garden - the
Peak District
Her website is http://www.pippacurnick.com and you can follow her on Insta @pippa_curnick and on Twitter @PippaCurnick
Interview
Indigo Wilde and the Creatures at Jellybean Crescent (Hodder Children's Books)
June 2021
You never know what's hiding behind the next door at 47 Jellybean Crescent, because the house is home to a wonderful collection of magical creatures. But what happens when one of them is - invisible?! Author and illustrator Pippa Curnick tells us more about her new young fiction novel, Indigo Wilde and the Creatures at Jellybean Crescent:
Q&A with Pippa Curnick
1.  What took you into illustrating children's books?
When I was little I wanted to be an RAF pilot, until I realised I was both too short and too short-sighted. I then decided I wanted to be a scientist, but after spending much of my A-level maths classes drawing unicorns instead of doing any maths, I started to think that maybe a career that involved drawing might be a better fit. I had always loved drawing but never really knew you could do it as a job.
After school,  I studied Illustration at university and after that, I managed to get a job as a designer for Alison Green Books (Scholastic). This was really the springboard that got me into illustrating as I worked with so many wonderfully talented authors and illustrators and learned so much about the industry. After a couple of years of working on my portfolio in the evenings, I took the plunge and signed up with my wonderful agent, Claire. Since then, my work has gone from strength to strength.
2.  And now you're writing your own books as well?
I have always written stories ever since I can remember. On clearing out my parents' loft recently, I found some books I'd made as a child... 'The Extraordinary Tale of Cheese & Pickle' being one of my favourites.
I was a bit nervous about writing real life books, but I have my wonderful publishers at Hodder and my agent Claire to thank for their unwavering belief in my ability to write as well as draw!
3.  Can you tell us what your new book Indigo Wilde is about?
Indigo Wilde & The Creatures At Jellybean Crescent is about 11-year-old Indigo, who lives in a very strange house that is bursting with magical Creatures. Indigo's adoptive parents, Philomena and Bertram Wilde, are famous explorers and are always off on Important Expeditions, leaving Indigo and her little brother, Quigley in charge of the house and all of the dangerous and fascinating Creatures in it.
The problem with this, is that nobody is supposed to know about the Creatures and when Indigo's parents send them a new monster in the post (by Monster Mail) and it goes missing, the race is on to find it before their nosy neighbour discovers their secret.
There is an underlying theme of inclusivity and fitting in throughout the book, as almost all of the Creatures who live at number 47 have been shunned by their own kind, cast out, or abandoned, making Indigo's house a sanctuary where everyone can belong.

3.  Did anyone you know help inspire the characters?
My two children share a lot of the characteristics of Indigo and Quigley. Indigo is much more like my son - dependable and kind, whereas Quigley has much more in common with my daughter - mischievous and happy-go-lucky.
The llama-corn Graham, who eats everything in sight, was based on a pet goat my dad had as a child. One night it got into his house and ate one of their duvets!
4.   Indigo Wilde lives in an amazing house - can you tell us a little about it?
The very beginnings of the story started one night just after I'd had my daughter. I was standing at our bedroom window in the early hours of the morning and watching the lamppost out the front blow in the wind. It was so stormy and I noticed that even though everything was blowing about in the storm, there was a perfect spider's web on our lamppost that wasn't moving at all. The light was all weird and I started to wonder if our house was magic. In fact, that spider's web (and the spider) is still on that lamppost outside my window to this day.
The idea for the house itself came when we were doing some renovation work to our own house and I started to wonder if building control would realise if we added another floor, or a turret, or a waterslide. Unfortunately we didn't manage any of those things, but I can still dream!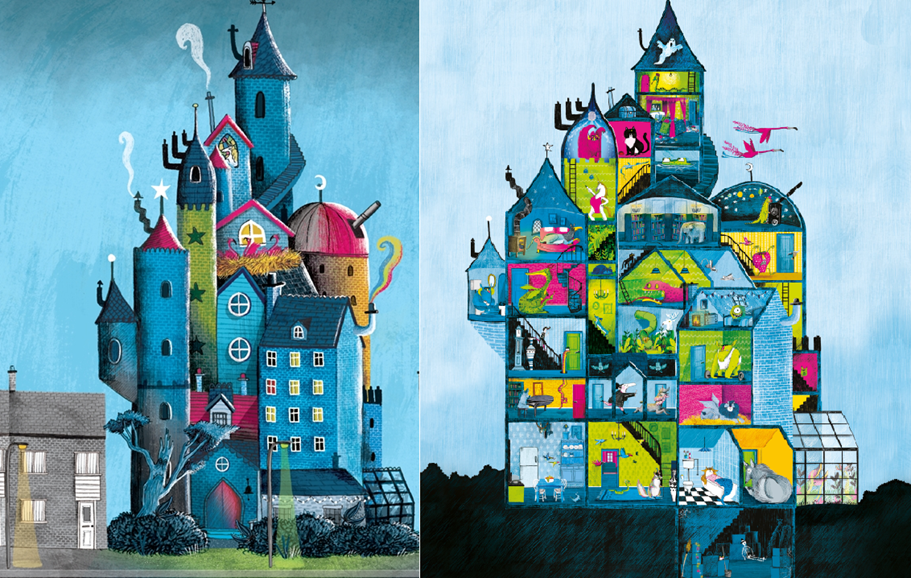 5.  Which of its features would you want in your own house?
I would definitely like a unicorn stained glass window. Or a singing chimney pot.
6.  Why did you decide to bring mythical creatures into Jellybean Crescent?
I have included a mix of traditionally recognisable Creatures like goblins and trolls alongside a cast of new Creatures of my own invention; like Graham the llamacorn, Fishkins the purrmaid and the stinky Stonk. I just loved the idea of there being no end to the possibilities for the inhabitants of Jellybean crescent. I wanted it so that you just never quite know who or what is coming next. For me, the book is all about imagination, so the wackier the Creatures, the better!

7.  So which of the mythical creatures at number 47 did you have the most fun creating?
I love Graham the llamacorn because he is full of energy and fun, and I quite enjoyed drawing his rainbow coloured poo.
8.  Why did you decide to illustrate the story? 
I wanted to create something heavily illustrated because I remember as a child feeling a bit bereft when the books suddenly had fewer pictures after I got 'too big' for picture books. I just wanted the illustrations to encourage even the most reluctant readers to give it a go.
Originally, the illustrations were set to be in black and white. But then I got a bit carried away and it somehow just seemed to work. I think the world of Jellybean Crescent is so colourful anyway that it needed the colour to really bring it to life.

9.  How do you create your illustrations?
My illustration process is fairly simple. I sketch everything by hand first and then scan it into Photoshop to add colour. I love the freedom of digital colouring but also love the therapeutic nature of hand drawing, so this process gives me a bit of both.
10.   What's next for Indigo and Quigley?
I am working very hard on book 2. In this book, we see Indigo and Quigley leave the comforts of Jellybean Crescent to go on a dangerous and mysterious mission in the Unknown Wilderness. There are plenty of new Creatures to discover, new friends to meet, lots of ice cream and a surprising twist!
11.  What writers' snacks keep you going?
I am partial to a bourbon biscuit or a large bar of dark chocolate.
12.  What would your dream studio / writer's shed look like?
At the moment, I work from a corner of our bedroom, which isn't ideal! It is very quiet, though, and I can just about see some sheep out the front window, but I do spend a lot of time dreaming about a studio space that has tons of light and plants and a lovely view out over fields. One day!
13.  What do you enjoy doing when you're not working?
For me, drawing was always my go-to for relaxing, but now it's my job I've had to find other creative outlets for down time. I love crochet, sewing and painting. I've got two children and a gigantic fluffy cat who keep me very busy, too. We are always out walking and exploring. I also love swimming and the odd spot of gardening.
Author's Titles