Indigo Wilde and the Creatures at Jellybean Crescent: Book 1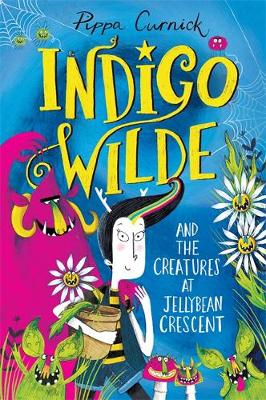 By Author / Illustrator
Pippa Curnick
Genre
Magical Realism
Age range(s)
7+
Publisher
Hachette Children's Group
ISBN
9781444954975
Format
Hardback
Published
10-06-2021
Synopsis
Enter the colourful world of Indigo Wilde and the magical creatures who live at Jellybean Crescent. When a highly dangerous new arrival goes missing, the race is on to catch it before disaster strikes ... A wonderfully wild new series for readers of 7+ and fans of Pippi Longstocking and Amelia Fang.

Discovered in the Unknown Wilderness when she was just a baby, Indigo Wilde was adopted by World-Famous Explorers, Philomena and Bertram, who are always off adventuring.  Home for Indigo and her little brother, Quigley, is 47 Jellybean Crescent, a crazy and colourful house full of magical creatures that her parents have taken in over the years. There's Fishkins, a purrmaid - half-cat, half-fish, and ALWAYS grumpy; Graham, a llama-corn with a particular taste for tinsel; Olli and Umpf - bright pink and blue yetis who can't blend in to the snow, and that's to name just a few of the creatures.

And now Indigo's parents have sent another Monster Mail delivery to Indigo and Quigley. But this time, the box is empty, and the escaped creature is running rampage around the house. The race is on to catch the creature before it's too late ...

First in a new series by Pippa Curnick, this is gorgeously illustrated in full colour throughout.
Reviews
Ellen
What an appealing read! I was immediately drawn to the strong, magical cover and the colourful inner pages and looked forward to finding out more about the secret life of Indigo Wilde and her family - and the magical creatures they secretly look after!
Indigo Wilde and her little brother are left to care for a menagerie of (magical) creatures that their adoptive explorer parents have brought back from various expeditions. All is under control until a box arrives and Indigo lets loose its contents - an invisible something, that has a penchant for nibbling everything it comes across, while the neighbours are becoming increasingly curious about the goings-on at 47 Jellybean Crescent.
Indigo Wilde is a wild ride, hugely imaginative and with lots happening, from overflowing baths and surprises behind every door to nosy neighbours who could bring everything crashing down for the family. The colourful, detailed illustrations and action-packed pages will keep children turning the pages to find out what happens next in this lively story, ideal for children who are growing confidence as readers.
160 pages / Reviewed by Ellen Green
Suggested Reading Age 7+
Other titles