Polly Faber and Harriet Hobday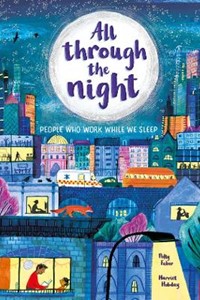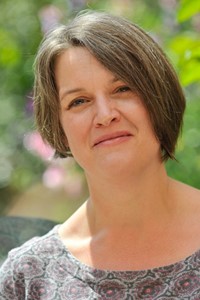 About Author
All Through the Night, the new picture book from Polly Faber and illustrator Harriet Hobday, celebrates those who work for their communities during the night.
Polly Faber's grandfather set up the publishing house Faber & Faber so she grew up reading, and read more at university where she studied English and wrote and performed in comedies. After that, she trained as a midwife but stopped working when she had her own children; that's when she started to write her own books, including Picking Pickle and the Mango and Bambang books. Today she lives in North London with her husband and two sons.
Harriet Hobday would spend hours drawing as a child, filling sketchbooks with imagined characters and scenes. Little did she know that she would become a (real!) Illustrator for a living. She studied Illustration at The Cambridge School of Art, lived in Edinburgh for a while, and has now returned home to Yorkshire, where she spends her days making books, causing havoc in the kitchen and watching videos of Elephant Shrews.
Interview
All Through the Night: The People Who Work While We Sleep  (Nosy Crow Books)
October 2021
All Through the Night is a celebration of the people who work for our communities during the night, when most of us are asleep. Written by Polly Faber, author of the Mango and Banmbang books, and illustrated by Harriet Hobday, it shows the kinds of jobs that need to be done at night time, and the people who do them.
We asked Polly Faber and Harriet Hobday to tell us more about All Through the Night.
Q&A with Polly Faber 
1. Can you tell us a little about All Through the Night and what inspired it?
All Through the Night introduces some of the people who work night shifts in a busy city in a variety of different roles. It's narrated by a girl going to bed as her mum goes off to work but her mum's job is not revealed until the end of the book. Once readers know what she does, I hope they'll have fun going back to spot her in each spread.

2. How did you decide which jobs to cover? Have you ever done a job that involves working at night time?
I had a long list and it was hard to choose! Because we wanted to keep a city focus for the book that helped narrow it down (so I send apologies to farmers and power station workers among others who missed out...). I wrote this during the first lockdown of the pandemic and I really wanted to highlight some of the everyday but essential jobs that people were still leaving the safety of their homes to carry on doing for the rest of us.
I have done two of the jobs featured in the book: I'm a mum and did my share of night time pacing when my boys were babies, but I also worked as a midwife for ten years and was regularly called out in the middle of the night. It's fair to say I'm not a natural 'owl'. I continue to have huge admiration for those who work the night shift.

3. Was this also written as a celebration of night time workers - people doing jobs that we often don't see?
Absolutely! It was very important to me that this story placed those people central and didn't just focus on the perhaps more glamorous/better paid night-working jobs. This year we've all really come to feel the value of the cleaners and transport workers and delivery drivers as well as our medical staff: They've all been our real heroes.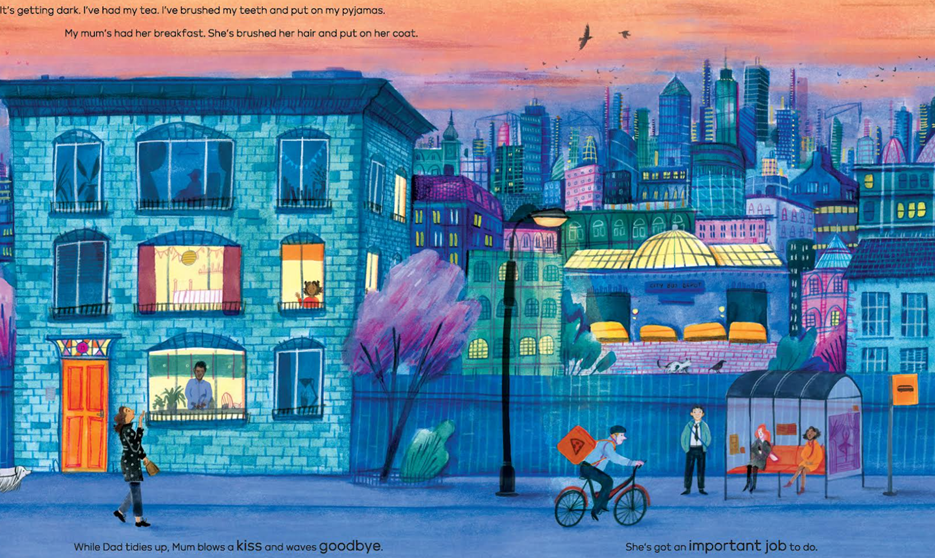 4. How did you plan the story so that the text flows?
Once I'd decided on my narrator and got the framework for my story it was pretty straightforward. Some jobs featured are evening jobs and some are early morning jobs so there's a linear approach too. Where possible the jobs link in to each other and different characters can be seen reappearing on different spreads.

5. Why is it important that children get to know about the world at night time?
Night time is a whole other mysterious world when you're a child; a bit exciting but also potentially frightening - I think it's helpful to make it familiar and to think of all the normal things carrying on safely when you're sleeping; all the people still looking out for you. I've been so pleased to get feedback from parents who work night shifts who have found the book valuable in helping their own kids understand where and why they disappear each evening.

6. What do you think of Harriet's illustrations? Any favourites?
Her illustrations are BEAUTIFUL. I actually gasped when I first saw them. I'm in love with her colour palette which has managed to keep some of the glamour of a city at night but also make it feel warm and unthreatening. I love the level of detail she's included and all the animals to spot too. My favourite spread would probably be the one where mum's job is revealed and the whole city skyline seen at dawn.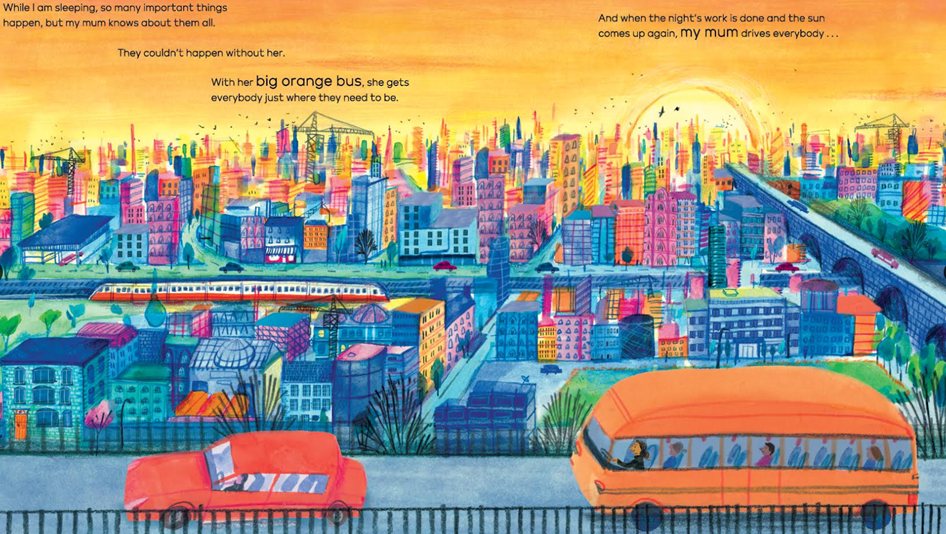 7. You've also written about Building a Home; do you enjoy writing these non fiction narratives? Are you planning other picture books about the work people do?
I have and I love writing them! It's a form of writing I've sort of fallen into but I'd love to write more. I think using a narrative hook is such a useful way to explore a subject for small children and a brilliant bridge into more detailed non-fiction. I'm delighted to say that Nosy Crow are publishing a follow up to Building A Home, also illustrated by Klas Fahlen next year. It's called Special Delivery: A Book's Journey Across The World and is crammed full of delivery vehicles. I have a great love for container ships...

8. What are you writing currently? Where and when do you prefer to write?
I've found writing in the pandemic hard to be honest. I feel my brain is just beginning to crank back into gear after a lot of false starts. I have some ideas for other narrative non-fiction that I want to explore and some other picture book ideas. I tend to write in the morning - I'm lucky to have a small office at home. I definitely do NOT write all through the night!

9. Are you back doing events in schools? Can you tell us a little about them if so?
I love to do events in schools and as I'm a reading volunteer in a local Primary school I never really stopped going in to school. I've written a range of books for different ages so my events are adaptable and tailored to what a school needs. One thing I'm always at pains to stress in any event is how poor my own handwriting was/is and how tricky I found the physical act of writing as a child. It's such an unimportant part of story-making but it can feel all important when you're seven and struggling to make your letters go where you want them to.

10. What do you most enjoy doing to relax?
I enjoy walking, cold water swimming, hanging out with my cats (and my family...) and I've recently got into making rather freeform quilts. I've also got a very serious Korean drama watching habit so I'm feeling a bit smug and ahead of the curve now everyone's talking about Squid Game.
Q&A with Harriet Hobday
1.  Why did you want to illustrate this text?
When I first saw the text for All through the Night I knew I had to take the project on. I love illustrating both cityscapes and night scenes and it's something that consistently inspires my work. I also felt it was a huge privilege to work on a project that celebrates key workers and celebrates the night workers that are so often overlooked.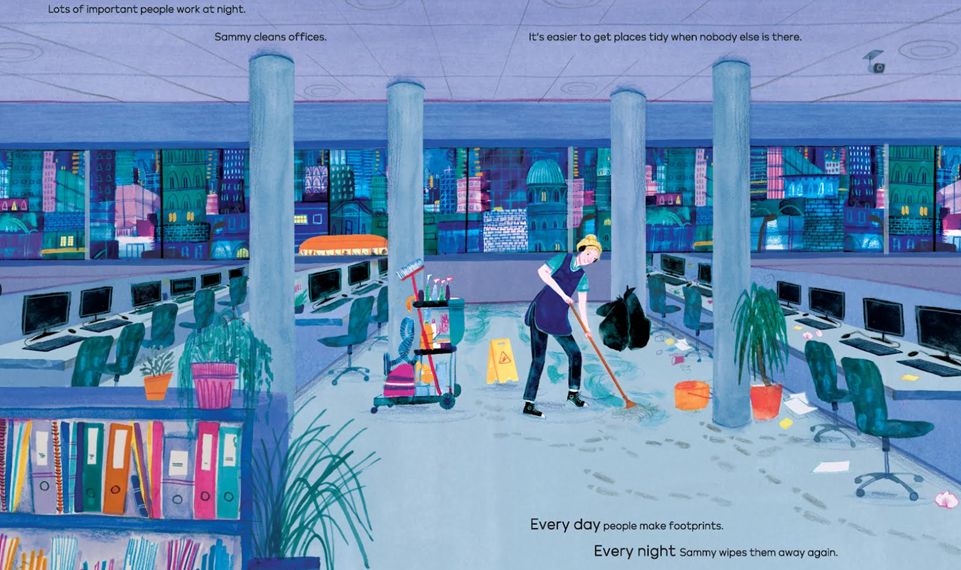 2.  Was it a hard one to illustrate, given that you're covering night time activities? 
I did find the project a big challenge! I think the hardest part for me was creating consistencies within the fictional city and making the reader feel that the spreads were connected. I wanted to create a sense that this could be a real place and that the characters belonged in it.
Most of the characters can be spotted on multiple spreads, as well as the orange bus being on every page! I also found some of the scenes particularly difficult to draw, I never thought I would have to illustrate a petrol station or people using a digger to fix train tracks for example, but with the support of the brilliant designer Emma we got there and I'm really proud of the result.

3.  How do you show that an illustration is night time rather than day time?  Did you need a lot of practice to get it right?
To create the feel of night time in the illustrations I created a limited colour palette of deep blues, greens, blacks and purples and small accents of orange. I used a combination of these dark shades to create the tones of night as well as adding elements of light and shadow with things like streetlights and the moon to create a strong night atmosphere. I tried to create subtle shifts in the light and palette as you flow through the book and the night turns in to day again.

4.  The story centres on a town or city - what challenges do those present for an illustrator?
The story revolving around a city was a challenge in many ways. They are dense and built up, verychallenging for perspective! It was also important to create a city that people all around the world could connect with so I wanted to make the architecture and elements of the city generic yet familiar.

5.  How much scope did you have to illustrate the text, for example to avoid stereotypes and include representation?
I was allowed plenty of scope as well as being given lots of helpful direction by the wonderful team at Nosy Crow. Avoiding stereotypes and reflecting the wonderful diversity of the people who work and live in our cities was crucial to the success of the project and hopefully that's something that we achieved in the final book.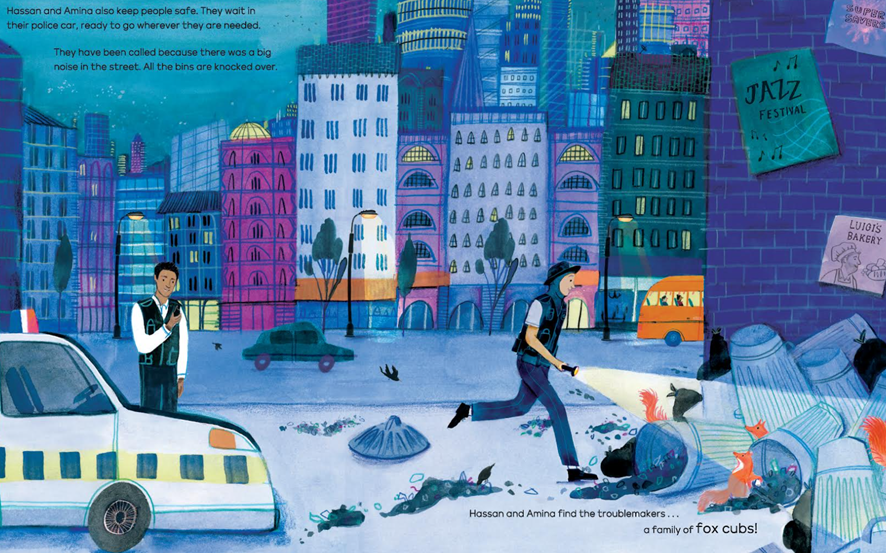 6.  How do you create your illustrations? Do you have a favourite spread?
I create my illustrations traditionally using washes of gouache and add details with coloured pencil. I scan these in and refine them digitally, adding in extra smaller elements and details on top where needed.
My favourite spread is definitely the first spread, I'm really pleased with the way elements of the story are introduced. We see the city, get a sense of the family and the bus station too. I'm really happy with how I've reflected the time of early evening through the limited colour palette too. I hope that it entices you to keep on reading the rest of the book.

7.  What else are you currently working on? Where do you do your illustration work?
I started producing this book in my studio In Edinburgh and finished it back at home in my bedroom I'm Yorkshire. I think city life in Edinburgh definitely inspired the early sketches. The bus station in the book is based on one near my old house! I'm now finishing up a non fiction project where I'm drawing lots of animals and nature, very different from the cityscapes and human characters in All through the night!

8.  What are your favourite escapes from your studio?
As much as I love living in a city, studio escapes are very important. I love getting outside in nature and going on long walks (especially in autumn). Getting outside with my sketchbook is a real treat and something that feeds back in to my illustration work.
Author's Titles