All Through the Night: People Who Work While We Sleep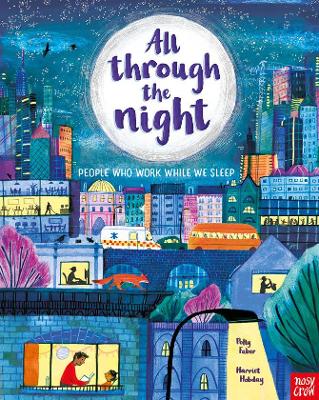 By Author / Illustrator
Polly Faber, illus Harriet Hobday
Genre
Picture Books
Age range(s)
5+
Publisher
Nosy Crow Ltd
ISBN
9781839943379
Format
Paperback / softback
Published
07-10-2021
Synopsis
A beautifully illustrated picture book exploring the jobs that keep a city running all through the night, and make it ready for the new day.
The sky is getting dark. In a big city, a little girl is eating her dinner, brushing her teeth and getting ready for bed. Meanwhile, her mother is putting on her coat and getting ready to go to work. But where will she go, and who will she see along the way? As the night goes on, follow nurses, cleaners, delivery workers, doctors, police officers, journalists and many more. Meet the people doing the important jobs that help keep the city running all through the night, ready for the next day to come.
Every Nosy Crow paperback picture book comes with a free 'Stories Aloud' audio recording - just scan the QR code and listen along!
Video and Q&A with author Polly Faber & illustrator Harriet Hobday
Reviews
Lucy
All Through the Night: People Who Work While We Sleep is a really lovely book! It tells a story of people who work in different roles during the night. Many children probably presume that everyone is at home sleeping during the night, so it is a good eye opener into what actually happens around the world.
The book includes all sorts of different roles from an office cleaner, a lorry driver and a security guard to a midwife in a hospital. It also includes people from many different cultures and parts of the world, which is incredibly important for children to see.
The book is filled with beautiful illustrations and packed with colour which will definitely entice children of all ages! Overall, a really enjoyable book which will help to educate children in many ways.
Picture book / Reviewed by Lucy Newton, teacher
Suggested Reading Age 5+
Natalie J.
In All Through the Night: People Who Work While We Sleep, Polly Faber and illustrator Harriet Hobday have created an engaging and absorbing factual picture book which tells the story of what happens in one night across a busy city environment.
An unnamed little girl narrates what happens in her home city as she sleeps, from when her mother leaves the house to go to her night job to when she arrives back in the morning, just as the girl is having her breakfast. We don't learn what the mother's role is until the end of the book, but eagle-eyed readers will notice that a visual clue appears on each double-page scene in a very nice interactive element.
This lovely touch by Hobday adds to the rich, vivid detail of each illustration where the vibrant colours, patterns, and textures leap off the page and the wealth of detail such as various characters moving throughout the book to appear on somebody else's scene makes it very immersive and allows this nocturnal world to become an interlinked community - one in which the mother is a key figure, but could be largely overlooked. From encountering an office cleaner and security guard to police, ambulance, and hospital staff, from a news crew and a band to supermarket and bakery workers, from a delivery driver to railway workers and to new parents and babies, there are a wealth of inhabitants in this multicultural community, all of whom are named and roles explained in Faber's concise unfussy writing.
This is a dynamic book, full of energy and purpose, with lots of characters to meet and stories to tell, (especially if you look beyond the focal images), that wonderfully opens up the busy city world at night to young readers.
32 pages / Reviewed by Natalie J. McChrystal Plimmer, librarian
Suggested Reading Age 3+
Other titles