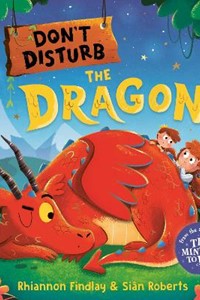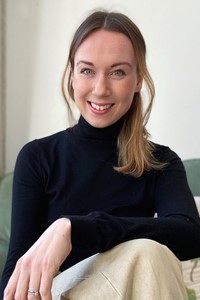 About Author
Rhiannon Findlay is a rising star in the world of children's picture books, whose talent for rhyme and imaginative story-telling has made her books must-haves at bedtime for toddlers across the world. Findlay lives in Hertfordshire, England. When she's not writing, she can be found exploring, playing and reading with her young daughter, who provides endless inspiration for her stories. Under the name Rhiannon Fielding, she wrote the Ten Minutes to Bed series, which has sold over one million copies in 20 languages.
Interview
Don't Disturb the Dragon   (Puffin)
July 2023
Visit Wingbeat Island where a dangerous dragon is lurking.... Rhiannon Findlay's Don't Disturb the Dragon follows a princess who is searching the island for her younger brother who has gone missing - but can she find him without disturbing the dragon?
Review:  'There is lots to explore for young children, making this a very interactive story - it would be great to share with a group of children, as well as a lovely one-to-one read.  The illustrations are colourful and fun with plenty to find on the pages.'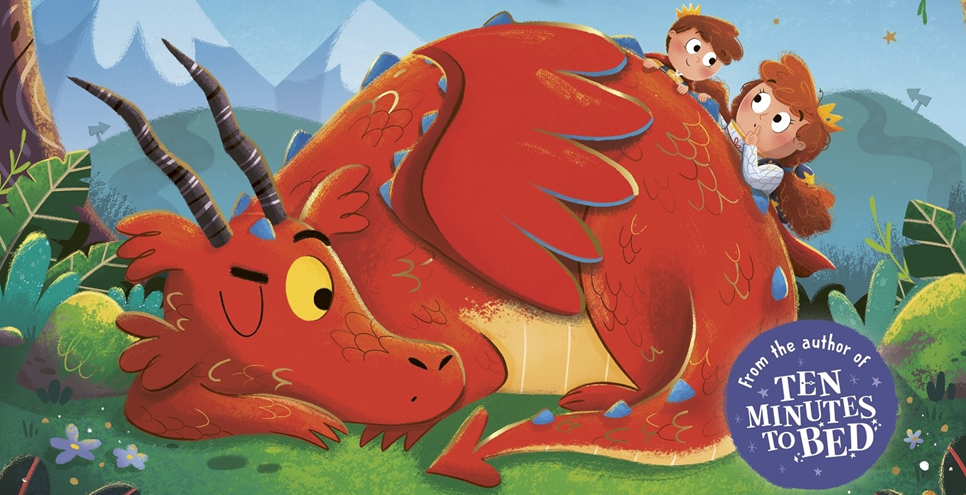 Q&A with Rhiannon Findlay
Author Rhiannon Findlay talks to ReadingZone about writing rhyming text, the kinds of books she shares with her young child, and what she has planned for Wingbeat Island!
1.   Can you tell us a little about yourself, and what you do when you're not writing picture books?
Hmm… reading them - or putting them away! My two-year-old is a book fanatic, so they tend to follow me around and turn up some pretty unlikely places. When we're not reading together, I spend a lot of my time making up rhymes and songs for her, which can (on occasion!) be helpful in terms of writing inspiration. I love to paint - it's a brilliant way to unwind. And one of my absolute favourite things is going on long walks - the wilder and more remote the better, so long as snacks are featured.

2.   What drew you into writing children's stories?
After graduating (English Lit), I started my career in Children's Publishing, working as an editor alongside a team of talented designers. Text and illustration are so fundamentally interlinked in children's books, and I loved being able to explore that interplay between the two. Working alongside such talented illustrators is such a privilege and is one of my favourite things about being a picture book author.
I've always dabbled in poetry and loved writing stories, so I was keen to try my hand at writing picture books - and writing in rhyme felt like the natural route for me. Luckily, it worked out, and here I am! It still doesn't quite feel real, as it's been such a rapid and jam-packed journey: we've published 10 Ten Minutes to Bed books in the past five years. I feel incredibly grateful!

3.   Yes indeed - the Ten Minutes to Bed picture books have now sold over 1m copies. Why do you think these were so popular?
I'm honestly still blown away by how successful the series has been. There are over 2 million TMTB readers worldwide, which I find completely staggering! When I first thought up the concept, I wanted to create a series of books that children would love but that would also help parents with getting their kids to wind down at the end of the day.
To help with this, as well as using softer, dreamier language towards the end of each book, we deliberately use a colour palette that goes from vivid and bright to duskier and darker as the story goes on, something Chris Chatterton, the illustrator for this series, has done really effectively. Speaking of Chris, he is without doubt one of the main reasons this series has done as well as it has! His characters are friendly and appealing, and I feel there's a softness to his landscapes that makes them extra magical.
The other important thing for me was creating a mythical world where characters could pop up in each other's stories, and where children could get to know the Land of Nod and imagine who else might live there - a collectability, I suppose. There's something reassuring in buying a book where you know what to expect in terms of style, tone, structure and quality of illustration.

4.   What kinds of books have you most enjoyed sharing with your own little one?
All sorts! We love the Hairy Maclary books - Lynley Dodd's pacey, rhythmic rhyme is such a joy to read aloud. I personally love anything by Jilly Murphy, for the on-point depictions of life with kids - the parental humour in her books is incredible. Lara adores the Bear & Hare series of board books by Emily Gravett, as do I - being that clever and witty in so few words belies real talent, and combined with her loveable illustrations, they're a go-to in our household. Our favourites do tend to be stories that have a rhyme or structure, especially if there's a chance for Lara to join in with repeated refrains.

5.   What kinds of books do you enjoy writing? Do you find rhyming text challenging to write?
I love to write to a rhythm or rhyme scheme, and actually I often start there before the words themselves take shape. I get a certain rhythm going round and round in my head, and I find myself filling it in with rhyming phrases that gradually evolve into a story! I most enjoy writing stories that include a magical atmosphere, and always try to include less commonly-used vocabulary for children to explore.
Writing in rhyme does come with its own set of challenges, but I don't feel they're limitations - if anything, I love the task of thinking up new and unexpected rhymes. It's very satisfying!

6.   What happens in your new picture book, Don't Disturb the Dragon? 
Don't Disturb the Dragon! is really all about the power of imagination. Everyday objects are reimagined throughout the story, with the protagonist continually fearing that she is about to wake up this enormous, terrifying beast as she heads out on a quest to find her baby brother, who has crawled off on an adventure of his own. It features plenty of prepositions - up, under, across, over, through - and opportunities for interaction.

7.   Do you have more adventures planned for Wingbeat Island? Can you tell us a bit more about the island - which even has its own map?
Readers will travel around Wingbeat Island as they tiptoe through the story - from gloomy caves to rapid rivers, enchanted fortresses to smouldering volcanoes, it's an island full of mystery!
Siân Roberts, the illustrator, has done such a wonderful job of bringing it to life. I can't say too much about future adventures, but there may be a clue on the final page… think not just one island, but a whole archipelago…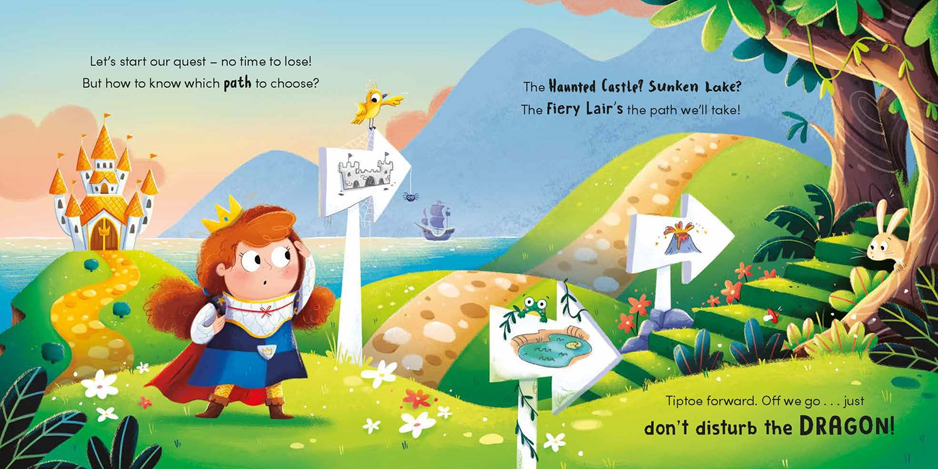 8.   Are there any activities you can suggest for parents or teachers to follow-up the story with their children?
Don't Disturb the Dragon! lends itself nicely to an interactive read-aloud, e.g. encouraging children to join in with actions, sound effects and of course the repeated line 'don't disturb the dragon!'.
After you've read the story, there are plenty of opportunities for small world play, using a tuff tray and collecting different items from the story. One aspect you might like to focus on is the dragon-fighting kit listed at the beginning of the story and seen throughout, which features all manner of fun items including snorkelling goggles!
In terms of games, it might be fun to reinvent the classics - from a variation of What's the Time, Mr Wolf?, changing the wolf to a dragon, to relabelling Sleeping Lions as Sleeping Dragons to calm them down.

9.   What do you think of the illustrations by Sian Roberts - any favourite characters or spreads?
They're amazing! They honestly make me so happy. The colours are vibrant and eye-catching, the characters are sweet and expressive, the details are playful and plentiful. Siân has done such a wonderful job and it's been a pleasure to work with her.
You might have seen this one coming, but aside from the dragon himself who is (spoiler alert) ultimately completely adorable, the unicorns have to be some of my favourite characters in the book - they are so compact and so sweet! I love the page where the princess is crossing the river, and the three unicorns are on the riverbank watching her swing over the water: one looking terrified on her behalf, one looking impressed yet slightly alarmed by her maverick moves, and the third completely oblivious to the princess's daring and instead happily distracted by a goldfish.

10.   What kinds of places do you enjoy exploring with your child?
We love being outdoors, especially in the woods - forests are such magical places, and you may have noticed I draw on them for inspiration in quite a few of my stories. It's easy to imagine fairies and gnomes living in the knotted trunks and branches of trees, or unicorns or dragons roaming around in dapped sunlight and shadow! The woods can be noisy or perfectly still and quiet, and we love exploring them throughout the different seasons.
Author's Titles