Don't Disturb the Dragon: from the author of the Ten Minutes to Bed series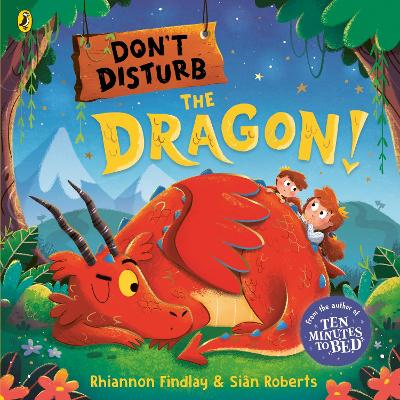 By Author / Illustrator
Rhiannon Findlay, illus Sian Roberts
Genre
Adventure
Age range(s)
3+
Publisher
Penguin Random House Children's UK
ISBN
9780241562314
Format
Paperback / softback
Published
22-06-2023
Synopsis
Somewhere near, a huge beast lies,
with giant claws and great big eyes . . .
DO NOT DISTURB THE DRAGON!

Oh no - the Princess's little brother has gone missing! Can YOU help her find him?  A brilliantly interactive rhyming read-aloud adventure before bedtime from the bestselling author of the Ten Minutes to Bed series.... 
Tiptoe over, under, round and through the book, just . . . don't disturb the DRAGON!  

Fans of Ten Minutes to Bed, Little Unicorn will love helping the Princess on her quest in this immersive, interactive adventure with a wind-down-to-bedtime ending!
Find out more from author Rhiannon Findlay
Reviews
Elen
Don't Disturb the Dragon is a fun picture book with lots to explore, great characters - and a map!
The Princess's little brother has gone missing, and she must find him - without disturbing the dragon! But each time she starts to look, she gets a fright. Are those white pointy things dragon's teeth? No! They are the horns of unicorns. Are those red shiny things the dragon's scales? No! Those are the tiles on a castle turrets. And so on, providing much guessing before you turn the pages.
There is lots to explore for young children, making this a very interactive story - it would be great to share with a group of children, as well as a lovely one-to-one read.  The illustrations are colourful and fun with plenty to find on the pages. I loved the map shown at the start of the book and with places like 'The Magical Fortress' and 'The Crouching Caves', you can follow the princess through her journey - the story could also be used to lead children on in creating their own island map.
A fun, interactive picture book with lots to discuss and share.
Picture book / Reviewed by Elen Green
Suggested Reading Age 3+
Other titles