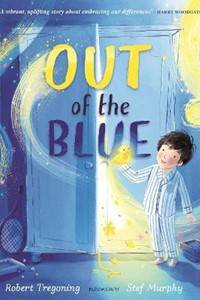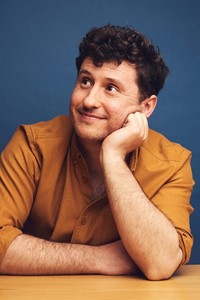 About Author
Writer and performer Robert Tregoning's debut picture book, Out of the Blue, celebrates difference and explores what makes us who we are. Robert studied at the Glasgow School of Art before a career on the West End stage where he appeared in stage shows including Charlie and the Chocolate Factory and Matilda the Musical. As an LGBTQ+ writer, Robert hopes to help children and adults alike to accept and celebrate all that makes us uniquely ourselves. 

Stef Murphy is a freelance illustrator and storyteller living in London. She loves drawing animals and making up stories, and she has illustrated books including The Fire Fox by Alexandra Page.
Interview
Out of the Blue  (Bloomsbury Children's Books)
February 2023
Out of the Blue is a powerful picture book about celebrating our differences and identity. A young boy lives in a world where everything must be blue - but his favourite colour is yellow! He feels ashamed that he is different from everyone else - until his father, and then the whole community, help him to celebrate who he is. 
We asked Robert Tregoning, ReadingZone's Picture Book Author of the Month, what inspired his picture book about celebrating difference, and the events in his own life that helped to shape the story.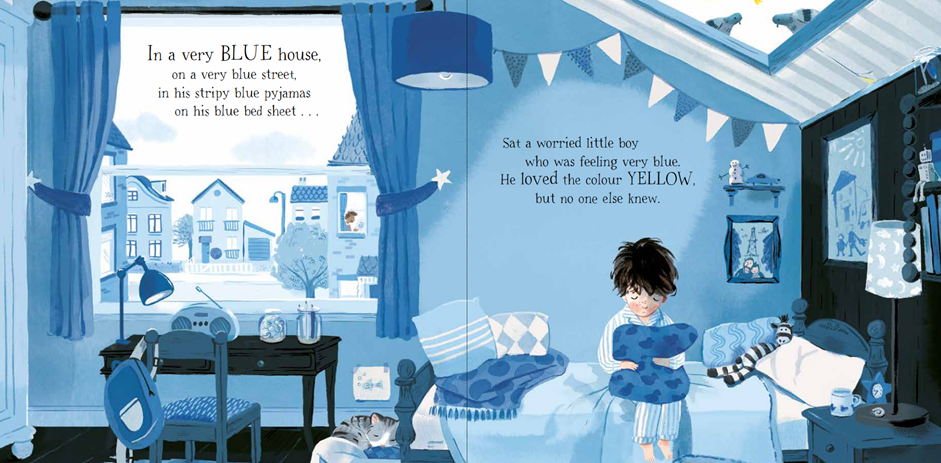 Q&A with Robert Tregoning
1.   Can you tell us a little about yourself, your career, and what brought you into writing books for children?
I grew up in County Durham and after leaving school, studied Architecture at the Glasgow School of Art. There was then a plot twist and I ended up working as a performer in the West End! I worked at shows including Matilda and Charlie and the Chocolate Factory. For several years, I was surrounded by wonderful music and incredible lyrics day after day and that certainly played a part in my journey to becoming a writer.
It was actually working at Charlie and the Chocolate Factory that I really began writing. I helped some of the backstage crew to put on a pantomime performance for the cast before our Christmas Eve show one year and wrote a rhyming script. A very lovely person spoke to me afterwards and suggested I think about writing seriously. Something clicked! I'd had ideas for books from a young age. I'd plotted stories and invented worlds but never finished anything. Now I tried writing rhyming picture book texts and the ideas kept coming!
This all happened shortly after meeting my soon to be husband. He's had the most incredible impact on my life. I hadn't realised that I'd been living with a lid on my self-acceptance and self-celebration. Billy has helped me to lift that lid, to truly be proud and to find my voice! The feeling, that I had something I wanted to say, coincided with the spark of confidence for writing and eventually lead to Out of the Blue!

2. What happens in Out of the Blue, your debut picture book?
Out of the Blue is the story of a boy, who lives in a dystopian reality, where the blue government has decreed that every colour is banned except blue. The thing is, this boy secretly loves yellow. ONLY BLUE ALLOWED is all the boy has ever heard. He's convinced himself that loving yellow must be bad and keeps this love secret, even from his dad. But everything changes when Dad discovers the boy's hidden love. Dad's reaction is so beautifully brave and sparks a rainbow chain reaction that leads to the whole town expressing it's true colours!

3. What inspired the story of a little boy who loves yellow while everything else is blue?
The story is based on my experience of growing up gay in the 90s, under the section 28 law. I was always very aware of gender stereotypes and the negative treatment of the Queer community. It often felt like the world I was living in wasn't designed for me to fit in to it and that I had to hide parts of myself to be accepted. The colour law in Out of the Blue and the boy's secret love of yellow are a way of visualising those feelings.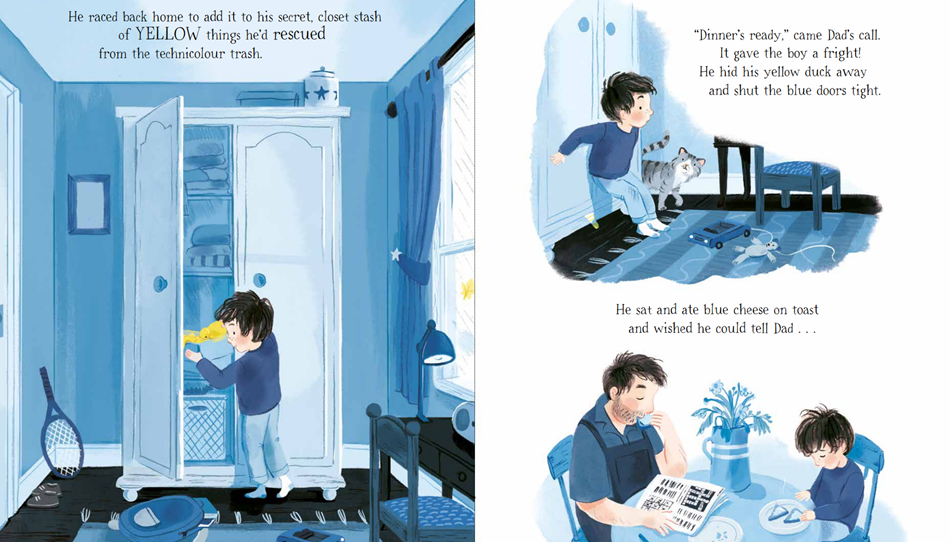 4. Why did you decide to explore this story of difference through colours, and why choose blue and yellow?
I think partly I knew that using colour to tell this story would work really well for a picture book but I also thought that love for a favourite colour is something lots of us feel from an early age. I chose blue because I knew the world needed to feel sombre and blue can often be used to express melancholy or sadness.
I was also aware of the blue and pink gender stereotypes and the idea of a boy feeling uncomfortable in a world where only blue is allowed really spoke to me and my experience growing up. Yellow seemed like the perfect counter choice as it evokes happiness and joy and sunshine!

5. How much did your own experiences of difference and diversity affect your self confidence and self awareness as a child?
I think I'd often go through phases of feeling a little more able to express my true self and then periods of trying to hide the qualities society told me I shouldn't be displaying. This struggle lead me to overcompensate and look for validation anywhere I could get it, being determined to succeed at everything. From the outside you would see a confident boy but there was a lot of hidden pain.

6. What kinds of discussions do you hope will emerge when Out of the Blue is shared in schools and homes?
I hope it brings up conversations about not just accepting but celebrating difference! About diversity being the thing that makes this world so beautiful. I hope anyone struggling with feelings of not fitting in can see themself reflected in the story and feel a little less alone. I hope it sparks discussions about the wonderful way Dad reacts when he sees his son's true self.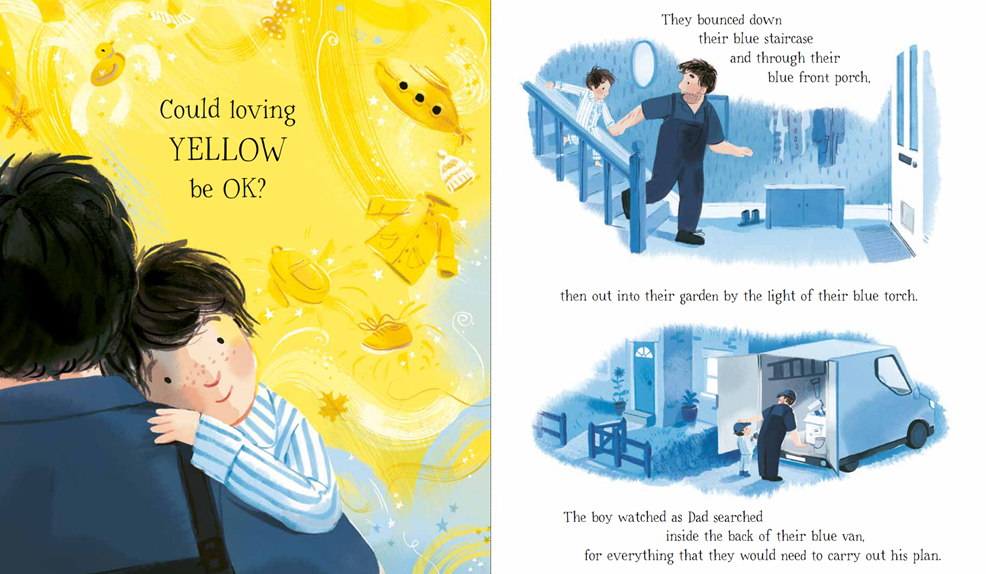 7. How else would you like to see teachers and families encourage children in celebrating their differences?
I'd like to see teachers and families really listening to children like so many wonderful teachers and families do. Making sure that the children feel safe and supported to be open about their feelings. I love that there are lots of books out there celebrating difference so bringing as many of those stories in to children's lives as possible and helping to spread the joy!

8. What did you think when you saw the final book and the illustrations by Steph Murphy?
Wow! I was blown away. What Stef has done with the story is magical. The world she's brought to life is so rich and full of detail and the characters' emotions are so beautifully expressed. I was also amazed to see the very kind words of Harry Woodgate on the cover! They're such an inspiring creator of absolutely gorgeous books.
The whole team at Bloomsbury have created a wonderful thing and I felt so privileged to hold it in my hands. I do really love that on the very first page, when the colour law notice is being put up for all to see, Stef has a rebellious pigeon pooping on it! I can absolutely relate to that pigeon but my favourite images come at the end of the book, where we see the whole town, along with the boy, letting their colours shine and living life joyfully, in all the colours of the rainbow!
Author's Titles