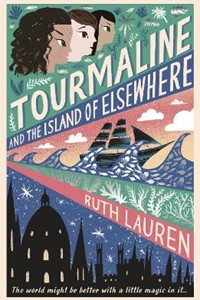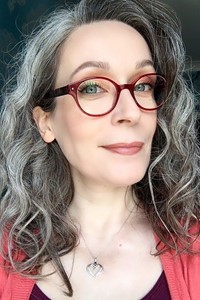 About Author
Ruth Lauren has been a teacher and worked in lots of different offices, but she likes writing best, as well as walking in the woods, cheese, orchids, going to the movies, and reading as many books as she can. She is the author of Prisoner of Ice and Snow and its sequel Seeker of the Crown. She currently lives in a Victorian house in the West Midlands in England with her partner and a lot of children and cats.
Interview
Tourmaline and the Island of Elsewhere  (Little Tiger Press)
March 2023
Ruth Lauren's magical fantasy adventure, Tourmaline and the Island of Elsewhere, sees three children set off on a quest to find Tourmaline's missing mother, and eventually land on a magical island that doesn't want to be found.... Ruth talks to ReadingZone about inspiration, girl heroes and maps...
Read a chapter from Tourmaline and the Island of Elsewhere
Q&A with Ruth Lauren
1.   Can you tell us a little about your life as an author, and what kinds of books you enjoy writing?
I loved reading fantasy books as a child (I still do!), and I love writing them too - my first two published books are a fantasy duology set in a Russian-inspired fantasy land. Think Prison Break meets Frozen. I don't think I'll ever stop writing fantasy, but I do also love a good murder mystery. I'm currently thinking about writing a story that is both . . .

2.   What is your new book, Tourmaline and the Island of Elsewhere, about?
It's about a girl whose explorer mother goes missing while she's on a mission hunting for precious artefacts. No one knows exactly where she is, and no one else is going to rescue her, so Tourmaline just has to do it herself.

3.   What inspired the story - is the finished book very different from where you started?
I was thinking about the 80s adventure films I watched and loved as a kid - films like Raiders of the Lost Ark and The Goonies. I wanted to write something like that - except that it had to have a young girl as the hero, of course, because thankfully this isn't the 80s.

4.   Can you tell us about Tourmaline and her friends George and Mai - why do they work so well together?
Tourmaline and George have been best friends since they were tiny babies. Tourmaline knows that George is clever and cautious, thoughtful and kind, and that he is sometimes so wary and worried that it might hold him back. And George knows that Tourmaline is bold and daring and loyal and impulsive. Sometimes she needs holding back. George knows that's his job and sometimes Tourmaline realises that too.
Tourmaline is suspicious of Mai to start with, because Mai's a bit more like Tourmaline than Tourmaline is comfortable with. She's used to being in charge! But in time, Tourmaline realises that Mai has a lot to offer and that maybe it's OK to have more than one good friend.

5.   What is your favourite moment in the story?
There's a lovely conversation that Tourmaline and her mother have about their relationship near the end of the book that I'm very fond of. But I do love an exciting part much earlier when Tourmaline and her friends sneak on board a pirate ship - not realising that it belongs to some very notorious rogue hunters!

6.   Why did you want their quest to end on the Island of Elsewhere?
When Tourmaline's mother goes missing and she sets about finding her, she never expects to learn that magic is real, and that her mother is trapped on a sentient magical island. The quest to the island brings her mother back into her life, but it also brings this new knowledge - and a surprise right at the very end that I won't spoil here!

7.   How did you go about creating the island? Did you start with a map? 
If you knew me, you would know what a funny question this is - I have absolutely no sense of direction and can neither draw nor read a map! Having said that, I do love maps in fantasy books and it was a real dream come true to have one in Tourmaline and the Island of Elsewhere, ilustrated by the brilliant Sharon King-Chai!
I wrote the island as I went along, really. I wanted it to be magical and obstinate and a very tricky and strange place to be. All of its defences really keep Tourmaline and her friends guessing.

8.   If you could bring back anything from the island, what would it be?
Do you know, I'm sat here contemplating what I'd bring back from the island if I could have anything - anything I wanted - and I can't decide! A never ending box of chocolates that keeps replenishing itself? (Tourmaline never found that one). Maybe a magical houseplant from the jungle that would neither under nor over water itself? (That truly would be magical).

9.   There are a lot of fabulous women in the story - mothers, pirates, academics - good and bad! What would you like your readers to take from their adventures?

Like I mentioned above, I loved adventure films as kid. But too often, even if there were girls in them, they weren't the heroes. And there weren't enough girls. If you have many female characters in a story, then you can have the good and the bad and the somewhere in between. Because even though this is a fantasy story, that's realistic. We are people! And we can be anything we want. I want readers - whatever their gender - to know that.

10.   Will we be seeing more of Tourmaline, George and Mai? What are you writing currently?
You will! Tourmaline and her friends have a whole, wide world to discover. I'm currently editing their second adventure, Tourmaline and the Museum of Marvels and I've just started writing the third book in the series.



More about Ruth Lauren....
Your books are full of adventure - what has been your favourite adventure in real life?
I've recently started travelling, which is something I could never do before when my children were young. The last city I went to was Budapest and it's a fantastic place to explore! Most of my adventures have been more parenting-based, though. I have four kids and raising them has been a full time adventure.
If you could make a magical writer's shed, what would it be like?
I would love this! I write in my bedroom, but a magical shed would be much better. It would have to be warm and cosy, lots of soft blankets and cushions. I'd like the option of several scenic views of nature and there'd have to be at least a cat or two. There should be plentiful snacks, and since they're also magical there will be no ill effects from eating them by the armful please and thank you.
What would you be if you weren't a writer?
This has to be a trick question! I tried being things other than a writer for many years before I wrote my first book, but none of them suit me as much as being a writer. It's my whole heart and now I actually get to do it, I can't imagine doing anything else. I won't go back! You can't make me!

Author's Titles