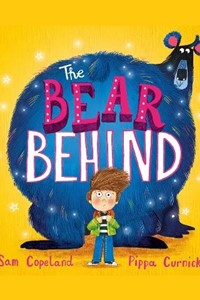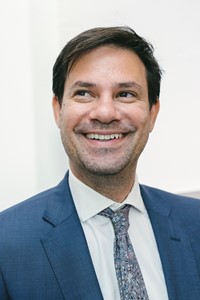 About Author
Sam Copeland is an author, which has come as something of a shock to him. He is from Manchester and now lives in London with two smelly cats, three smelly children and one relatively clean smelling wife. His bestselling book Charlie Changes Into a Chicken was shortlisted for the Waterstones Children's Book Prize, The Bear Behind is his first picture books. Find him on Twitter @stubbleagent
Pippa Curnick grew up in rural Essex and studied at Camberwell College of Art and graduated from the University of Derby with a First Class degree in illustration. Pippa's picture book Lucie Goose was shortlisted for the Evening Standard's Oscar's First Book Prize. Her website is www.pippacurnick.com and you can follow her on Insta @pippa_curnick and on Twitter @PippaCurnick
Interview
The Bear Behind  (Hachette Children's Books)
August 2023
For children starting school, or facing any new situation, Sam Copeland's The Bear Behind is a funny, reassuring story about a boy's first day at school - and what happens when a large blue bear shows up to make him laugh during the day.
Find out how Sam's own first day at school - and a special act of kindness - helped inspire this story, discover the special 'bears' in Sam's life, and learn why he wants to make children laugh with his stories. You can also enjoy a short reading in this video.
Q&A with Sam Copeland
1.   Can you tell us a little about yourself and the kinds of children's books you enjoy writing? What have been your favourite author moments to date?
I love writing children's book that make people laugh, and I love writing children's books that make children feel less alone with their problems. There have been too many favourite moments to count, but every single letter, every single email I get from a child who has read my books is a thrill you can't measure.

2.   Why did you decide to write your first picture book, The Bear Behind? What is it about, and is it based on your own experiences of starting school?
I've wanted to write a picture book for years, but they are tricky beasts - rather like bears…   The Bear Behind is about a big, mischievous bear that appears whenever Ivor, the hapless hero, is anxious.  And yes, it is based on my own experiences of starting school.   I remember being lost and alone on my first day of infant school, crying in the playground, and an older girl came along and helped me. I will never forget that kindness.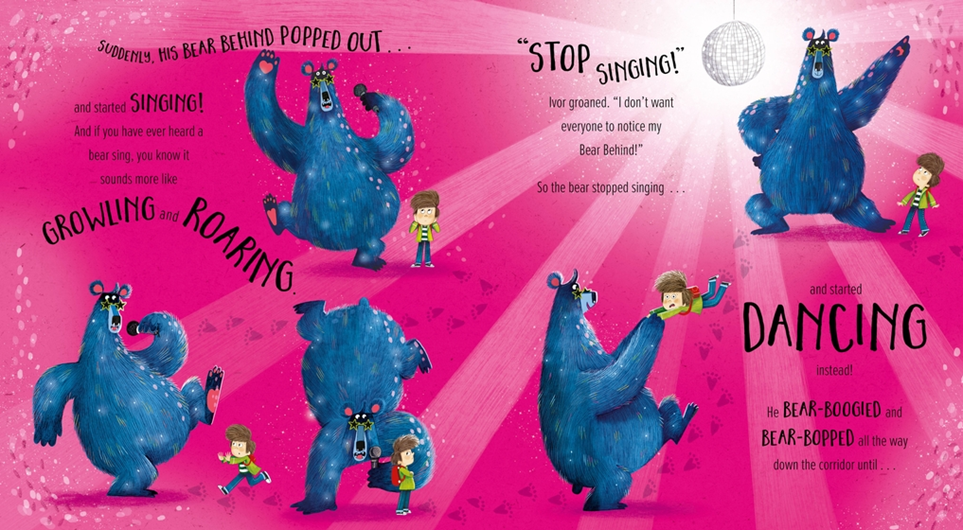 3.   Why did you turn the boy's worries into the 'bear behind'? Have there been any special bears in your life?
Worries and anxieties can often feel overwhelming and embarrassing. As can a mischievous bear. Have there been any special bears in my life? Yes, there have. I had a blue stuffed bear when I was a child. I loved that bear. More metaphorically, I have been lucky to have many close friends who have helped me through the challenges in my life.

4.   How important is it to have books that make children laugh - whilst also reassuring them?
I believe it is vital. Humour is one of the key communication and bonding tools, and it's entertaining, and it's vital that children are properly entertained when they read. How do you achieve this as a writer? I think empathy is key; truly befriending your characters, caring for them, and at the same time caring for the reader is crucial.

5.   What do you think of the fabulous (and quite energetic) bear illustrations by Pippa Curnick? Any favourite spreads?
Every single image that Pippa creates is perfection. I am staggered how good she is. Her illustrations are fun, lively, stunning, commercial, sensitive, characterful; the list of adjectives I have for them are endless.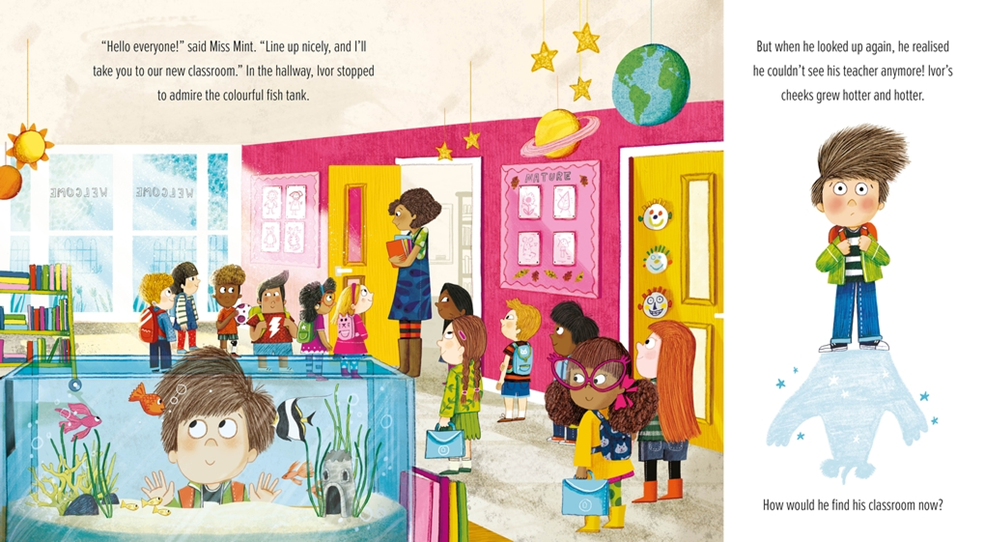 6.   Do you have any other picture books planned? What keeps you at your desk - snacks? deadlines?
I have written two further bear behinds! I have just finished the third bear behind, the start of a middle grade fantasy series, and a super secret project. And fear keeps me at my desk.

7.   What kinds of things do you enjoy doing in your downtime?
I have a full time job and I'm an author, so I don't have any downtime….

8.   And finally - what three things make you happiest?
By default I am a happy person, so it's very difficult to say three things! So much makes me happy, but to make it easy: changing seasons, stopping to stroke a cat, music.
Author's Titles