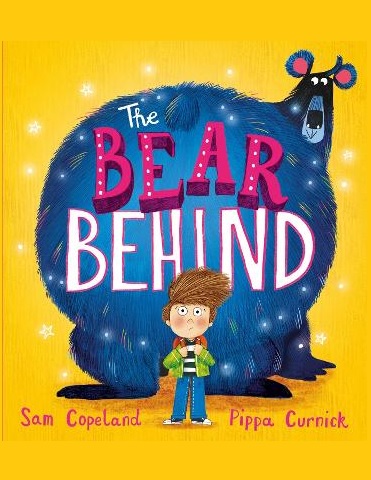 By Author / Illustrator
Sam Copeland, Pippa Curnick
Genre
Mental Health & Wellbeing
Age range(s)
3+
Publisher
Hachette Children's Group
ISBN
9781444965612
Format
Paperback / softback
Published
17-08-2023
Synopsis
An exciting new laugh-out-loud picture book from Sam Copeland, the bestselling author of Charlie Changes into a Chicken, and Pippa Curnick, creator of the award-winning Indigo Wilde series.

Meet Ivor, a little boy in a big world, who absolutely, categorically, definitely does NOT like any sort of attention. So it's more than a minor catastrophe for Ivor to discover on his very first day of school that he has a great big . . .BEAR BEHIND!   And as the bumbling bear begins to cause chaos and calamity, Ivor's hope for a normal first day at school quickly fades . . .

A hilarious, larger-than-life story to show little ones there's fun to be had when you leave your worries behind!  Find out more from author Sam Copeland and enjoy a short reading from the start of The Bear Behind in this video by Sam Copeland!
Reviews
Amanda
It was no ordinary Monday morning for Ivor as he watched the rain outside. Today was his first day at school and the last thing he needed was a huge Bear Behind. As he goes through his day, the Bear Behind is there each time Ivor is worried. From arriving at school, getting lost, having someone to play with and needing a wee, the Bear Behind appears. Each time Ivor is reassured or the issue is solved, the Bear Behind disappears.
Sam Copeland creates a beautiful visual metaphor for the fear that so many pupils feel with The Bear Behind. The bear's personality, mischievous nature and actions are perfectly captured in Pippa Curnick's illustrations.
This story will resonate with parents and pupils alike as we come to start a new school year. This wonderful story would be the perfect way to prepare a child for a new start at school, whether it is their first day in Reception, at a new school or just with a new teacher. It will give opportunities for discussions about Ivor if the child does not want to talk about themselves. It would also be a useful story for a class to share if thinking about a new pupil starting.
The Bear Behind would link beautifully to many other stories such as the Worry Monster and would work perfectly in the New Beginnings study for PSHE. In short, a beautifully written story with captivating illustrations focused around a very important topic.
Picture book / Reviewed by Amanda Shipton, teacher
Suggested Reading Age 3+
Elen
The Bear Behind is a fun and comforting picture book for any child who is nervous about starting school, or any other new experiences.
For little Ivor, his nervousness about starting school is very real - so when he turns around and spots a great big purple bear behind him, he is worried; Ivor doesn't want anything to go wrong today, his first day of school.  However, the bear's playfulness whenever Ivor becomes anxious helps him to stop worrying and to enjoy himself; soon his first day at school becomes more about making friends and enjoying his activities than focusing on his worries.
Children will of course chortle at the wordplay in 'bear behind' while seeing a large, energetic and playful bear as a companion for Ivor on his big day is a lovely way to make worries a lot less troubling; the illustrations by Pippa Curnick are bright and endearing.
The Bear Behind is a great story for starting conversations about how a child might be feeling, and perhaps encouraging them to create their own 'bear behind' to remind them that there will always be someone to help when they are feeling anxious, whether that is when they start school or any other kind of first experience.
Picture book / Reviewed by Elen Green
Suggested Reading Age 3+
Other titles