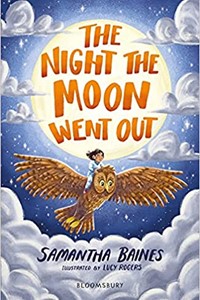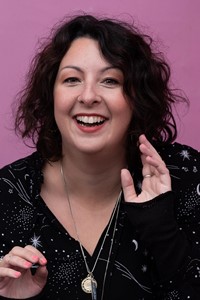 About Author
Samantha Baines is an award-winning comedian, actress, broadcaster, hearing aid wearer and author and her new children's book, The Night the Moon Went Out, is now available. She likes to keep busy and has had acting roles in Netflix's The Crown, Call the Midwife, Silent Witness or Magic Mike Live (directed by Channing Tatum) and has presented on BBC Radio London, BBC Radio Kent, Virgin Radio, hosting Q and A's at the BFI. Samantha is also proud to be an Ambassador for Royal National Institute for Deaf people, is a Phonak HEARo and has spoken to MPs at the House of Commons about hearing issues, as well as fronting the RNID cinema subtitles campaign.
Follow Samantha on Twitter @samanthabaines
Interview
The Night the Moon Went Out (Bloomsbury Education)
September 2021
The Bloomsbury Readers series is a range of stories aimed at readers aged 7-11 years, designed to support children as they progress in their reading journey with a variety of illustrated texts by brilliant authors including Chitra Soundar, Patrice Lawrence and Samantha Baines.
All the stories have been reviewed and book-banded by literacy experts to make sure they are the right level, and include online guided reading notes written by the Centre for Literacy in Primary Education (CLPE). For more information and to access the guided reading notes, visit Bloomsbury Guided Reading.
We asked author and actor Samantha Baines, who wears a hearing aid, to tell us more about the series and her novel for younger readers, The Night The Moon Went Out, about the adventures of a girl who wears hearing aids whose new friend helps her confront her night time fears.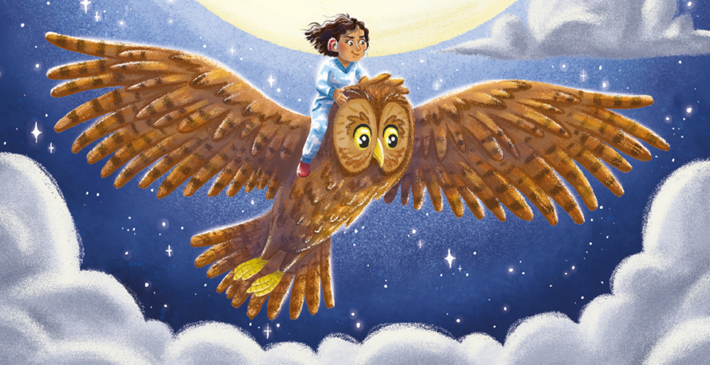 Read an extract from The Night the Moon Went Out
Q&A with Samantha Baines
1.  Why did you want to write a younger book for the Bloomsbury Readers series?
Young readers are the best readers as they have incredible imaginations, which means I can let my imagination loose too. I love the educational aspect of Bloomsbury Readers too as I think books are such a brilliant way to learn, I know I have learnt so much from all the books I've read.

2.  What do you feel makes a great story for this age range? Are they challenging to write?
I think all book writing can be challenging and that is part of the fun, I do love a challenge. I think good characters always make a great story and what's brilliant about this age range is that you can be very creative with your characters eg. they don't have to be human. There are just aren't enough talking owls in books for adults! 

3.  Can you tell us a bit about The Night the Moon When Out?
It's a book written by me. 
You want more info than that? Haha okay.
The Night the Moon Went Out follows a little girl called Aneira who has hearing aids and is scared of the dark. I'm scared of the dark, too. When you can't see as well as not being able to hear very well, your imagination creates scary monster sounds that you can't hear AND spooky creatures that you can't see. 
One night, Aneira's nightlight doesn't work but her Mum shows her that we all have a nightlight and it's the Moon. Alas Aneira doesn't want the moon, she even tells the moon that and then... it goes out. Aneira knows how important the moon is so she goes on an adventure to turn it back on with the help of a very friendly talking owl.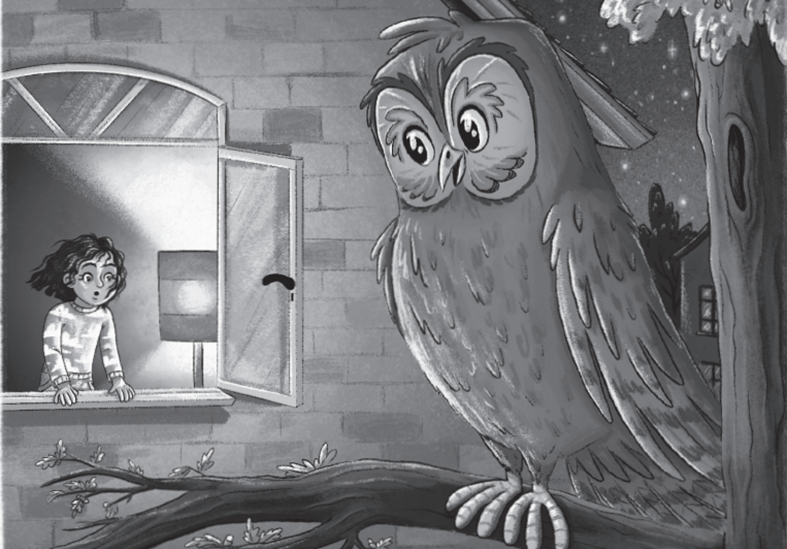 3.  What helped to inspire this story and why did you decide to make your main character deaf? 
I am deaf myself, I wear one hearing aid and lip read, so I wanted to include some of my experience in the story. I love my hearing aid and being part of the deaf community so I guess you could say that my research has been my life! I am also an ambassador for RNID and I know how important deaf representation is for people of all ages. Did you know 1 in 5 people in the UK have some form of hearing loss?!
It's important to me that children with deafness and/or hearing loss see themselves represented in literature and know they are not alone. Also, I think it's important to say that having a hearing aid doesn't have to hold you back, Aneira wears hearing aids and she makes friends with a talking owl and even flies to the moon! 

4.  Do you feel it's important to have the questions for readers at the end of the story, for example, 'Have you ever been afraid of the dark?'
I think the questions at the end of the story are such a great way to start conversations around everything that happens in the book. The only problem is I want to hear all the answers.

5.  Have you enjoyed seeing the story illustrated by Lucy Rogers?
Lucy is such an amazing illustrator, I actually met her on Twitter initially and admired her portfolio. I think her own experience as a hearing aid user really comes across in her work and I absolutely love all of her illustrations for the book. Her owl in flight image for the cover even brought a tear to my eye.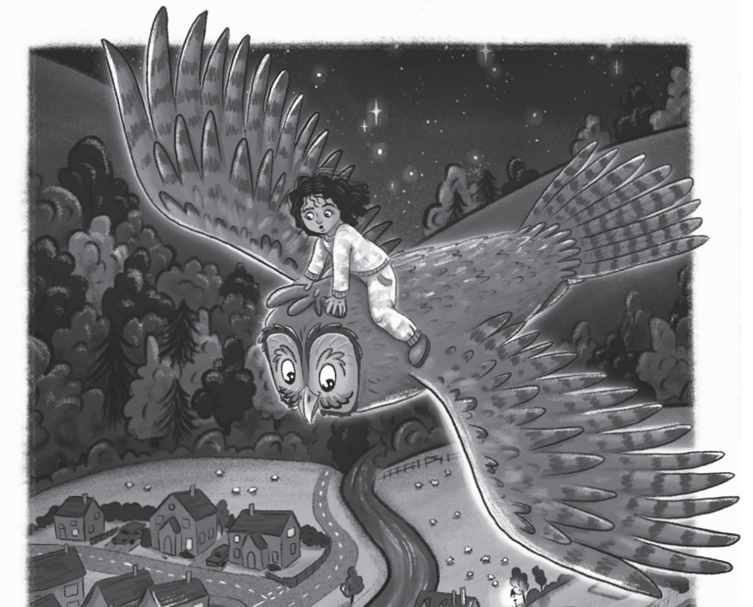 6.  Do you have more short stories planned? What are you writing currently?
I'd love to write more short stories. I'm currently working on two other book ideas. I always have lots of ideas and characters floating around in my head, it's up to them when they chose to explode on the page so I've always got a few books on the go.
I'm interested in exploring more of the deaf experience and as I get to know my hearing aid and discover new things about my hearing loss, I like to write about that too. So far all of my books involve the sky and space so maybe I'll stay on the ground for the next one - but I can't promise anything. 

7.  What do you enjoy doing to relax when you're not writing?
I love a cup of Earl Grey tea with my cat Queen Victoria sitting on my lap as well as walks in the countryside with my dog Custard. I love to read (kinda goes with the job) and I love knitting jumpers too, although I did one knit one with only one arm by mistake.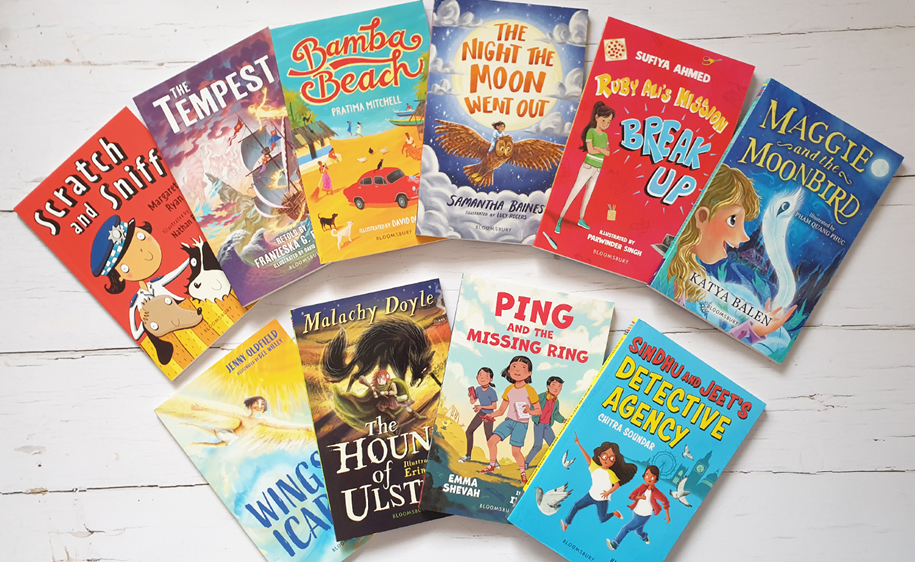 Author's Titles