The Night the Moon Went Out: A Bloomsbury Reader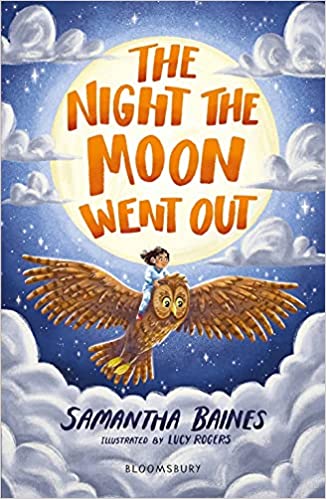 By Author / Illustrator
Samantha Baines, Lucy Rogers
Genre
Representation & Inclusion
Age range(s)
9+
Publisher
Bloomsbury Publishing PLC
ISBN
9781472993519
Format
Paperback / softback
Published
19-08-2021
Synopsis
A heart-warming adventure story by award-winning comedian, actress, broadcaster, hearing-aid wearer and author of Harriet Versus the Galaxy, Samantha Baines.
Aneira is a hearing-aid wearer and she is super scared of the dark. When the moon suddenly goes out one night, Aneira is on a mission to turn it back on! With the help of her owl friend, she sets off on a journey to fix the moon and overcome her fear. This powerful story features beautiful black-and-white illustrations by Lucy Rogers.
The Bloomsbury Readers series is packed with book-banded stories to get children reading independently in Key Stage 2 by award-winning authors like double Carnegie Medal winner Geraldine McCaughrean and Waterstones Prize winner Patrice Lawrence. With black and white illustrations and online guided reading notes written by the Centre for Literacy in Primary Education (CLPE), this series is ideal for home and school. For more information visit www.bloomsburyguidedreading.com.
Book Band: Dark Blue (Ideal for ages 9+)
Q&A with author and actor Samantha Baines
Reviews
Samantha
This is an absolutely lovely read, ideal for a young reader who still lacks the confidence to 'go-it-alone' with their book selection. The Night the Moon Went Out by Samantha Baines is a colour banded (Dark Blue) chapter book by Bloomsbury Education. Aimed at Year 5 expected level readers, this is the story of Aneira, a young girl who is afraid of the dark. When Aneira and her Mum are unable to find the night light that helps Aneira feel safe at night, her Mum suggests she 'make do' with the light from the Moon outside her window. '"I don't want the rubbish moon," she said out loud to herself. "I want my night light." Then just like that, the Moon went out.' Scared of what may lurk in the dark, Aneira is less than happy.
This read-alone story, follows the magical journey of a young girl with hearing difficulties, who is afraid of the dark as she seeks advice from a parliament of owls. This is a super book for any independent reader, whether at home or at school. Its short chapters, clear, understandable text and delightful illustrations by Lucy Rogers make The Night the Moon Went Out an undoubtable hit, while the 'Reading Zone' - questions and quizzes at the end of the story - will help and support any follow up discussion.
80 pages / Reviewed by Samantha Phillips, teacher
Suggested Reading Age 7+
Other titles