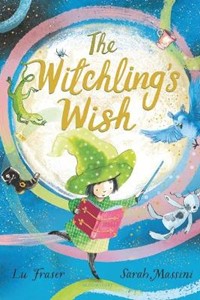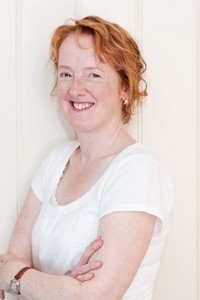 About Author
Sarah Massini's stand out illustrations for The Witching's Wish bring to life the text by Lu Fraser. Sarah studied Graphic Design in Manchester and followed careers in corporate design and children's book design before settling down to pursue her life-long dream of illustrating books.
Sarah's first picture book for Bloomsbury was Kiss It Better by Smriti Prasadam-Halls. She lives in Sussex with her husband Peter, her son Mathew and her mad terrier Tess.
More about The Witching's Wish
Interview
The Witchling's Wish (Bloomsbury Children's Books)
September 2021
In this stunning, magical picture book by Lu Fraser, illustrated by Sarah Massini (The Girl and The Dinosaur), a young witch is lonely and seeks a spell to make a friend. However, she soon has to decide if completing the spell is the right thing to do.
We asked illustrator Sarah Massini to tell us more about illustrating this gentle story about friendship, and making the right choices.

Q&A with Sarah Massini
1. What brought you into illustrating picture books? Do you do other kinds of illustration work?
To be honest, it's an obsession! I think most illustrators will tell you that they couldn't be doing anything else. I came to it in a roundabout way however. I'd wanted to study illustration at art college but was persuaded to do graphic design, so I'd then be able to get a 'proper' job. After ten years working as a designer, I reached a big life crossroads after, a) I was made redundant, and b) my son was born - both of which happened at around the same time.
My husband, Peter, said to me, 'Illustration is what you've always wanted to do. If you don't do it now, you never will.' So with Peter's support, whilst looking after Mathew, and us having little money, I very slowly developed my style and expanded my list of published books. I would really like to do more personal work and I'd like to write my own stories too, but, booked up as I am, I never seem to have time.

2. Who are the illustrators who most inspire you?
Well, I have many favourite illustrators, so that's an impossible question. I love illustration that is loose and expressive, and full of vitality and energy; the work of Gerald Rose and Jill Calder, for example. Their art has qualities that I try (and mainly fail) to capture in my own work. I fight a constant personal battle against tightness. I also love everything by Dutch illustrator Mark Janssen, who has way more talent than one person should be allowed!

3. Why did you want to illustrate The Witchling's Wish?
Firstly, I thought The Witchling was such a lovely character, and I hadn't done very many character-led books at that point. And Lu's ability with words is phenomenal. Her rhymes roll with ease and with great humour and heart. It was an easy decision.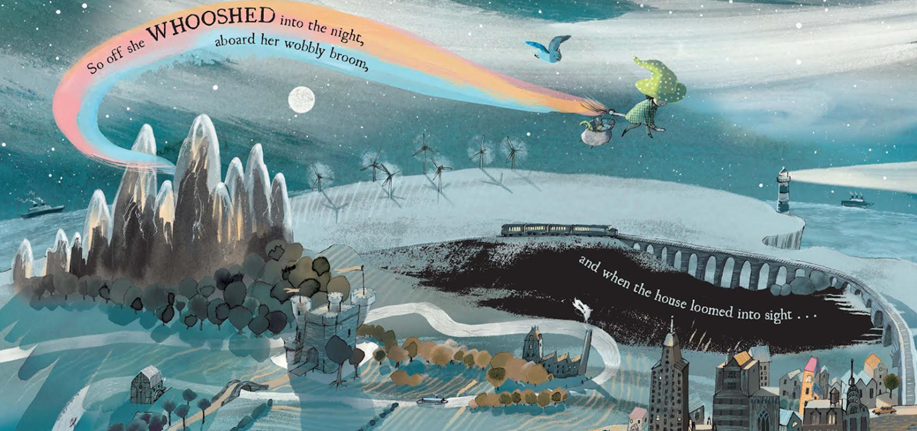 4. We love the detail in your illustrations - is it important for you to 'world build' through your images?

As a child, I always loved to imagine inhabiting the worlds created by Richard Scarry or Jill Barklem (Brambley Hedge). So maybe that's left a subconscious legacy. I start each book with K.I.S.S. (Keep It Simple Stupid) etched in my brain, but somehow that strategy always seems to dissolve. And then, after weeks of frustratedly artworking the same heavily detailed interior, I find myself wondering, 'Why do you always do this to yourself?' I'm so glad you love it though - maybe it's all worth the while!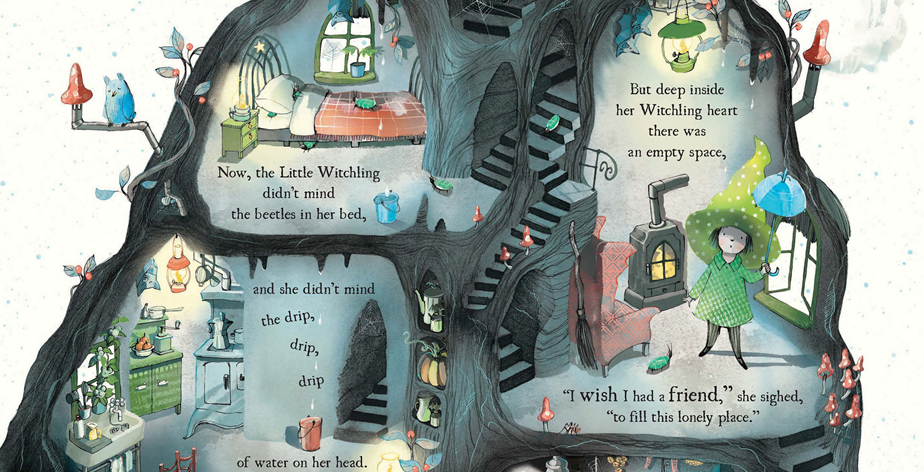 5. How do you create your images?
Good old-fashioned pencil is the cornerstone of my art. I draw my roughs on layout paper. They get scanned and in Photoshop form the basis for my final art. The colour is built up using layers of more pencil and watercolour, and other odd bits of mixed media: pattern, acrylic or paper textures, photographs, etc. Everything is tweaked, visually distorted and colourised in Photoshop. So basically, it's a laborious mix of traditional and digital techniques.

6. What is your favourite spread in the book?
I have a soft spot for the very last image. I'm happy with the colours and textures, and with the quiet contentment of 'the moment'.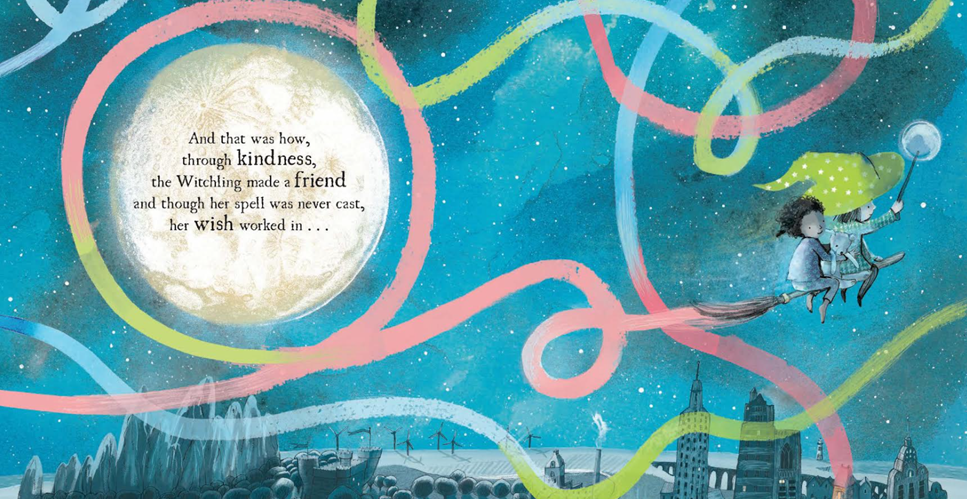 7. Where and when do you prefer to work?
I'm naturally a night owl, but that doesn't really work well when you live with another person (especially one who's up with the lark). So my work pattern nowadays is very conventional. And I have no option but to work in my studio room, with all my tech and materials to hand.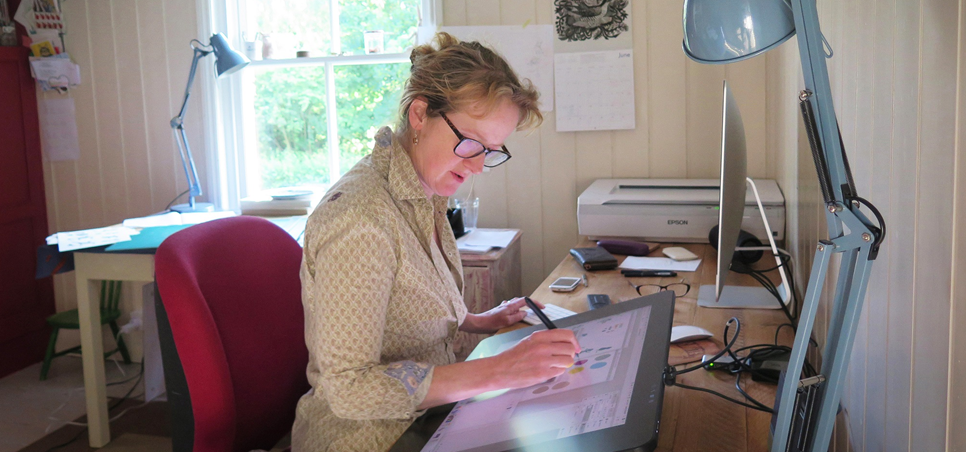 8. What do you most enjoy doing when you're not working?
We live not too far from the sea, in the High Weald in Sussex. It's an Area of Outstanding Natural Beauty, so walking in it features heavily in my downtime - with Peter and our very adorable Scottie-dog, or with friends. And as Peter is an ecologist, every venture outside is an appreciation of the natural world. Our lives seem very rhythmical. The daily routine of working through a book seems very in tune with the turning seasons and makes for a very predictable life. But I guess it's quietly, contentedly so. We're very lucky.
Author's Titles