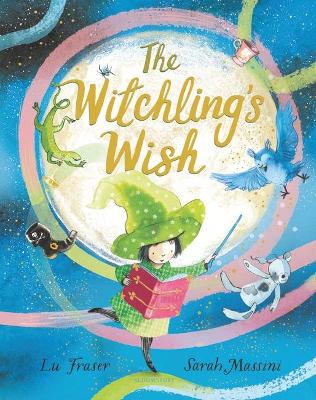 By Author / Illustrator
Lu Fraser, Sarah Massini
Genre
Friendship
Age range(s)
3+
Publisher
Bloomsbury Publishing PLC
ISBN
9781408899953
Format
Hardback
Published
16-09-2021
Synopsis
A magical, beautifully illustrated picture book about what it means to be a friend.  Little Witchling lives alone in her mountain top and more than anything else, she wishes for a friend. So, when her spell-book tells her that the secret ingredient is the fur from a little girl's favourite teddy, she knows what she must do.  But the teddy belongs to Lilly, who can't bear to part with him. Will Little Witchling give up her dream of a real friend? Or just maybe, is there a way for her and Lilly to make the wish come true, together? With a heartwarming rhyming text and breathtaking illustrations from Sarah Massini, this magical friendship story is perfect for little witches everywhere!
Find out more from illustrator Sarah Massini
Reviews
Emma
The Witchling's Wish by Lu Fraser and Sarah Massini is a wonderful tale of friendship. The little Witchling lives in the misty mountains and is lonely, she loves her home, doesn't mind the beetles or the dripping of water, but what she truly desires is a friend. Little Witchling needs a 'one-eyed teddy' for her spell to create a friend and she finds one in the home of a little girl called Lily. The story tells us of how the teddy is an adored companion and he has been loved so much, he only has one hair left on his head; will the Little Witchling use it for her spell? Or make a different choice?
The gloriously descriptive text rhymes and would be a wonderful addition to any KS1 classroom where children are being taught adjectives. There is huge scope for a series of lessons based on the language alone and the illustrations could also form another lesson. There is something new to find on each page and the artist really makes the pictures come alive. The text could also be used in PSHE lessons or even to solve disputes in the classroom - I'd definitely use it in this way.
32 pages / Reviewed by Emma Nelson, teacher
Suggested Reading Age 5+
Amanda
This enchanting story of the little witchling illustrates how sometimes life is even more beautiful when it doesn't quite go to plan. The witchling wishes for a friend, through hunting for ingredients for her spell she learns the true meaning of friendship.
This enchanting rhyming story is certain to become a bedtime favourite for young and old, lasting in memories for years to come. It could easily be used in an assembly or as part of PSHME to discuss value of friendship. A beautifully written and illustrated story. A complete pleasure to read.
32 pages / Reviewed by Amanda Shipton, librarian
Suggested Reading Age 3+
Other titles