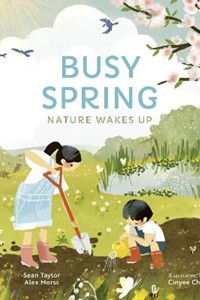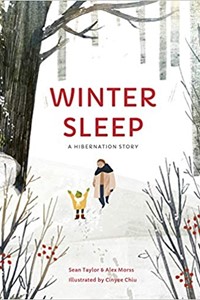 About Author
SEAN TAYLOR is a British children's author, storyteller and teacher. Sean has taught in three continents and draws from his experience in creative writing and poetry to enchant and educate young audiences. Sean grew up in Surrey and after finishing school he worked as a secondary teacher in Zimbabwe before completing an English Literature degree at Cambridge University. He has written a range of books for children, including picture books, fiction and YA fiction.
ALEX MORSS is an independent ecologist, journalist, author, educator and campaigner whose work involves defending and promoting the conservation of protected species and their habitats, creating opportunities for others to make exciting discoveries about the natural world, plus writing, editing, broadcasting and producing written and digital content on nature, science, conservation and environment.
www.seantaylorstories.com/index.php/schools/
www.alexmorss.co.uk
Best known titles:
Busy Spring: Nature Wakes Up
Winter Sleep: A Hibernation Story
Interview
Busy Spring: Nature Wakes Up (Words And Pictures)
March 2021


Authors Sean Taylor and Alex Morss tell us about the inspiration behind their picture books Winter Sleep and Nature Wakes Up, books that combine storytelling with facts about nature and science:


1. You have previously collaborated on the picture book, Winter Sleep. Why did you want to follow up that book with one about spring?

 There was interest all round in continuing with the popular seasons theme, looking at wildlife. Winter Sleep was has been very well received. It's a book that combines story telling with beautiful illustrations, nature and science to explain some lesser-known, fascinating details about where all the wildlife disappears to in winter. It's told through a warm relationship between a young boy and his grandma, on a woodland adventure.

The book was a hit with schools, it was recommended as a key stage 1 science and literacy core book by the Children's Literacy in Primary Education charity, and it was nominated for the Kate Greenaway Medal. It's been translated into several languages too! We sensed that was a mandate to carry on!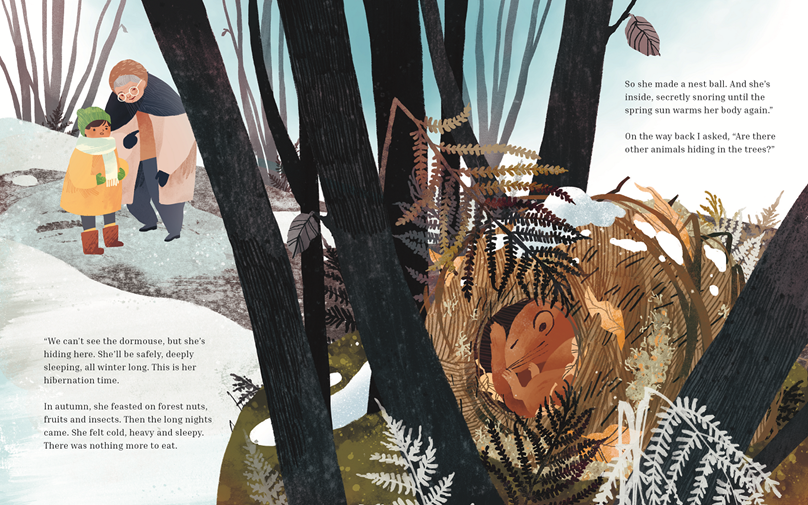 2. Can you tell us what Busy Spring is about and the focus of the story?

 The story offers a gentle, familiar, family-friendly introduction to how a wildlife garden wakes up in spring and how we all enjoy welcoming it after a long cold winter. We explain how the sun is nature's alarm clock, and as life bursts forth with a rush of energy, so does the family, busy with their garden activities, and full of exciting discoveries, as springtime awakens a sense of renewal in us and the world around us.

It's a celebration of those magical moments of awe children have with nature in spring - the joy of finding all that magnificent frogspawn and sharing your garden with beautiful, singing and nesting birds, playful fox cubs, exciting new caterpillars and spectacular butterflies. And not forgetting the splendour of spring flowers and the little glories hiding in the compost heap.

All this is explained in more depth in the non-fiction section, exploring what makes spring come, what plants and animals are doing, and how they depend upon each other for pollination, seed dispersal and soil recycling.

We introduce phenology - the study of when life wakes up in spring and encourage children to get involved and offer them ways to help wildlife.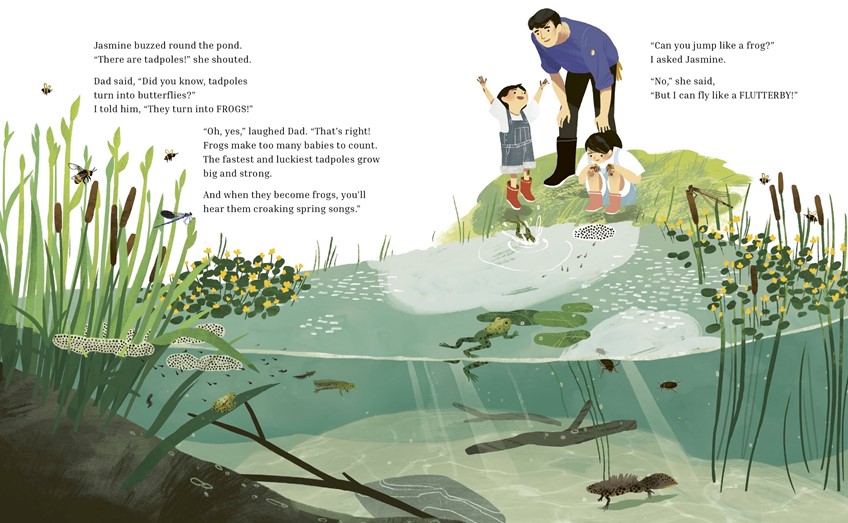 3. The story combines a picture book with non-fiction elements, why did you approach it like this?

As with its predecessor, we think Busy Spring's fiction and non-fiction combo and artwork offer wider appeal to children. Some love a story, others enjoy the facts or favour the illustrations, and they complement each other. Once again, the non-fiction offers children more depth about science concepts initially introduced and explored in the story. We capture the wonders of discovering natural history and finally some ideas for children to go out and do themselves.


4. The non-fiction elements include a section on how plants and animals work together during spring, why did you want to focus on this, as well as the plants and animals themselves?


Spring is a time of vibrancy, but the beauty of it all is far from passive. The medley is a feast for the eyes and there are endless discoveries to be made about what's going on with all the intense ecological interactions between plants and animals. It might look like harmony but underneath it's a feisty race to grab the best of springtime. There is drama everywhere in the fierce competition for light, food, space and water. As an ecologist, there are endless depths of fascination in this for me, and I think for people all ages, when we look a bit closer.


5. Did you need to do additional research for the new book?

I've spent many years as a field ecologist and naturalist, observing and recording wildlife through the seasons. I've drawn on that and we have chosen a range of life that brings a sense of spring awakening and excitement, from spring woodland flowers and early pollinators to the wonder of birds singing and nest building, and new life springing up everywhere. We explore what many are doing in spring, and some of the science.

6. What was it like seeing the finished book, with the illustrations by Cinyee Chiu?
The book has charming illustrations from Cinyee Chiu who also worked with us on Winter Sleep. Unlike pure fiction books, it felt crucial to get the natural history correct, and the storyline, so with both books we worked closely with Cinyee, on visual story ideas and also finding and developing the right species choices that would be scientifically accurate but also look eye-catching, offering her plenty of choices and colour palettes to choose from and work her artistic magic with, and she's excelled again! She brings alive the sense of a springtime adventure in a family wildlife garden.


7. Have either of you made your own surprising discoveries in nature during spring?

Plenty! I've done field research looking at how changing phenology is affecting spring wildlife, there are signs of this everywhere and sometimes unexpected surprises turn up. We can find a lot of what we might consider 'spring' flowers on New Year's Day, for example - and that has surprised many people once they've looked closer.

Often it's the case that the more we look, the more we see. The first signs of early arrivals and early risers on mild days are a treat, as long as they are not detrimental. There is always something to see out there! Whether it's bud bursts, joyful birdsong or hedgehogs shuffling out of their secret leaf piles.

The timing of nature's calendar events is called phenology. It's explored in the book. Children are encouraged to take part in recording these signs of spring with wildlife charities, who collect everyone's wildlife records for conservation and to help understand the changing climate. Wildlife recording is a great way to learn more about it too.


8. What are your favourite moments when spring (finally!) arrives?


Without doubt, seeing sunshine light up the petals of a newly awakened spring wildflower.


9. Do you feel that writing about nature like this for young children can help to change how we support the environment locally? What would you like families to take from your book, especially following our experiences of lockdown?

Yes, there is now scientific evidence that connection with nature in lots of ways actually benefits conservation, and that it also benefits people's mental and physical health and wellbeing. Those who engage more with wildlife around them tend to also care about it and act to save it. Conservation is about all of us.

I hope our book brings pleasure, and sparks more curiosity to find out more about what's waiting to be discovered. Lockdown has reconnected many of us with local wildlife and I know it's made many people more appreciative of it than ever.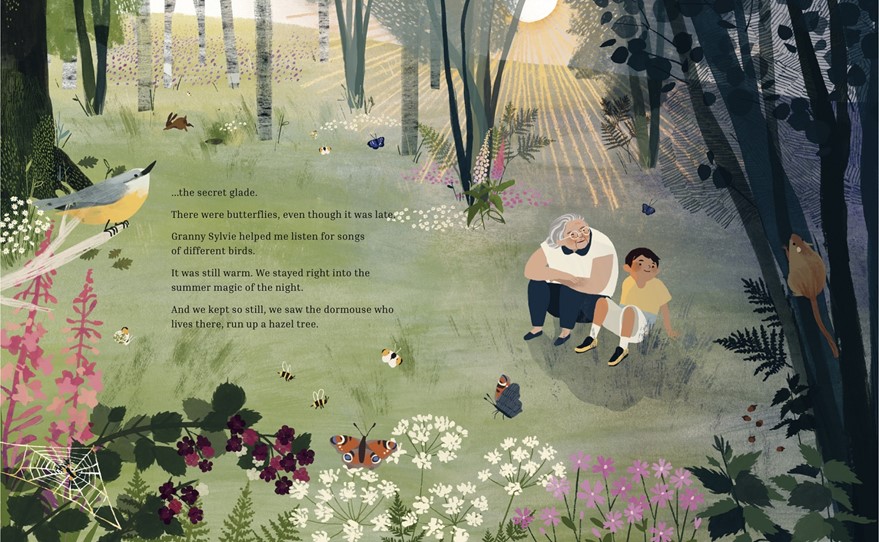 10. Are you working on more books together - perhaps covering every season? What else are you writing?

We are discussing doing a Summer season book next! We have also just had a book published in March 2021 called Funny Bums, Freaky Beaks & Other Incredible Creature Features - celebrating diversity, difference and wonderful weirdness in the animal kingdom.



Author's Titles