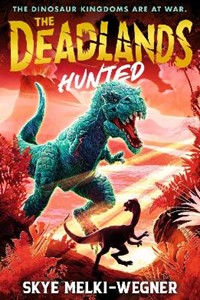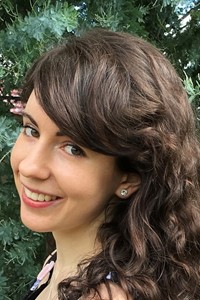 About Author
Skye Melki-Wegner is a YA and children's fantasy author and dinosaur lover. Over the years, she has worked everywhere from a cinema (where she ate too much popcorn) to a museum (where some of her colleagues were literally dinosaurs). The Deadlands is her first middle-grade series.
You can find Skye on Twitter @SkyeOhWhy and on her website.
Interview
The Deadlands: Hunted  (Walker Books)
May 2023
The Deadlands: Hunted is the first book in an adventure- and dinosaur-packed trilogy by Australian author Skye Melki-Wegner, which is sure to garner a wide fan-base. Set in a world where some dinosaurs have survived the apocalyptic asteroid strike, The Deadlands features thinking, feeling dinosaurs who are fighting for the territory they need to survive. It is compulsive reading!
Read a Chapter from The Deadlands: Hunted
Reviews:  'Skillfully written, packed with adventure and surprising in its depth, this is a book which deserves a place in the primary and secondary school library.'
Skye tells ReadingZone how her summer job working in a museum helped inspire the story, where she went to research her dinosaurs, and how she created the world they inhabit:
Q&A with Sky Melki-Wegner
1.   Can you tell us about yourself as a writer?
My name is Skye, I live in Australia and I'm a lifelong fan of fantasy adventure books. I can thank my dad for my obsession - he used to read The Lord of the Rings and Discworld books to me as bedtime stories!  Although I've published six YA fantasy novels, The Deadlands: Hunted is my first middle grade book. I'm incredibly excited to write for a new readership.
In addition to writing books, I work as a civil servant in Melbourne, Australia. Spreadsheets by day, magical adventures by night!

2.   What is your new book, The Deadlands: Hunted, about; do you have more of The Deadlands books planned?
Hunted is the first book in a trilogy, set fifty years after the asteroid crashed into earth. The last surviving dinosaurs have divided into warring kingdoms, fighting for habitable territory.
My hero, Eleri, is a plucky young oryctodromeus who saves the life of an enemy soldier. As punishment for this treachery, he is exiled into the terrifying realm of the Deadlands: a world of deserts, acid rainstorms and vicious carnivores.
Out in the Deadlands, he joins a gang of misfit exiles. They include a tetchy triceratops, a genius ankylosaur, a mysterious sauropod - and a very dangerous spy! Working together, these exiles uncover a conspiracy that may change the course of the war forever.
I've had so much fun writing this trilogy and I hope that readers enjoy it too!

3.   What inspired this story about thinking, warring dinosaurs? Have you always been a dino fan?
A few years ago, I found myself working at a museum for the summer. There were plenty of amazing exhibits, but our visitors were always so excited to see the dinosaur display. Children and adults alike would gaze up at the gigantic skeletons and let their imaginations run wild.
One morning, while I was waiting for the museum to open, I glanced at the display and inspiration struck. What if I wrote a fantasy adventure novel about dinosaurs? It would be a tale about courage. About friendship, loyalty, and surviving against all odds.   The rest is history… or rather, prehistory!

4.   How did you go about creating the world your dinosaurs inhabit? Do you draw maps for your stories?
I sketched out a map of Cretacea (the land of the dinosaurs) quite early in the writing process. Since the story revolves around a war to gain territory, I had to figure out where the boundaries of the warring kingdoms lay.  To be honest, my hand-drawn map was an absolute mess. I'm definitely not an artist! Luckily, my publisher commissioned a professional version to print inside the published book.
When I was designing Cretacea, I tried to include ecological features that really would have existed during the time of dinosaurs. For example, rather than grasslands, I included fern prairies.  Of course, writing fiction means striking a balance between realism and what's best for the story. I wanted to tell a tale full of action and adventure, so Cretacea also includes mountains, volcanos, a petrified forest - and a desert beset by acid rain and sandstorms!

5.   How did you decide which dinosaurs to include in this world? Did you need to do much research into dinosaurs? What were your rules for your dinosaurs - what they could or couldn't do?
I was keen to include a balance of famous dinosaurs (such as triceratops) and lesser-known varieties. In fact, the two main characters are an oryctodromeus and an anurognathid! I had never heard of either species until I started researching for this book, but once I stumbled across them, I just had to include them.
Oryctodromeus were burrowing dinosaurs: small, speedy and herbivorous. This seemed like a perfect choice for my hero, Eleri, who dreams of becoming a storyteller and a traveller rather than a warrior.
My other point of view character, Zyre, is an anurognathid. In the book, these tiny pterosaurs serve as spies and mercenaries, selling wartime secrets to the battling armies. It was fun to write about a tiny spy in a world full of giants!
When I was planning out the dinosaur armies, I tried to incorporate the natural skills of different species. For example, since oryctodromeus were burrowers, I figured they might work as trench diggers in the war effort, or use their dextrous claws to craft objects. By contrast, species like triceratops and ankylosaurs seemed like natural warriors, ready to charge across the battlefield.

6.   Can you tell us about the group of misfit friends at the heart of Hunted, and why they work so well together?
Out in the Deadlands, Eleri joins a gang of other misfit exiles, including warriors from an enemy kingdom. Although they've been raised to hate each other, these exiles must somehow work together to survive.
When it comes down to it, this group of unlikely friends provides the emotional heart of the book. I deliberately included a mix of species and personality types, to ensure there would be plenty of tension and banter. The group includes a tetchy triceratops, a genius ankylosaur, a mysterious sauropod… and a very dangerous spy!
I think the fact that they're all so different (and that they start the book as enemies) makes the progression of their friendship more satisfying. Somehow, they must cooperate to save their kingdoms - and ultimately, to save each other.

7.   Which of your Deadlands characters would you most like to meet, and why?
Oh, that's a tough question! I think I'd choose Sorielle, the ankylosaur in my group of exiles. She's a scientific genius, but also an absolute sweetheart. It would be lots of fun to befriend her and share her excitement about the natural world.

8.   What do you have planned next for the friends?
Well, our dinosaur heroes have definitely earned some rest and relaxation - but I'm quite a heartless author, because they're not going to get it!   Let's just say that their enemies are still at large, and after the events in Hunted, they're looking for revenge…

9.   If you lived in the Deadlands, what kind of dinosaur would you want to be? 
Hmm… I think that a sauropod would be the safest choice for me. In the book, the sauropods are nomads and don't participate in the war for territory, so that would increase my odds of survival. At adult size, they're also relatively safe from predators.
I'd spend my days wandering up and down the Cold Canyon, munching delicious foliage and collecting stories. That doesn't sound so bad!

10.   How long did it take you to write Hunted? What was the most challenging aspect for you? 
I tend to write first drafts quite quickly - sometimes in a month or two. However, my drafts are extremely rough and aren't ready to show to anyone else! It takes quite a lot of self-editing and revision before I'm ready to submit my work.
I wrote quite a bit of Hunted on my phone, while I was commuting on the bus and train. Dreaming up tales of raptors, triceratops and magical adventures certainly made the trip to work more interesting!

More about Skye:
Country or City girl?
City - although I love to visit the country too!
Where do you feel most inspired to write or find ideas for stories?
I find inspiration all over the place! In fact, I've written many of my books while commuting. If I'm not in a particularly interesting location, I seek out ideas by searching for images or documentaries to help jumpstart my imagination.
What is your dream destination?
I'd love to travel to Iceland to see the amazing landscape and the Aurora Borealis. Since I live in Australia, it's a bit of a hike to get there - but maybe one day!
Author's Titles