The Deadlands: Hunted: The dinosaurs are at war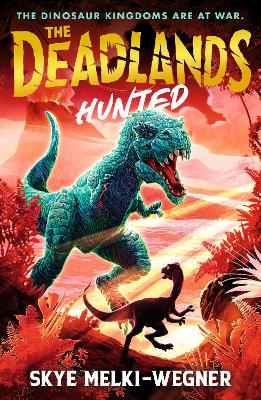 By Author / Illustrator
Skye Melki-Wegner
Genre
Friends and family
Age range(s)
9+
Publisher
Walker Books Ltd
ISBN
9781529504736
Format
Paperback / softback
Published
04-05-2023
Synopsis
Before there were dragons, there were dinosaurs...  Imagine a world in which the dinosaurs weren't killed by a meteor hitting the earth. A world in which dinosaurs have learned to speak. To dream. To wage war.

Eleri is an oryctodromeus, a small dinosaur raised in an underground warren. He dreams of becoming his herd's storyteller but when he saves an enemy soldier from a pterosaur attack, he is exiled to the Deadlands. To survive this scorched desert full of carnivores, he joins a herd of other young exiles, including a peppy stegosaur, a stoic sauropod, an irritable triceratops... and a mysterious spy. Can five young misfits save their warring kingdoms?  Includes bonus content: a map and extra dinosaur facts.

Perfect for fans of Skandar and the Unicorn Thief, How to Train Your Dragon and Percy Jackson.
Find out more from author Skye Melki-Wegner!
Reviews
Jane
That this book found a reader as soon as I was spotted reading it in the playground testifies to the power of its subject (dinosaurs) and the eye-catching cover. Delve beyond the cover, and one enters a world populated by a cast of characters including Eleri, Agostron (his brother and heir to the throne), Zyre, Tortha, Sorielle and Lerithon.
Some of these are helpfully pictured at the back of the book and the species to which they belong, likewise, described at the front. We are also told which part of Cretacea they inhabit and which side they're on. For this prehistoric world is beset with battles, fought between bitter rivals. Just who is a traitor is not always clear. And therein lies another attraction of this story (which grew on me, the more I read): that it twists and turns, leading us to question who the real enemies are - as Eleri and co must, if they and their homelands are to survive.
Skillfully written, packed with adventure and surprising in its depth, this is a book which deserves a place in the primary (or even secondary) school library. It could stimulate discussion around honour, peace-making and the integrity of leaders in the classroom; but I suspect that it will mostly be enjoyed for the simple pleasure of a good read.
304 pages / Reviewed by Jane Rew, school librarian
Suggested Reading Age 9+
Other titles