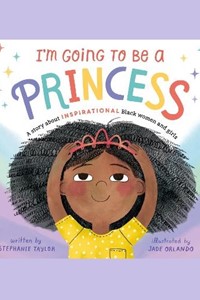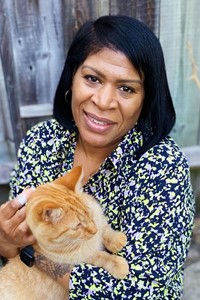 About Author
Stephanie Taylor is a British-born author of Jamaican heritage. Married to Michael, she has two amazing grown-up children, Sîan and Miles. Stephanie has worked in primary education for over 20 years at the same school in South East London.   Reading and writing books for children is Stephanie's passion.
Jade Orlando grew up in a tiny Michigan town and her childhood was spent drawing dragons and cat ladies. She took a BFA in Illustration and is now a freelance illustrator. She lives in Atlanta with her husband. When she's not drawing, Jade can usually be found curled up with her cats and a really good book.
Interview
I'm Going to be a Princess  (Nosy Crow Books)
September 2023
In our Picture Book of the Month, Maya decides she is going to be a princess when she grows up - but what kind of princess will she be?  Through the pages of I'm Going to be a Princess, we learn about a range of inspiring black women, but Maya doesn't want to be a doctor, an athlete or a dancer. She wants to be a princess - and in the final pages, we discover just how inspiring her choice is!
Teaching assistant and author Stephanie Taylor tells ReadingZone what inspired her to write her debut children's book, I'm Going to be a Princess, and we hear from illustrator Jade Orlando why representation and community are so important in her work.
Review:  "An important book to inspire children and to educate."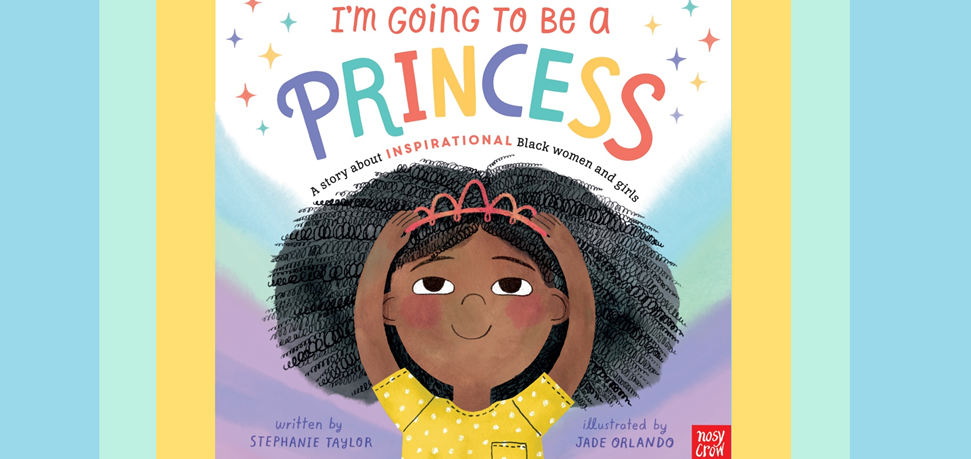 Q&A with Stephanie Taylor
"I wanted to encourage children to think outside of the norms; to know that there are women who were/are trailblazers and that they can be, too."
1.   Can you tell us about yourself as a writer?

Gosh, I find it very difficult to think about myself as a writer. It is still such a surprise to me that anyone, let alone my agent, James Catchpole, and the lovely folk at Nosy Crow, love my book as much as I do! I'm the kind of writer who wants to inform as well as make people smile when reading, just like with working in education. Whether I am supporting a class teacher or teaching myself, I always want the children to enjoy our interactions. Like a lot of grown ups, I feel children retain information better if it's memorable!

2.   What is your debut picture book, I'm Going to be a Princess, about - and what inspired the story?

The book is about a conversation I feel most parents have with their children at some point. As parents, we aren't always keen on what our children want to be when they grow up. We hope it's a phase but importantly we don't ever want to discourage their dreams and ambitions. 
I'm Going to be a Princess is actually based on a conversation I had with my goddaughter, Maya, as we walk home after school one day! The idea was born from there…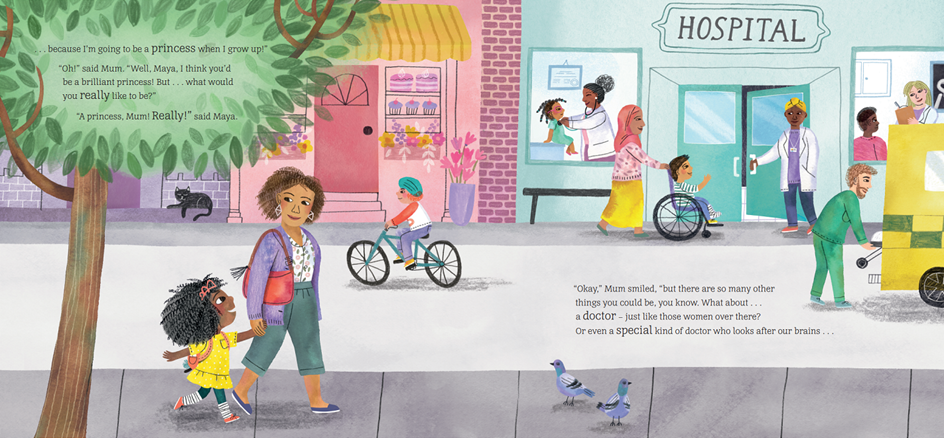 3.   You include real life examples of black women who have made great achievements. How did you find out about them?

I researched roughly 15 different women, from the UK and around the world, for the story because I wanted to encourage children to think outside of the norms; to know that there are women who were/are trailblazers and that they can be, too. It was very difficult to whittle it down from those original women but I hope I've chosen women from a variety of backgrounds.

4.   Most of the women you highlight are American - why did you decide to focus on their achievements? Do any of them stand out for you?

I didn't deliberately pick American women. It was about choosing a variety of careers and researching women who were determined to make a change despite all the obstacles in the way. I could easily write about SO MANY black women from across the globe who are all extraordinary individuals!
My personal favourite is Misty Copeland - I have followed her career for many years and having wanted to be a dancer, admire her greatly.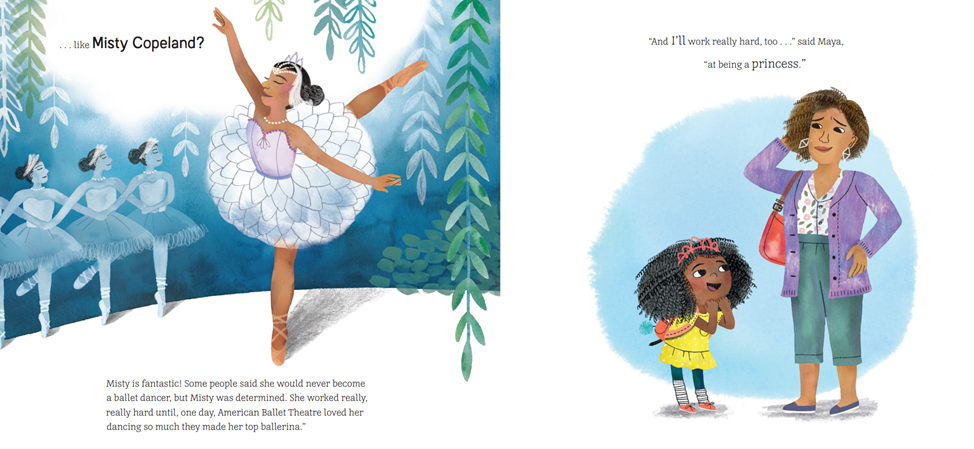 5.   Maya has decided which princess she wants to be - a real warrior queen from Africa. How did you find out her story?

Princess Amina or Aminatu was a story I came across whilst researching Queen Nzinga, who was queen of modern day Angola. But as incredible as Nzinga was, Amina's life story stood out to me because she defied so many expectations.

6.   Apart from learning about these incredible women, what would you like young readers to take from I'm Going to be a Princess? 

Child-friendly information about African kings and queens is tricky to find unless it is about Egyptian kings and queens. I wanted children to know about how rich African history is, from across the continent, that started long before slavery and which continued throughout it, and after it was abolished.

7.   What did you think when you first saw Jade Orlando's illustrations? 

I was completely blown away by Jade's illustrations! It was as if she looked inside my head and drew what she found there. Every time I look at the illustrations I've a new favourite but if I had to pick one it would be the first spread. There is a dad collecting his daughter from school and it reminds me of my husband and daughter.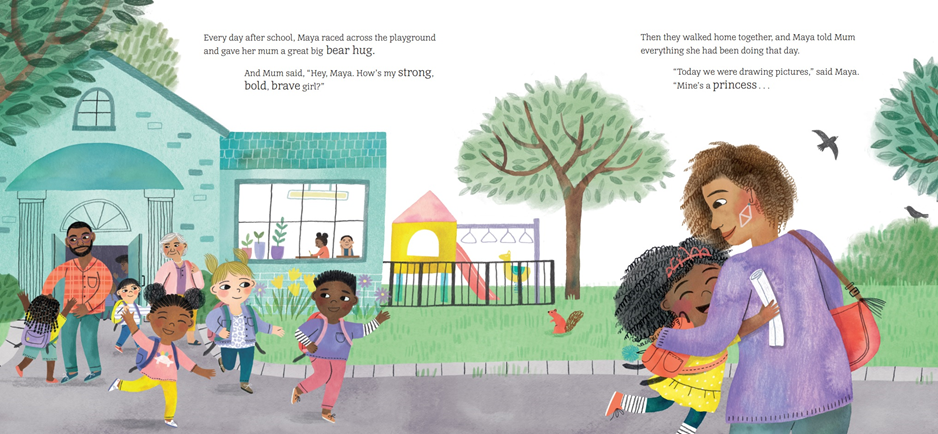 8.   As you're working in schools, when do you find time to write? Which authors do you enjoy reading in your downtime, or sharing with your class?

I am a HLTA (Higher Level Teaching Assistant), which means that I cover PPA, teacher absences, and small groups so there is a lot of responsibility within my role. Writing is something I do all the time. I carry a notebook with me (or notes on my phone) and jot down any ideas that come to mind.
Favourite authors are B.B Alston, Patrice Lawrence, Patrick Ness, Tola Okogwu, Malorie Blackman and so many more. I have a personal stash of children's books at school which I love sharing with the children.

9.   Where and when are your favourite times to write? Are you writing any more picture books?

My bedroom is my favourite place to write! It's where I decompress after the day and that's often when ideas start to form. I am writing a couple of picture books, all at different stages. It can take me a while to be brave enough to share them with anyone else!

10.   What are your favourite things to do when you're not in the classroom, or writing?
I love ballet, food, art, TV dramas, and my two cats Neko and Pablo - but my favourite thing to do is spend time with my husband, family and friends.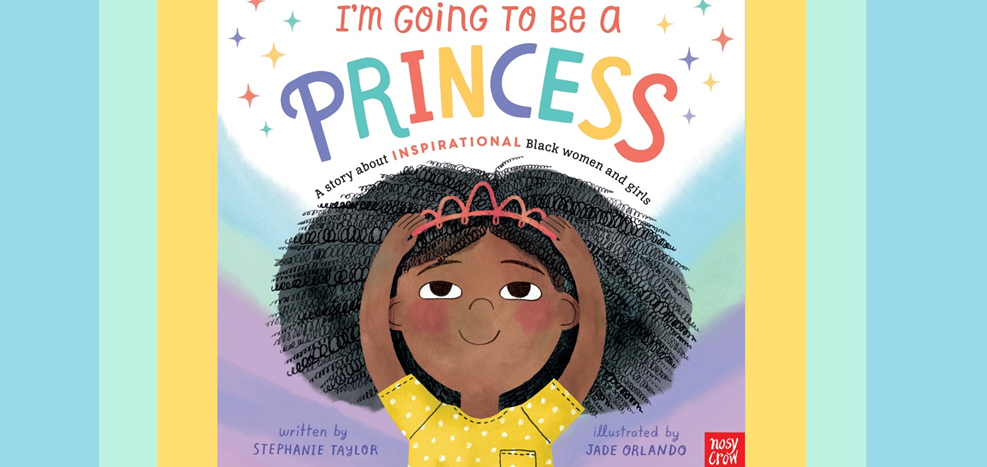 Q&A with Jade Orlando

"Representation is top of mind for any illustration I create. It's so important for all kids to be able to see themselves represented on a daily basis."

1.   Did you always want to illustrate children's books? Do you do other kinds of work?

I've loved drawing for as long as I can remember. At first, I didn't know what an illustrator was, so I'd tell people I wanted to create the characters on the front of cereal boxes. I eventually discovered the name for my dream career, and went to college to become an illustrator.

I love all areas of illustration. I often do illustrations for products like greeting cards and toys, along with editorial illustration. Recently, I've done a few comics for the New Yorker!

2.   Why did you want to illustrate I'm Going to be a Princess? 

I loved Maya's fiery spirit, and Stephanie's fresh take on the Princess theme. The idea of illustrating Maya and her Mom's close relationship, as well as historical portraits of strong Black women in history, was an exciting challenge!

3.   How did you go about developing the world around Maya, and its strong community feel?

I hail from Atlanta, Georgia, in the USA so my first task was to research the UK!  From the buildings to the colour of the ambulances, I tried my best to accurately portray Maya's physical world. While the story focuses on a seemingly simple walk home between Maya and her Mom, the life behind the scenes is in the people and community surrounding them. It was important to me to bring life to all the people inspiring the conversation about Maya's future career.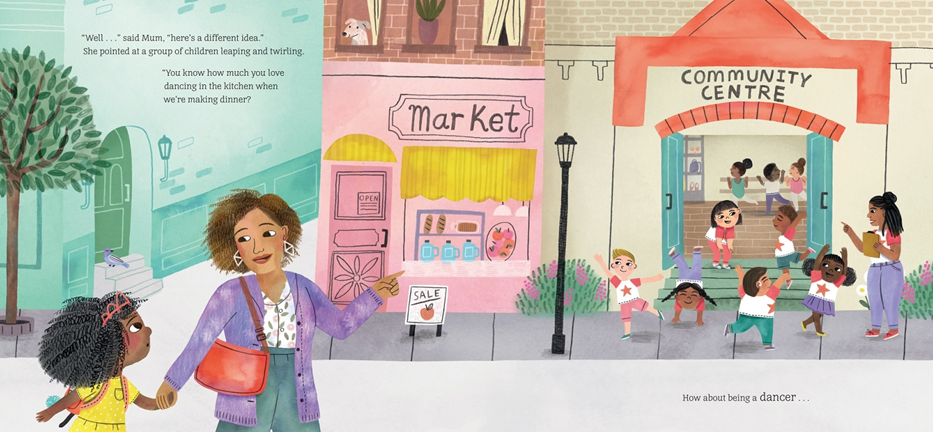 4.   Do you also like to focus on representation in your images, as you do with this community?

Representation is top of mind for any illustration I create. It's so important for all kids to be able to see themselves represented on a daily basis. I'm Going to Be a Princess already features amazing historical Black women in all sorts of careers, but I also made sure that the everyday people Maya sees on her walk were diverse in appearance and ability.

5.   Was it difficult to include images of real historical figures alongside Maya's story? How did you adapt the style of illustration to do this?

Weaving the historical figures in with Maya's story was one of the challenges that drew me to I'm Going to Be a Princess. It was a tricky balance to make sure the real women in the story were accurate and identifiable, but emotional enough to fit in with the style of Maya and her Mom. By keeping a consistent watercolor style throughout, and drawing the characters in a way that wasn't too cartoony or too realistic, I did my best to make both the real and imagined people feel like they belonged together.

6.   How do you create your images? 

Though I incorporate a lot of digital tools in my process, nothing is quite as satisfying to me as paint on paper. For I'm Going to Be a Princess, I painted the characters, elements and textures in watercolors and gouache, then arranged them digitally into scenes. This makes it easy to make changes and edits to get the illustrations just right!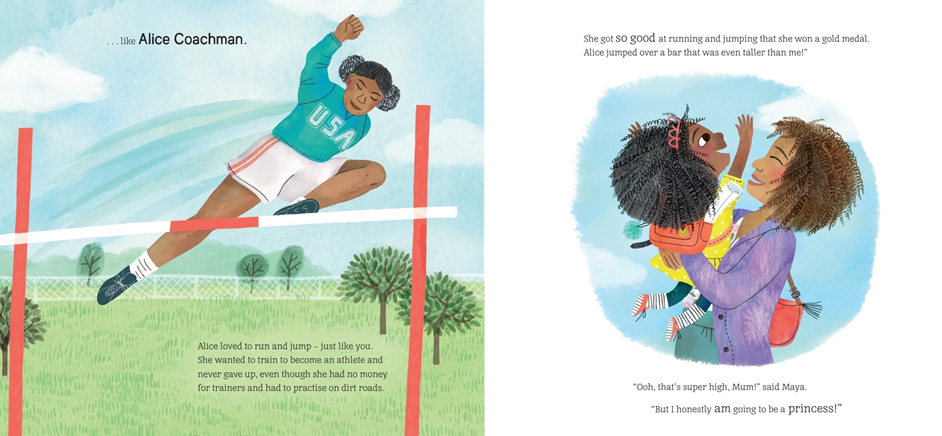 7.   Where do create your illustrations? 

I spend my days working from my home studio in Atlanta, Georgia. It's a basement studio with everything an Illustrator needs to create. My paints and traditional art supplies are on the wall with windows to let in the natural light, and my computer lives on the other side of the space for technical work. It's important for me to have a separate space for working and living. My studio has a door so I can banish the cats, husband and distractions when I need to focus!

8.   Who are your favourite children's illustrators? Have any recent picture books grabbed your attention?

Growing up, I loved Judie Schachner and her character Skippyjon Jones! The illustrations always drew me in with their looseness and expressiveness.

I love everything Christian Robinson creates. His work is so graphic and expressive at the same time- he's truly a master! I'm also a big fan of Sarah Walsh. She adapts her style so effortlessly between children's work, product design and everything else she creates!

One book that caught my eye recently at the bookstore was Mina by Matthew Forsythe. I love books where the illustrations contribute even more of the story than the words alone, and this book definitely checked that box. Mina was hilarious to my inner kid as well as having beautiful and elevated illustration that the illustrator in me appreciated.

9.   What kinds of things do you enjoy doing to relax?

I'm a huge homebody, so when I'm not illustrating I'm usually at home reading sci-fi with the cats, or dabbling in ceramics!
Author's Titles