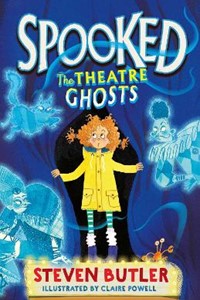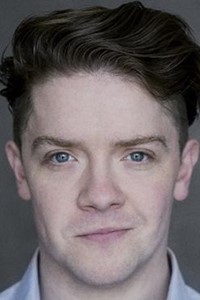 About Author
Steven Butler is an award-winning and New York Times bestselling author, performer and voice artist. His books have won the coveted Sainsbury's Children's Book Award, and been shortlisted for the Roald Dahl Funny Prize, Alligator's Mouth Award and the Lollies. 
Steven grew up in Kent, but now lives in London and Brighton. As well as writing books for children, Steven has worked as a performer and voice artist, and hosted the World Book Day's The Biggest Book Show on Earth.
Read a Chapter from Spooked: The Theatre Ghosts
Interview
Spooked:  The Theatre Ghosts  (Simon & Schuster Children's Books)
October 2022
Just in time for Halloween comes this spooky story about an old theatre, a strange adventure - and ghosts! (psst - it's also very funny!)
When Ella stumbles into an old abandoned theatre, she doesn't expect to find a caste of ghosts! Before long, she is in a headlong adventure to save the theatre and the ghosts' home.  We asked author and actor Steven Butler  to tell us what inspired the story, and whether he's ever come across a ghost himself....
Q&A with Steven Butler
1.   What kinds of books do you like writing, and how long does it take you to write them?
I love comedy and I love adventure, so my favourite kind of books to write sit somewhere between the two genres. I'm at my happiest when I manage to create a book that will excite my readers, keeping them on the edge of their seat and making them laugh at the same time. Depending on the story, most of my books take somewhere between three and six months to complete.

2.   What would you be if you weren't an author?
If I wasn't an author, I would probably like to be a chef. I love cooking and I can always be found in the kitchen, rustling something up. I also find cooking extremely calming, so when I'm taking a break from big scary deadlines, I find it really soothing to potter about at the stove for an hour or so.

3.   What happens in your new book, Spooked: The Theatre Ghosts, and what inspired it?
Spooked: The Theatre Ghosts is all about a young girl named Ella Griffin who befriends a gaggle of ghosts inside a derelict theatre in her hometown of Cod's Bottom. The Hippodrome is in danger of being demolished by the local council and it's up to Ella and her friend's (both living and not-so-living) to save it, before the ghosts who haunt its many halls are lost forever.
It's a book all about friendship and standing up for what you believe in, and I'm really proud of it. I've worked as an actor for most of my adult life, spending a huge amount of time in dusty old theatres in London's West End and around the UK. Many of them have their own ghost stories to boast of and I always promised myself I'd write one myself to add to the list. It took me about ten years to finally do it, but I finally have. Woo Hoo!

4.   Ever seen a ghost yourself?
I have never seen a ghost, but when you spend as much time in London's theatres as I have, you get to see a lot of spooky and unexplainable things. When I was fresh out of drama school, I worked at the Lyceum Theatre and there was one particular bar, right at the top of the Grand Circle, where glasses would shoot off the counter top and smash all the time. CREEPY STUFF INDEED!

5.   Can you tell us a bit about the ghosts in Spooked? Which one would you like to meet 'in person'?
There are lots and lots of ghosts in Spooked. Some of my favourites are Philomena Flummery the poodle lady, Alonzo McBurney the strong man, Giuseppe Stupendi who lost his legs in a magic accident and spends his haunting-years chasing them around the theatre, and the Tunk Twins… acrobatic sisters named Florrie and Vesta.
If I could meet one of them, however, it would probably be Madame Eudora Grebble, the fraudulent psychic. She's rude and grumpy and was a real pleasure to write.

6.   Is the drama-loving Ella based on your own childhood love of acting?
There are certainly parts of my love of performing in Ella Griffin, that's for sure. She's also loosely based on the editor of the Nothing To See Here Hotel series, Jane Griffiths. In fact, in the original manuscript of the book, Ella was called Janey Griffin. See what I did there?

7.   Have you ever been to a place like Cod's Bottom, the setting of your book??
Yes, loads of them! Seaside towns are always cheerful and lovely in the summer, but there's something slightly haunting about a seaside town when winter creeps in. Shops close and the streets become deserted. I really liked that image, which is why I wrote that the weather is perpetually cold and rainy in Cod's Bottom, even in the summer. It's a town that always feels like it's creeping into winter.

8.   Ella's late Aunt Sylvie sounds very wise - what's your favourite saying of hers?
I love the idea of Aunt Sylvie and had a very strong image of her in my head, even though she never physically appears in the book. In real life, I'm completely obsessed with the late Mexican artist, Frida Kahlo, and find the way she rebelled against so much in her life very inspiring. Janey often thinks about the way Sylvie told her to live like Frida Kahlo, which I think is a very sound piece of advice indeed.

9.   What made you laugh the most when you were writing Spooked: The Theatre Ghosts?
I loved writing the dialogue between Madame Grebble and Morris Gulch, the actor ghost. They are constantly bickering and arguing with each other. All of the names that Madame Grebble calls Morris are genuine Victorian slang words and… don't tell anyone… one or two of them are actually on the rude side.

10.   What do you think of Claire Powell's illustrations - any favourite characters or moments in the book?
Absolutely no one could have done a better job for this book than Claire Powell. Her scratchy pen-and-ink style is just perfect for capturing the ramshackle theatre and all of its raggedy inhabitants. My favourite illustrations are those of Giselle, the ballerina, dancing across the stage, and the phantom audience that appears in the auditorium a little later in the book. JUST BRILLIANT!

11.   What's next for Ella and her friends - and Cod's Bottoms' spooky residents? How many books do you have planned in the series?
Oooh, that's very nosy of you. At the moment I'm only planning a sequel for Spooked: The Theatre Ghosts and, though I can't say too much, it may involve a bit of a haunted holiday to London in search of a new place for the ghosts to live. Now… forget I told you!!

12.   What do you enjoy doing when you're not at your desk?
Lots of things! I'm a bit of a fidget and like to keep busy. I love going to the theatre, watching strange European cinema that no one else will watch with me, reading and wandering around art galleries. I can also often be found down in Brighton, visiting Steven Lenton, and walking our dog, Big-Eared Bob.
Author's Titles