Spooked: The Theatre Ghosts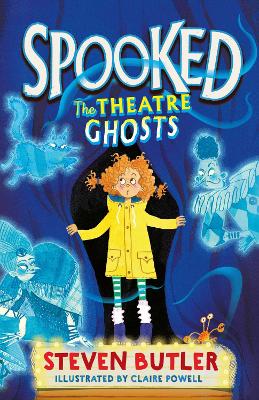 By Author / Illustrator
Steven Butler
Genre
Adventure
Age range(s)
7+
Publisher
Simon & Schuster Ltd
ISBN
9781471199233
Format
Paperback / softback
Published
01-09-2022
Synopsis
Welcome to Cod's Bottom - the sleepy seaside town with a secret! Meet an unusual cast of ghosts in a laugh-out-loud new middle-grade series by the bestselling author of The Nothing to See Here Hotel. Perfect for fans of The Danger Gang and The Boy Who Grew Dragons.

There's nothing out of the ordinary about ten-year-old Ella Griffin. Nothing at all . . . until she's forced to move to the seaside town of Cod's Bottom and everything changes. In search of adventure, Ella stumbles into an old abandoned theatre, but all is not as it seems. Because the theatre isn't empty, it's haunted by weird and wonderful ghosts, and they need her help to save them!

Praise for The Nothing to See Here Hotel:  'This book is so good you won't blunking believe it!' Tom Fletcher, author of The Danger Gang.  'Hilariously funny and inventive' Cressida Cowell, author of How to Train Your Dragon.   'This hotel gets five stars from me.' Liz Pichon, author of the Tom Gates series
Enjoy a reading by author Steven Butler!
Reviews
Hayley
Spooked: The Theatre Ghosts is the new book by Steven Butler. This story is a perfect balance of humour and mystery and it all starts in the seaside town of Cod's Bottom!
Ella Griffin has been uprooted from the bustling city of London to the miserable seaside town of Cod's Bottom, where her mother had grown up. After the death of her sister, she has been bequeathed her house, however, Ella is finding it hard to adapt to life in Cod's Bottom. She misses her friends and her social life. That is until one day, whilst out walking her dog, she stumbles upon the dilapidated theatre and everything changes.  Ella is determined to make new friends and be happy in Cod's Bottom yet didn't ever imagine some of them being dead!
This book is a fantastic read and would be a brilliant addition to a 7+ class story list, library or child's bookshelf. It has a captivating plot with villains and heroes that always bring entertainment to the story. Every character has its own part to play but together they make a great team which promotes the theme of friendship and trust. There are many discussions that could be generated from this book, especially ones about being different and being true to yourself. Children will love reading how this story unfolds.
272 pages / Reviewed by Hayley Summerfield, teacher
Suggested Reading Age 7+
Linda
Spooked: The Theatre Ghosts is a thoroughly enjoyable read from Steven Butler. When ten year old Ella Griffin is forced to move away from her happy life in London to the dull and miserable seaside town of Cod's Bottom, she fears her life might as well be over. That is until she stumbles into an abandoned theatre and meets a whole range of new friends - both living and dead!
Spooked would be a great book for ages 7-9 years. It has the perfect balance of humour and mystery, as well as having dastardly villains and unlikely heroes. It's an entertaining and lively read with a brilliant cast of characters, with quirky personalities and back stories. At its heart, there is a wonderful message about staying true to oneself and not being afraid to be different, which is a great discussion point for young readers. It's also a great celebration of friendship and individuality so would be a lovely book to share as a class reader.
272 pages / Reviewed by Linda Canning, teacher
Suggested Reading Age 7+
Other titles