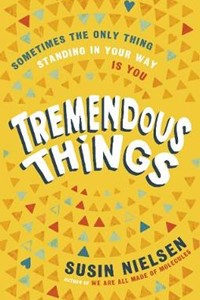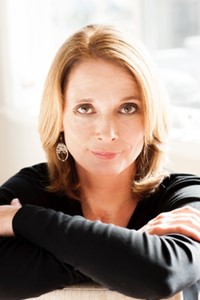 About Author
Susin Nielsen's new book, Tremendous Things, explores the life of a teenaged boy who already feels as if he's a loser.  Nielsen originally started in film, feeding cast and crew on the popular television series, Degrassi Junior High. They hated her food, but they saw her spark for writing. Susin has since written for many Canadian TV shows and received critical acclaim for her young adult novels, which include We Are All Made of Molecules. She won the prestigious Governor General's Literary Award in her native Canada for The Reluctant Journal of Henry K. Larsen. She lives in Vancouver with her family and two very destructive cats.
Interview
Tremendous Things (Andersen Press)
June 2021
Susin Nielsen's latest novel gives an honest, funny and tender look at being a teenage boy and explores themes including friendship and bullying through the eyes of teenage Wilbur, who feels he is failing at life.   In this video, Susin answers questions from ReadingZone reviewers Kerenza, Maddie and Renee about Tremendous Things 
In this Q&A, Susin Nielsen tells us more about her writing, parenting and her latest book.
1. Can you tell us a little about your new book, Tremendous Things? How has writing it compared with your earlier novels?
Wilbur has spent his teens being bullied and now he's sure he's nothing but a loser: his best friend is 85 years old, and his only talent is playing the triangle in the school band. Things start to look up when a mix-up with the French exchange programme results in Wilbur being assigned a girl to look after - an amazing, sophisticated, beautiful French girl called Charlie. Wilbur is sure he's in love, and his sometime friend Alex has a plan to give Wilbur the makeover that will get Charlie to love him back. It was quite a bit harder than some of my other novels, to be honest - a lot more re-writing required!

2. What makes an idea stand out for you as one you want to follow - do you tend to start a story with the character or the situation? 
I usually start with a character. Sometimes an idea will go along with that character, or an event (like in Wilbur's case, the time capsule letter). I often don't know if the story has a lot of legs until I get deeper into writing.

3. The story begins with a letter that Wil writes to his future self; why did decide to begin the novel with this embarrassing 'defining moment'?
Well, I like to start my books with a bang. :-) And because I think we've all had those moments in school (maybe not as bad as Wil's) that cling to us like a bad smell, even after we've long changed and grown.
4. After a childhood of home schooling, Wil's life at public school is a series of embarrassments. How do you still bring humour into his story?
I always have humour in my stories. I think the first person narrative really helps; a lot of what Wil thinks and says is funny, even if he wouldn't think so; the reader can think so.
5. Wil's wonderful same-sex parents don't always help as they are over-protective of him. Why do parent(s) and family always have a big role to play in your books?
Well I think family is a huge part in everyone's life, for better or for worse! This is the first ever book I've written where I have a happily married couple of parents. So many kids are micro-managed or "helicopter parented" these days - I confess I was a bit of an offender myself with my son - and it made it fun to write Mum and Mup, for sure, since Mum is the worst offender.

6. Friendship is an important theme in the story, but how did Wil's two best friends - Alex and Sal - develop?
That was a slow burn. As I recall, Sal wasn't even in my first draft! The book really evolved - there were no Charlotte's Web references, it had a totally different title ("My Cherie Amour"). As the themes around Charlotte's Web started to emerge, I realized Sal was actually Wil's Charlotte, the person who teaches him he is "some pig!" I really wanted Wil to have a gay best friend too, to help normalize friendships between gay and straight men.

7. Tremendous Things also features a potential romance that doesn't happen. Why did you decide to make this 'not a romance' story?
Because I feel like if your thing is romance, you have a million and one choices out there. Honestly, I like "marching to the beat of my own triangle" when it comes to my writing. I've only really had one sort of love story and that was in "Optimists Die First."

8. Why is EB White's Charlotte's Web a favourite of Wil's?
Well, that was a writerly choice. I think it started with just the letters he wrote to EB, and I had to pick a classic book, and a novelist who was dead (for the Mum letters to play). Then I re-read Charlotte's Web and started to see thematic tie-ins that I could use. Writing a book is part organics and part mechanics, I like to say.
9. Is there one moment, or a sentence or two, that stands out for you in the book?
Haha no. I'll leave that for readers to pick out. I never re-read my work. I will say I am very fond of the last sentence.
10. You describe in the acknowledgements how you 'magpie' things people say for your stories. Do you always have a notebook on you to record such things?
No. I probably should. Sometimes I think I have a really original idea, and then much later I'll realize, "oh, that came from that conversation you had with so and so, ages ago …"
11. When and where do you do your best writing, and what are you currently working on?
I'm definitely best in the mornings. I have a home office on the second floor of our house and I can see the tops of the North Shore mountains. Currently I am taking a break from novel writing and am about to go into production on Season 2 of a TV series I created, called "Family Law."
12. How does your writing day go, and what are your favourite escapes from your desk?
I write in bursts. I usually can't write for more than a few hours a day. My favourite escapes are definitely active; swimming, biking, yoga, walks, gardening.
Author's Titles