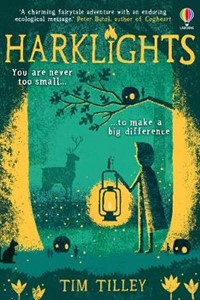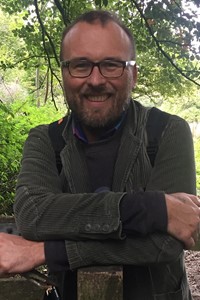 About Author
Tim Tilley grew up on the outskirts of Leicester, and studied Illustration at Anglia Ruskin University and Central Saint Martins. He works as a freelance illustrator for editorial and design clients and teaches children's book illustration at City Lit in London.
Interview
Harklights  (Usborne Publishing)
May 2021
Harklights is a celebration of the wonders of the natural world, says author Tim Tilley. When orphan Wick runs away from the Harklights factory and its abusive owner, he is helped by a community of tiny people who protect the forest. However, they seem powerless to prevent a new monster from destroying their homes.
In this video, Tim Tilley explains how his love of nature helped to inspire Harklights and how his visits to local woods provided fresh ideas for his story.
1. You teach children's books illustration; what does this involve, and why did you want to also write children's books?
We look at different aspects of children's book illustration, from creating characters to story ideas, working with text and image layout and thinking about page turns. I'm thrilled that a number of my students have gone on to get published, either as authors, illustrators or author/illustrators.
I've been wanting to write my own books for a long time. The first book I wrote was when I was 12. For English, we had to write our own Robinson Crusoe desert island story. I remember it had to have five things happen in it. While others in my class managed to cram everything into a page or two, I felt my story (My Christmas Away from Home) needed more space and ended making a 65-page hardback mini book with chapter illustrations.
2. Can you tell us about Harklights?
Wick is an orphan who lives and works at Harklights Match Factory Orphanage. When he meets Hobs - miniature protectors of the forest - they offer him the chance to come and live with them in the wild. Harklights is a story filled with nature and adventure, wrapped in magic.
3. Were there events or childhood memories that helped inspire Harklights?
Growing up, I've always loved nature, especially woods and forests. There was a small spinney, not far from home, that I loved exploring. I also loved Bradgate Park, a medieval deer park, which has ancient oaks. My brother and I used to climb inside a huge hollow oak, pretending it was a wooden castle. We played Robin Hood and other forest stories.
Years later, on a return trip to Bradgate, we were amazed to see that the hollow oak was still standing. We couldn't crawl inside the oak anymore, but it didn't matter. As we left, in the fading light, what appeared to a faraway tree, stood up and revealed itself to be a stag. The moment burned in my mind and sparked the idea for the tree-stag.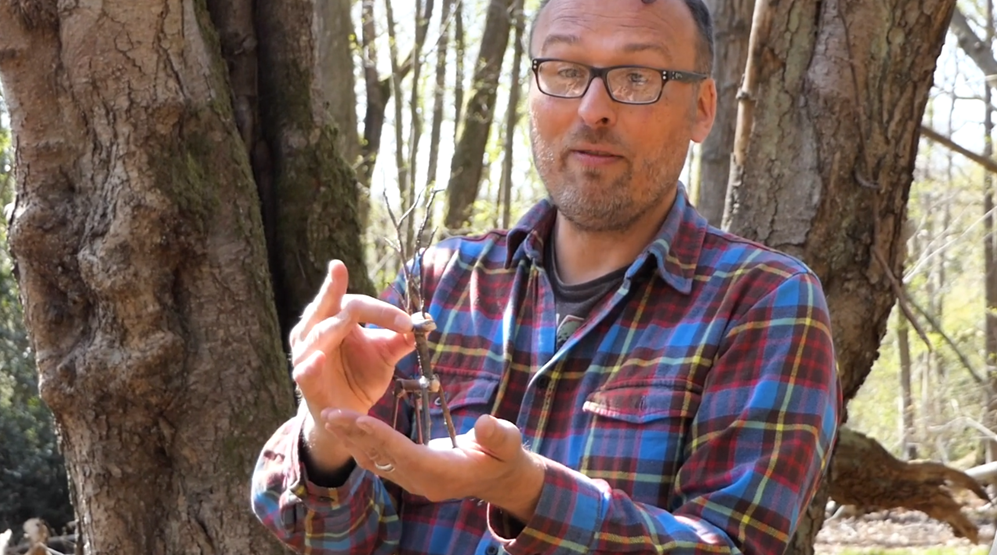 A tree-stag created from branches found on the forest floor
4. How did you go about creating the Hobs as forest keepers? 
I always knew the Hobs looked after the forest. Originally, I imagined a book of forest law that the Hobs followed, a little bit like the Countryside Code. As the idea developed, I thought of different ways the Hobs could look after the forest inhabitants, whether they were plants, trees, animals or birds.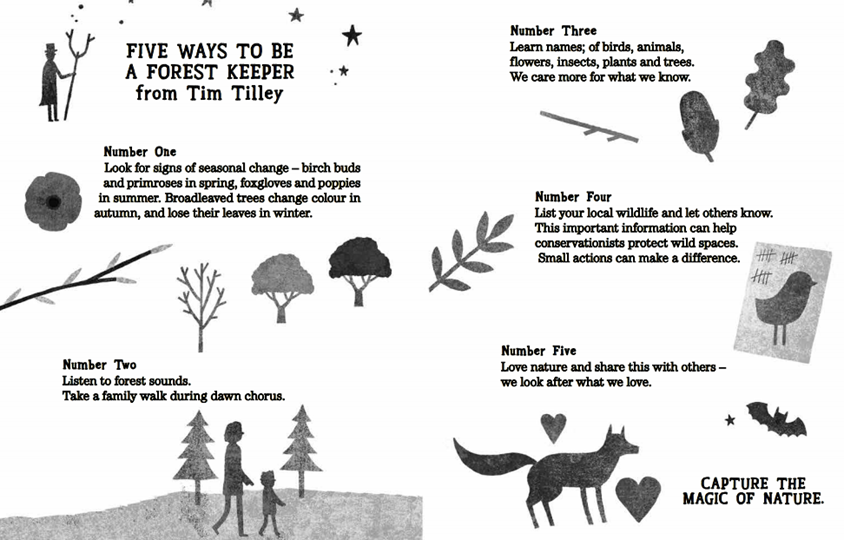 Do you have a favourite Hob?
My favourite Hob would have to be either Nissa or Papa Herne. I love Nissa's bravery. She's not afraid to challenge things when she knows they're not right. She's also gets a bit jealous when Wick arrives. And feeling set aside is something we can all relate to at times.
I also love Papa Herne's kindness and caring nature. He's the complete opposite of Old Ma Bogey and we need more kindness in the world.
5. Opposed to the forests is the Dickensian setting of Harklights, how did that develop?
Everything started with the moment Wick found a tiny baby in an acorn-shaped cradle. I knew Wick was an orphan and that he would think the tiny baby was another orphan that had been abandoned. After that, I knew the Hobs would come looking for their baby.
The match factory came soon after, inspired by The Little Match Girl, and also by The Bryant and May match factory, a piece of real history. Annie Besant, a champion of human rights, discovered that the workers - women and girls - worked under terrible conditions. Annie fought for their rights, and secured them better wages and working conditions.
The idea to give the orphans new names when they arrived at Harklights came from a trip to the Foundling Museum in London. Back when the place was the Foundling Hospital, mothers would leave their babies with unique tokens. Some of these tokens were keys, rings, buttons, engraved coins, flattened thimbles, and padlocks.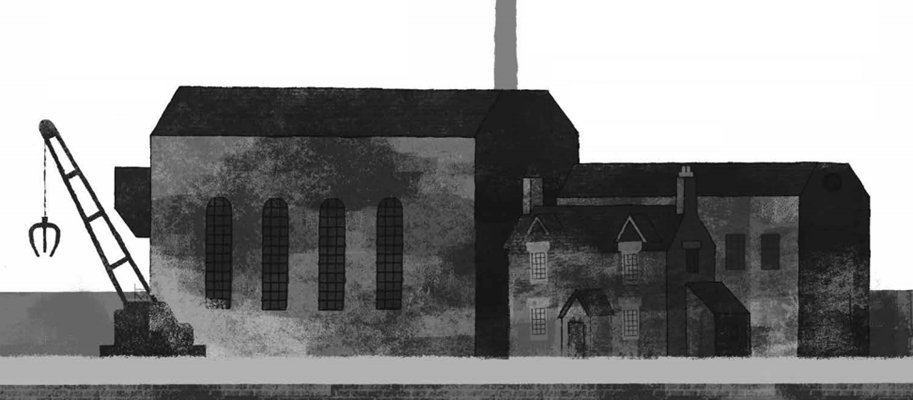 The match factory in Harklights
6. Did you also research the impact of industrialisation on the country at that time? For example, the destruction of woodland for timber?
I think the bit of history that impacted my imagination for Harklights was the idea that Britain was once a huge forest. We had a small spinney not far from home, and the idea that it might have stretched from coast to coast really stayed with me. Of course, forests can have open spaces, but I always imagined it to be closed canopy, so a squirrel could hop tree from to tree all the way from Norfolk to Wales.
In the Victorian era, woodland was cut down for timber and paper, but also to make charcoal. Charcoal could produce high heats and was used alongside coal for steam trains, steam ships and factories. I was also inspired by old photographs of cities with forests of chimneys and choking smoke. Trees clean the air that we breathe. It seems crazy, not only to chop down vast swathes of air-cleaning trees, but to turn them into charcoal, that when burned, pollutes the air even more.
Some of my early sketches for Harklights were made using charcoal. I love the grubby feel of the material, and it's great for making textures. Charcoal is one of our oldest art materials and hasn't changed from the times when our ancestors pulled charred sticks from their storytelling fires and drew on cave walls.
7. How do you go about finding names for your characters and settings? eg Hobs, Harklights etc.
One of my favourite non-fiction books was - and still is - The Brewer's Dictionary of Phrase and Fable that belonged to my grandmother. Brewers is packed full of history, myths, folk tales and legends. I loved going on afternoon adventures poring over the mottled pages.
Brewers wove its way into the roots of Harklights - the Hobs take their name from Hob, a Scottish household spirit. And Nissa's name comes from Nisse, meaning gnome in Norwegian.
I spent ages coming up with the name Harklights and settled on it as I love the classic feel of the word 'hark'.
8. Why did you decide to illustrate the book, and how did you create your black and white illustrations?
I've always dreamed about writing and illustrating my own books. The illustrations are created using different materials - pencil, charcoal and screen-printed textures. I then scan these into Photoshop and build them up in layers.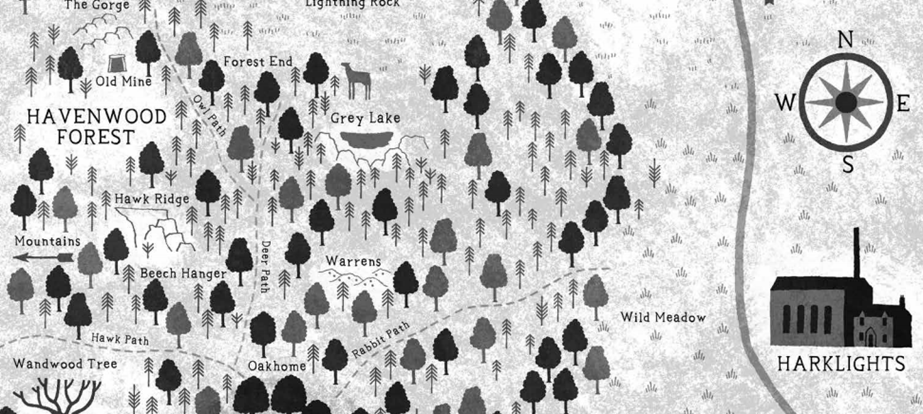 A map from Harklights
9. Other than a great story, what would you like children to take from Harklights?
The idea that you don't have to be big to change the world. Small actions can make big differences, whether it's choosing a bamboo toothbrush instead of a plastic one, recycling paper, or giving food to the homeless.
10. How close to nature do you feel your everyday life is? What can each of us do to become better 'nature keepers'?
I'm very lucky to live close to woods and forest. I love to go out on wildlife walks at least once a week, if not more. And I like to keep acorns, leaves and twigs at home to keep nature close to me.
Nature needs our help in protecting it. If you have a garden, yard or balcony - even a very small one - plant a tree and wild flowers for bees and insects. If you don't have a place to turn into a wild patch, then you could join your local Watch Wildlife group run by The Wildlife Trust.
11. Do you plan to return to Harklights to follow the characters' journeys? What are you writing currently?
Yes, absolutely. I've worked out what happens to Wick, Nissa, Petal, Padlock and a few other characters. There are seeds carefully planted for a sequel. I've also got ideas for a few short stories set in the Harklights world.
I've just finished a new draft for Witchstorm. The story is set in the same world as Harklights, and follows a cast of new characters. There's a crossover, but I can't really say more without giving anything away.
12. Where and when do you do your best writing? Apart from your computer, what's always on your writing desk?
I always carry something to write in or on, whether it's a notebook or scrap of packaging from a grissini box. I think it's important to capture your ideas when you have them and put them down on paper, whether it's a few words, a sketch or a doodle.
I don't really have a set place to do my best writing. I'm a bit like a cat, I like to settle in different places. I write all around the house.
I always have a postcard on my writing desk that says, 'Do something today your future self will thank you for'.
13. What inspires you to keep going when you're stuck for ideas? 
I love going for walks. They are great for letting the mind go off and wander. In my mind, I'll play out scenes and conversations with characters. I see everything as a movie in my head at first. It then takes time to turn these into words.
Inspiration comes from all sorts of places. Apart from libraries and bookshops, I love museums and junk shops. For me, junk shops are mini museums, except you can buy things from them and take them home.
14. Where are you most likely to be found when it's time to relax?

Woods, libraries and bookshops. They are places to unwind, shelter from the rain, and explore hidden worlds.
Author's Titles