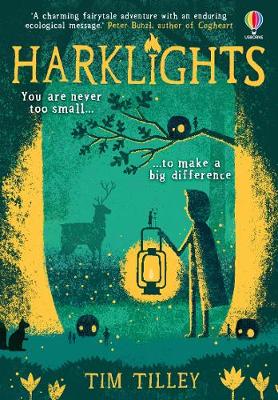 By Author / Illustrator
Tim Tilley
Genre
Environment
Age range(s)
7+
Publisher
Usborne Publishing Ltd
ISBN
9781474966603
Format
Paperback / softback
Published
13-05-2021
Synopsis
Wick has always lived in the dark and dreadful Harklights Match Factory and Orphanage, working tirelessly for greedy Old Ma Bogey. He only dreams of escaping, until one day a bird drops something impossible and magical at his feet - a tiny baby in an acorn cradle...As midnight chimes, Wick is visited by the Hobs, miniature protectors of the forest. Grateful for the kindness shown to their stolen child, they offer Wick the chance of a lifetime - escape from Harklights and begin a new life with them in the wild...
Winner of the Joan Aiken Future Classics Prize, Harklights is a magical story celebrating family, friendship and the natural world, filled with a message of hope for our times.
Reviews
Jennifer
Harklights is a beautifully, classic feeling folklore / fairytale style adventure. In a grim, grey orphanage (surrounded by a forest full of unseen life and tiny magical creatures ) lives mistreated orphan Wick, who seeks an escape from the cruelty of his life. The story is a captivating contrast between the two environments and author Tim Tilley's knowledge of the intricacies of nature and his attention to the smallest details of forest life are fascinating.
Harklights is an utterly enchanting adventure that sends out a pure and powerful message that no matter how small you are in this world , you have a power, responsibility and influence over protecting the natural world around you.
304 pages / Ages 8+ / Reviewed by Jennifer Caddick, teacher
Suggested Reading Age 7+
Kristen
Harklights is an orphanage and factory run by Old Ma Bogey and the children pack matchboxes in the factory. Strangely, none of the children ever seem to get a guardian and actually leave the orphanage. Old Ma Bogey uses her collection of random objects to rename the children when they arrive and they are given names such as Wingnut, Wick, Bottletop, and Petal.
One night, Wick finds an acorn that has been shaped into a tiny cradle with a baby inside. He is worried about how he's going to keep the baby a secret from Old Ma Bogey and decides to confide in Petal. After the children have gone to bed, small creatures called Hobs, who live in the nearby forest, arrive on the windowsill and offer to help Wick and Petal escape from the orphanage as a thank you for looking after their baby. However, Wick soon discovers that not all of the Hobs are as friendly towards him and don't like the idea of humans living with them as they think they destroy things. Some of the Hobs are 'forest keepers' who look after the forest and nature in return for the food it provides. Wick must prove himself to the Hobs and help them solve a serious problem that is threatening to destroy their homes and maybe even their entire species.
Harklights explores themes of friendship and loyalty as well as addressing the serious issue of the impact that humans can have on the environment. Wick and the Hobs have to adapt to living with each other and put any existing beliefs aside; Wick must also overcome some of his fears in order to help the Hobs and the other children still trapped in the orphanage.
I thoroughly enjoyed going on this adventure with Wick and was captivated by the descriptions of the forest and the Hobs. This book would lend itself brilliantly to PSHE lessons and any topic where environmental issues are discussed.
304 pages / Ages 8+ / Reviewed by Kristen Hopwood, teacher
Suggested Reading Age 9+
Jacqueline
Wick (not his real name) is an orphan working at the Harklights match factory and orphanage. Conditions for the orphans, whose real names are taken from them when they arrive, are simply appalling. Ma Bogey runs the place with an iron thumb, a stick and a gun. Anyone who dares displease her runs the risk of being thrown down the Bottomless Well, never to be seen again. Then, one day, an impossibly tiny baby in an acorn cup literally falls into Wick's hands, and everything changes. Wick meets the Hobs, the guardians of the forest outside the factory and escapes with them to find happiness he has never known before. Soon, all his newfound joy will be tested to the limit.
Harklights is an adventure with a message about looking after nature and yet it is not at all preachy and is woven into the story seamlessly. It is tremendously exciting, edge of the seat and yet at the same time, most scenes in the forest are peaceful and soothing. It brings into relief the contrast between the human innovations and the natural order of things.
Tim Tilley has also illustrated this book, with wonderful, simple pictures that bring the story to life. In fact, as I had a proof copy, my one regret is that I did not see all the illustrations, as they are beautifully rendered in black and white.
This book won the Joan Aiken Future Classics award, and I can entirely see why. There are quite a few unanswered questions by the end, which I'm hoping means there will be a sequel.
304 pages / Ages 8+ / Reviewed by Jacqueline Harris, teacher
Suggested Reading Age 9+
Other titles