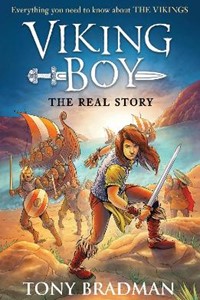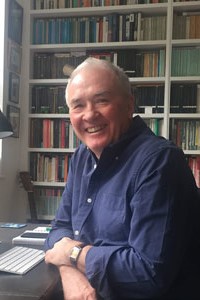 About Author
Tony Bradman's historical fiction novel Viking Boy is used in classrooms around the country and his new book, Viking Boy - The Real Story, draws on those adventures and his extensive research to give more information about life as a Viking.
Tony lives in South London. His children's books have sold more than 2 million copies worldwide, and he has been published in North America, Australia, New Zealand, Japan and Europe.
Interview
Viking Boy - The Real Story  (Walker Books)
January 2022
Review:  " A super reference guide for those interested in The Vikings and a useful accompaniment to Viking Boy - the novel. Tony Bradman has made history accessible in an engaging way for all to enjoy."
Read a chapter from Viking Boy
Read a chapter from Viking Boy - The Real Story
Viking Boy - The Real Story is a fantastic companion to author Tony Bradman's Viking Boy, which follows young Viking Gunnar on his quest to avenge his father's death.  In Viking Boy - The Real Story, we discover more about Vikings through Gunnar, who returns from his adventures to tell us about Viking life and culture. Author Tony Bradman tells us more, and reads from the book:
Q&A with Tony Bradman
1. How did you start writing historical fiction, and what draws you to our ancient past - and especially the Vikings?
In my last year at primary school my teacher Mr Smith read our class The Hobbit by Tolkien - I was so gripped and excited by the story that it turned me into an obsessive reader, and I soon found my way to the historical fiction of Henry Treece and Rosemary Sutcliff.
From then on I was pretty obsessed with historical fiction, and the past in general. I just think it's fascinating to find out what happened in the past and how to shaped today. Tolkien was Professor of Anglo-Saxon at Oxford University, so his books are steeped in the myths and legends of the Saxons and their close relatives the Vikings, so I think that's all in my DNA as a reader and a writer.
The Vikings are incredibly interesting - bold, adventurous, sometimes funny, but with a definite dark side. In brief, they're very cool. What's not to like?

2. Can you tell us a little about writing the original book, Viking Boy?
I began my career as children's author with picture book texts, poetry, and short fiction for beginner readers. But I always did have a yen to write historical or fantasy fiction. Nobody gave me the chance to do it until an editor at Walker Books - Gill Evans - asked me if I had an ideas for a graphic novel series they were planning. I'd just had an idea for a title that I liked - Viking Boy. So I came up with a plot to go with the title, and poured everything into that I liked about the Vikings.
I really wanted to make it into the kind of book I'd have loved when I was in Mr Smith's class… It took a long time to write (I missed the deadline by months), mostly because I'd never written anything like that before. We also decided early on that it wasn't going to be a graphic novel (they're very expensive to produce!), and the first complete draft was twice as long as the final book. But I got there in the end, and I'm very proud of it.

3. Why have you followed up Viking Boy with Viking Boy: The Real Story? 
I actually wrote another book for Walker after Viking Boy - it's called Anglo-Saxon Boy. It's not a sequel and unlike Viking Boy it has no fantasy elements - it's a straight historical novel about the year leading ups to the Battle of Hastings, all seen through the eyes of Magnus, youngest son of Harold Godwinson, the last Anglo-Saxon king of England. But 1066 is usually considered to be the end of the Viking Age, so it's full of Viking references - most people don't know that Harold was half-Viking himself - his mother Gytha was from a noble Danish family. Anglo-Saxon Boy won a Young Quills award for historical fiction from the Historical Association in 2017.
After that I suggested to Walker that I do a non-fiction book about the Vikings - I was beginning to realise that lots of schools were using the book as part of the teaching they were doing on the Vikings - they're on the curriculum! They suggested that I use the characters from Viking Boy - and in particular, the hero, Gunnar - as narrators for the book, and I thought that was a great idea. So I did lots more research, which was great fun.
Viking Boy - The Real Story covers the Viking homeland, the roles of men, women and children in Viking culture, the Viking Gods and mythology, warrior culture, why the Vikings started raiding and what raids were like, Viking exploration and settlement, and the history of the Viking Age. I've tried to include everything you might want to know about the Vikings!

4. Where did you go to research the book? 
When I was writing Viking Boy I went on several trips to Scandinavia to do some research. The first was to Norway, where I went to The Viking Ship Museum just outside Oslo where there are several sunken Viking longships that were discovered in the Oslo Fjord. It's a wonderful place and it gave me a real sense of Viking culture. I also went to The Viking Ship Museum in Roskilde, Denmark. They have a boatyard there where they build replica Viking boats and ships using the materials and techniques of the Viking Age.
I found out that you can take a ride in a Viking boat, so I joined the crew and rowed up the fjord, and then we sailed back down again. It was all great fuel for my imagination. And as most writers of historical fiction will tell you, it's your imagination that counts. But I also did masses of research - I have several shelves stuffed with books about the Vikings. I've even been trying to learn their language, Old Norse - there's a translation of a poem in the book that I did.

5. What would you like modern children to take from Viking Boy's story?
That's a very interesting question… I suppose I want them first and foremost to enjoy it as a great read, and adventure that they're gripped by from the first line to the last. That's what I look for in the books that I read, and I try to make sure all my books have that quality.
It would be good also if readers enjoyed their encounter with the Viking world and wanted to find out more about it - and that's why I wrote Viking Boy: The Real Story. The two books should make a great pairing!

6. What do you feel they will find most surprising about life for a Viking child?
For today's children I think it's definitely the amount of freedom children had in the Viking Age, both boys and girls! There was no school, and grown-ups were too busy keeping everything going to watch their children as closely as we do. It was a tough life for everyone, but for most Viking children it was probably very active and healthy! So long as your home wasn't burnt down by raiders, like Gunnar's, of course…

7. How would you have coped as a Viking child?
I like to think I would have coped very well! There are elements of Viking life that I would have loved (all that freedom to roam and be outdoors a lot!), but I can't emphasise just how hard and dangerous life could be in those days. Medicine wasn't like it is today - there were no antibiotics to cure infections, so you could die from a cut finger, and there was no anaesthetic, either!

8. Did you need to give the illustrator, Tom Sperling, some notes about Viking life?
Tom Sperling has done a great job on the pictures - they're terrific. I did send him lots of notes and references, and I also put together a couple of Pinterest boards for him to look at!

9. If you could time travel back into Britain's past, where would you want to go? 
Every period in history is interesting once you start finding out about it, but there are some I find more interesting than others. I learned Latin and Greek at school, so I'm always drawn to ancient Rome and Greece - I'm a big fan of The Iliad and The Odyssey. I also like later history - I've written about the two world wars, and a couple of books about Shakespeare (my favourite writer!).
But I'm always drawn back to the Anglo-Saxons and the Vikings - they're endlessly fascinating. So, I'd probably want to go back to that time (although I'd want to make sure all my jabs were up to date and I had access to antibiotics if I needed them!).

10. Are you writing further Viking adventures? 
I'm not writing a Viking story at the moment, but I do have a couple of ideas for Viking stories that I'd like to write eventually. At the moment I'm working on a book set in the Orkney Islands in the Neolithic Age - it's a really interesting period. I'm also thinking about a Roman Britain story… and I do think I've got a great idea for a Second World War story. But we'll see!

11. How would you suggest children start their own Viking story?
Well, once you've done lots of reading about the Vikings so you know all about them, you should try and think up a central character - someone like Gunnar or Magnus. Then the best way to start the story is to have something really exciting happen - a raid by enemy Vikings (that's how Viking Boy gets going) or a battle (Anglo-Saxon Boy) - even better if your character is on the losing side. Then your readers will want to know how it's all going to work out!
Author's Titles