Viking Boy - the Real Story: Everything you need to know about the Vikings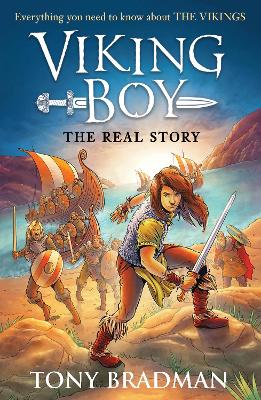 By Author / Illustrator
Tony Bradman, Thomas Sperling
Genre
Historical Fiction
Age range(s)
9+
Publisher
Walker Books Ltd
ISBN
9781406395037
Format
Paperback / softback
Published
06-01-2022
Synopsis
A sparky non-fiction guide to the Viking world, told by the hero of Tony Bradman's bestselling novel Viking Boy.
Take a real-life tour of the everyday world of Gunnar, a teenage Viking boy: find out how the Vikings lived, what they believed, how they travelled and fought, and gained their legendary reputation as warriors. Gunnar tells us the real story of growing up as a Viking in an exciting first-hand account, introducing us to family and friends, famous warriors, sea-raiders and even a Norse god!
Packed with historical facts, figures and anecdotes, with illustrated information panels on topics from Viking poetry to battle and bloodlust, this is a brilliant new read for Viking fanatics, both at home and in the classroom.
Q&A & Video with author Tony Bradman
Reviews
Hayley
Viking Boy – The Real Story by Tony Bradman is an illustrated guide into the Viking world which allows us to gain information about the Vikings and their legendary reputations as warriors and raiders. Our tour guide through this book is, Gunnar, the hero of the action-packed novel Viking Boy. Through his eyes, family and friends we learn about the life of the Viking and their culture and traditions.
The book starts with Gunnar introducing himself and explaining the journey that he wants to take you on. He starts by allowing you to be part of the book from the very beginning. Gunnar wants you to imagine the world that you are about to read about. From the description and detail of how Gunnar introduces the Viking world, you are able to immerse yourself into the scene and become part of the story.
This book is full of heroic and historic tales, ancient language and factual information. From settlement and longhouses, to feasts and warriors, gods and raiders, we learn an immense amount about Vikings through Gunnar and his friends. I would recommend this book as an essential resource for the key stage 2 curriculum topic of Raiders and Settlers/Vikings. It would provide excellent opportunities for investigation and historical enquiry. The historical content of this book could lead to deepening thinking discussions, eg/the Viking discovery of Vinland 500 years before Columbus. There are endless possibilities for this book to be used when teaching about the Vikings, which could provide excellent cross curricular opportunities.
137 pages/ Reviewed by Hayley Summerfield, Teacher
Suggested Reading Age 9+
Donna
In Viking Boy - The Real  Story, Gunnar, the hero from Tony Bradman's Viking Boy, tells the history of The Vikings from where they started, to places they invaded, raided and settled. He tells about gods and monsters, crafts and skills, Viking hierarchy, transport and much, much more.
Gunnar weaves this historic information alongside his original story, making reference to key events – and characters - from the original novel, that bring a deeper clarity to the reader on key events that pepper both books.  A super reference guide for those interested in The Vikings and as a useful accompaniment to Viking Boy - the novel. Tony Bradman has made history accessible in an engaging way for all to enjoy.
137 pages / Reviewed by Donna Burkert, teacher
Suggested Reading Age 9+
Other titles