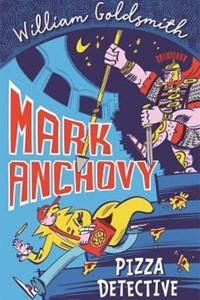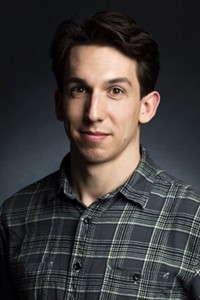 About Author
William Goldsmith is a British writer and illustrator. Published by Jonathan Cape, his graphic novels 'Vignettes of Ystov' and 'The Bind' were nominated for a Newton First Book Award and British Book Design Award respectively.
His illustration clients include The Independent, Goethe Institut, Royal Opera House and the Turner Prize winning collective, Assemble.
Mark Anchovy: Pizza Detective is his first book for children.
For more information, visit williamgoldsmith.co.uk
Author link
Interview
Mark Anchovy: War & Pizza, Piccadilly Press, January 2021


Join super spy Mark Anchovy (Colin in the real world) once again on a school exchange with a difference... escaping criminal masterminds, hunting a missing jewelled eggcup and doing whatever it takes to avoid a very cross teacher!

We asked William Goldsmith to tell us more about his action-packed mystery adventure, WAR & PIZZA!


1. What is War & Pizza about - in one sentence please?

Colin Kingsley, AKA Mark Anchovy pizza detective, flies to Russia on a school exchange programme to track down some missing jewelled egg cups.


2. What is the GSL?

It stands for The Golden Spatula League - a detective agency for children who have some link to the catering industry. You need a special skill to join - like impersonation, or forgery, or lock-picking. Colin has a photographic memory.

The GSL was founded in 1867 and now has branches across the world. But don't contact them, they will contact you.


3. Why did you decide to make your detectives 'foodies'?

I sometimes wonder... it's a heavy workload for them to solve crimes and prepare/deliver food. But nobody pays much attention to a waiter or a chef, so they can be stealthy and learn secret information from shady customers. (If they're slick enough.)


4. Why did you decide to give the GSL a case to solve in Russia? Have you visited?

I lived in Moscow for a few years and thought it would be a good location to feature in the story. I also wanted it to make it very different and harder for Colin than the first book, Mark Anchovy: Pizza Detective.

In that book, he is in hot, sticky Rome on a school trip in the summer. In Mark Anchovy: War and Pizza, he's visiting Russia in the winter, so he's going to get cold. Very cold. But he'll make some friends there.


5. If any of us decide to visit, what should be on our 'to do' list?

You could visit the museum of Soviet arcade machines where you can play lots of old arcade games, or the Space Museum, where you can learn about the first dog in space and go inside one of the early space pods. I can't remember if they have gravity boots or not...


6. These stories are action-packed - do you need to plan carefully, or do you just jump right in?

I make a rough plan, then jump right in and write until the end. I will maybe know the key locations or the most dramatic moments beforehand, and I will try to work out how to connect those moments as I'm writing. But I have to make lots of changes afterwards.



Your characters get into lots of scrapes - do you ever struggle to get them out?

Yes, all the time. But if it's hard to get out of the scrape I tell myself it's good for developing the character, as it is testing their limits.

Colin is getting pretty tested - but he is also rising up the ranks as a detective in the Golden Spatula League.


8. What's your favourite moment in this story?


Probably a long train journey which doesn't go according to plan. Colin travels from St Petersburg to Moscow in the dead of night and has to hide from some pretty nasty passengers. As well as his crusty history teacher, Mr Hogstein.


9. Colin gets a range of gadgets to 'play' with; which one would you take home if you could?

Maybe the simple ones, like the mini edible notebook, which is custard-cream flavoured. He has an edible mini pencil too. And a mini-Russian phrasebook. But this isn't edible.



Where will the GSL be taking Mark Anchovy for his next case?

He will be travelling to Japan to find a missing gameshow host. He will also have to mentor a new, badly behaved apprentice ... his sister!


11. Where's your favourite place to write - and what's your 'go to' writing snack?

I like working in libraries because I see other people reading and writing and that makes me not want to get distracted. In fact, I wrote this book in one of the largest, grandest libraries in the world, the Russian State Library in Moscow. It even features in the story. It was a perfect place to work - except you're not allowed snacks in there...
12. For our schools and libraries, can you tell us a bit about your physical and online events?

I'm looking forward to meeting readers of Mark Anchovy in some form this year - I will be posting plans about this on www.markanchovy.com in due course!


13. What's your favourite escape from writing?

Writing is a very quiet process so it's important for me to get out and see my friends and people who make me laugh. Laughing is very healthy for you. I also like swimming.
APRIL 2020

Look out for young detectives, Italian escapades - and pizzas! - in MARK ANCHOVY: PIZZA DETECTIVE by WILLIAM GOLDSMITH (Piccadilly Press).
When pizza delivery boy Colin Kingsley is invited to join the Golden Spatula League (GSL) 'caterer detectives', run by children, he finds himself in Rome hot on the heels of an art thief. With danger, twists and gadgets aplenty, this is a page-turning adventure for 8+ readers.
Author WILLIAM GOLDSMITH tells us more about his children's debut, MARK ANCHOVY: PIZZA DETECTIVE!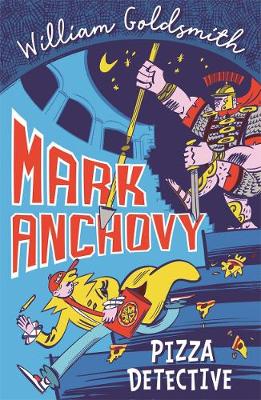 1. You're usually found creating graphic novels for adults, so what has brought you into writing and illustrating for children?
A: There were child characters in my comics, and I wondered what it would be like for them to have their own story. I also started reading more children's books around that time and wanted to try a different way of working.

2. What were your favourite comic characters as a child, and did you create your own?
I liked Tintin a lot. I was always making up my own characters, yes. I remember I drew an inventor called 'Crazy Clogs'.

3. What, in one sentence, is Mark Anchovy about?
A pizza delivery boy joins an elite agency of child-detectives, then busts an art-thief in Rome while on a school trip.

4. What gave you the initial idea for Mark Anchovy? Why did you want to write a detective story?
I wanted to create a child character who had some odd-job that meant travelling to different people's houses. I like detectives because they are observers, like writers in a way. I also moved opposite a pizzeria, and got the idea of a delivery boy-detective.

5. Can you tell us a bit about The GSL and its team, who Mark ends up working for?
The G.S.L. stands for the Golden Spatula League. They're an agency of detectives who work in catering jobs. The boss is called Master Key, a suave sushi chef who can get into anywhere.
There's also Princess Skewer, who can drive a mini-submarine and generally gets stuff done. She's Colin's mentor (Mark Anchovy is just his codename). Then there's Camillo, an inventor, Yelena and Yaconda, the impressionist twins, and Justin, an annoying apprentice.

6. What's with all the pizzas (and anchovies??)?
It is a bit pizza-heavy, you're right...

7. You take the action via a school trip to Rome - was that because of the pizzas, or have you travelled there yourself?
It was because I went on a school trip there when I was a kid and was very inspired. I remember seeing the Sistine Chapel and St Peter's Basilica. We were very lucky to go.
8. We love the child-friendly gadgets in the story(!) - submarines, workshops in icecream cones, exploding things. Which would you take home if you could?
Probably a pizza watch. I don't think I could be trusted with a can of exploding olives, I might drop them.

9. Lots of great villains too, who was your favourite to create and can you tell us a bit about them?
My favourite is the history teacher Mr Hogstein. He talks very loudly, in CAPITAL LETTERS, and is always telling Colin off. But he means well.

10. Why did you decide to illustrate the book, and who did you enjoy illustrating the most?
I'm an illustrator and control-freak so it was probably inevitable. I probably draw Colin the most.

11. What next for Mark Anchovy and the GSL crew?
They are heading to Russia to find a stolen jewelled egg-cup.

12. Where's your favourite place to write - and your favourite writing snack?
I like writing in big grand libraries, or trains, or sometimes the bath. Any sweet pastry is a good writing snack. But not in the bath

13. What are you most likely to be doing to relax when you're not writing; does it involve food (maybe pizzas?)?
Probably playing football with my friends, and not thinking about anything at all.
Author's Titles