Mark Anchovy: Pizza Detective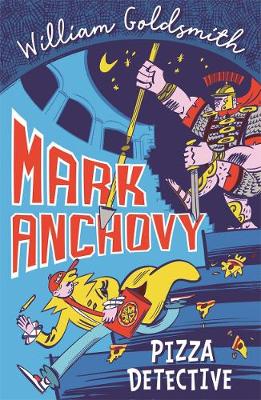 By Author / Illustrator
William Goldsmith
Genre
Mystery & Detective
Age range(s)
9+
Publisher
Templar Publishing
ISBN
9781848128613
Format
Paperback / softback
Published
09-04-2020
Synopsis
Colin Kingsley is a pizza delivery boy with a twist. He's actually an aspiring detective. But in sleepy Rufflington-on-Sea, there are no cases to solve - until the Golden Spatula League come calling. The world's premier agency for 'caterer-detectives', run by children, the G.S.L. have been dazzled by Colin's freakish memory skills.
To join their ranks, Colin - codenamed 'Mark Anchovy' - must fly to Rome to track down a valuable stolen painting, titled, 'Girl With A Squirrel'. The chief suspect: Big Alan Fresco, notorious art thief and pizza addict. It's the toughest, most pizza-ry mystery the G.S.L. have ever encountered.
The first book in a trilogy that readers will gobble up!Written and illustrated by William Goldsmith - with hilarious black and white artwork from start to finish. Be sure to check out the website: www.markanchovy.com.
Reviews
Beverley
When pizza delivery boy and would-be detective Colin Kingsley meets Princess in the local kebab shop, he has no idea of the adventure ahead of him! He becomes a member of the Golden Spatula League (GSL), a detective agency that only recruits children. Each child has a special talent and Colin has been chosen because of his amazing memory skills. Given the codename Mark Anchovy, he must travel to Rome to investigate the famous art thief Big Al Fresco, and the disappearance of a valuable painting, 'Girl with a Squirrel'.
Mark Anchovy: Pizza Detective is an exciting and very entertaining story. The first couple of chapters may be slightly confusing to younger readers, but once Mark is inducted into the Golden Spatula League all becomes clear and the story races along at a rollicking pace. Written in the style of a classic detective story, the author carries us along as Mark and Princess take on the villains. There are touches of James Bond as Mark uses the many gadgets invented by fellow GSL member Camillo to avoid capture - a watch shaped like a pizza, a tomato puree gun and cans of exploding olives are only a few of Camillo's brainwaves!

The characters are fun and well written. Mark is bewildered and out of his depth at first by his new role as a GSL agent, but over the course of the book he quickly learns how to use his initiative in order to stay one step ahead of the crooks. Princess, Mark's mentor, is feisty, brave and clever. She helps Mark to find his feet and become a valued member of the GSL. There are a clever mix of characters in the book, which will make it accessible to both boys and girls.

The author also provides the illustrations for the book; these are drawn in a bold, comic book style and perfectly complement the story.

All in all, I can see this book being thoroughly enjoyed by readers aged around 9 upwards. (It would also make a very exciting TV series!) I look forward to seeing what incredible adventures the author has in store for Mark Anchovy in his next book!

320 pages / Reviewed by Beverley Somerset, school librarian
Suggested Reading Age 9+
Ellen
Dastardly thieves, gadgets that Bond would die for - and pizzas! Mark Anchovy: Pizza Detective is a fun, fast-paced adventure story featuring a group of detective children who go undercover as waiters, icecream sellers - or, in Colin's case, a pizza delivery boy - who would suspect them?

Colin, whose family runs a pizza takeaway, is an aspiring detective who is invited to join the GSL (Golden Spatula League of child detectives) thanks to his amazing memory, and soon finds himself in Rome with the code name 'Mark Anchovy', chasing an art thief, supported by the GSL and with an entire arsenal of gadgets at his disposal - my favourite is a tunnel through the Trevi fountain.

Children aged eight years plus will enjoy the fast-paced adventure and being encouraged to solve parts of the mystery ahead of Colin and his new friends. Alongside the adventure and excitement, author William Goldsmith also tackles themes of friendship, bullying and self-belief.

Mark Anchovy: Pizza Detective is the first in a trilogy, so children will be able to gobble up further GSL's investigations! The story is ideal for reluctant readers as well as more confident readers, as it's delivered in short chapters supported by slightly retro comic-style illustrations created by the author William Goldsmith. I'm looking forward to reading the GSL's next adventure!

320 pages / Ages 8+ / Reviewed by Ellen Green
Suggested Reading Age 7+
Other titles