123 (Percy the Park Keeper)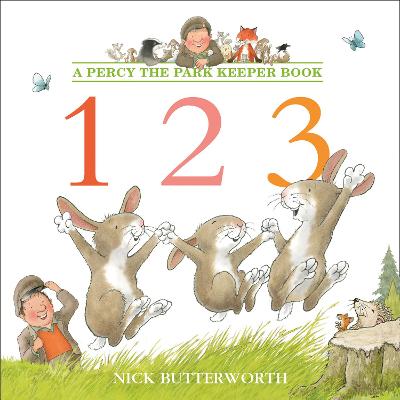 By Author / Illustrator
Nick Butterworth
Genre
Early Skills
Publisher
HarperCollins Publishers
ISBN
9780008451943
Format
Paperback / softback
Published
18-02-2021
Synopsis
Learn to count with Percy the park keeper and his animal friends in this fun first concept book from highly regarded, award-winning author/illustrator Nick Butterworth.
Learning to count is much easier when you do it with friends, and in this book children will find all their favourite characters from Percy's Park! From one to ten, the pages are packed full with beautiful illustrations, also introducing toddlers to the natural world as they go along.
Based on the bestselling picture books by Nick Butterworth, including One Snowy Night, this simple and fun first concept book is perfect for nature lovers and the very youngest of Percy's fans!
Percy and his animal friends have delighted readers around the world for over thirty years!
Reviews
Percy the Park Keeper has been a common addition to libraries and book collections for over 30 years and this latest release is aimed at the youngest of Percy fans.

Readers will associate and recall Percy the Park Keeper books with fond memories as Percy helps the animals that live within his park whether that is through building new homes for them or welcoming them into his shed in the cold winters.

In this text, readers join Percy in a lesson of counting from one to ten with the help of his animal friends.

As you would expect from Nick Butterworth, the text is simple and easy to follow and is accompanied by beautiful illustration with Percy still looking as friendly, comforting and jolly as ever.....30 years of park keeping obviously keeps you both young faced and young at heart.

On the surface, this is a simple counting text with large numerals and font to help make this visually accessible for younger readers. Each number is also shared within a sentence in keeping with a task or part of Percy's daily routine. The illustrations, however, allow for more conversation to take place as children start to count the objects mentioned but also notice the other details within...particularly spotting all the animal friends that come to help.

The book ends with a double page spread recapping the count from 1 to 10 but with alternative objects and in a more formal presentation.

This latest release from Nick Butterworth is engaging for younger readers who are beginning their journey into books as well as starting to understand the concept of maths. I would recommend this release to Nursery and Pre School settings as well as reception classes and could be used to set up maths areas or even Forest School sessions.
Suggested Reading Age 0+
Other titles