A Beginner's Guide to Ruling the Galaxy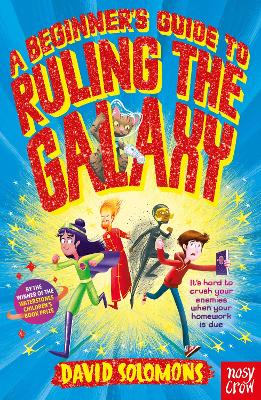 By Author / Illustrator
David Solomons
Genre
Funny Stories
Age range(s)
9+
Publisher
Nosy Crow Ltd
ISBN
9780857639936
Format
Paperback / softback
Published
07-07-2022
Synopsis
A brilliantly funny story of what happens when a galactic princess moves in next door and almost brings about the end of the world. 
Gavin's got a new neighbour and she's really annoying. Niki follows him everywhere, bosses him about, and doesn't care that her parents will obliterate Earth with their galactic warships if she doesn't stop running away from them. Can Niki and Gavin sort out the alien despots (aka Mum and Dad) and save the planet? Possibly. Will they become friends along the way? Doubtful...
A hilarious new story from the author of My Brother Is a Superhero, winner of the Waterstones Children's Book Prize and the British Book Industry Awards Children's Book of the Year. Perfect for fans of David Baddiel and David Walliams. 
Find out more from author David Solomons
Reviews
Elen
A Beginner's Guide to Ruling the Galaxy is a fabulous read and children looking for a book packed with adventure and laughs - and a spaceship or two - will love it.
Gavin is an ordinary child who attracts unwanted attention in the form of Niki, his new neighbour, who takes an immense interest in how ordinary he is. It turns out that Niki is actually a galactic princess, the daughter of a feuding king and queen who want her back and nothing - including planet Earth - is going to stand in their way as they fight over which one of them their daughter will end up living with. 
From an AI computer ending up with the body of a stuffed unicorn and terrified of space after watching weeks of streamed films, to a bounty hunter turned loyal friend in the shape of a cat, the story is peppered with distinctive characters that add to the story's appeal.  Gavin's eventual spiky but loyal friendship with Niki and the lengths her adoptive family will go to to help her also bring warmth and heart to the story.
The author is an obvious Star Wars fan, but there are also echoes of Hitchhiker's Guide to the Galaxy, for any adults sharing this with children. Readers of the series My Brother is a Superhero will be thrilled to see a new series by David Solomons and I know many children who will be reaching for A Beginner's Guide to Ruling the Galaxy this summer!
336 pages / Reviewed by Elen
Suggested Reading Age 9+
Other titles