A Beginner's Guide to Ruling the Galaxy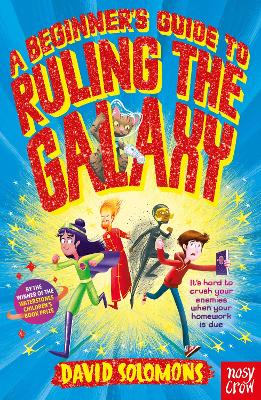 By Author / Illustrator
David Solomons
Genre
Funny Stories
Age range(s)
9+
Publisher
Nosy Crow Ltd
ISBN
9780857639936
Format
Paperback / softback
Published
07-07-2022
Synopsis
A brilliantly funny story of what happens when a galactic princess moves in next door and almost brings about the end of the world. 
Gavin's got a new neighbour and she's really annoying. Niki follows him everywhere, bosses him about, and doesn't care that her parents will obliterate Earth with their galactic warships if she doesn't stop running away from them. Can Niki and Gavin sort out the alien despots (aka Mum and Dad) and save the planet? Possibly. Will they become friends along the way? Doubtful...
A hilarious new story from the author of My Brother Is a Superhero, winner of the Waterstones Children's Book Prize and the British Book Industry Awards Children's Book of the Year. Perfect for fans of David Baddiel and David Walliams. 
Find out more from author David Solomons
Reviews
Sam
A Beginner's Guide to Ruling the Galaxy is a highly amusing sci-fi adventure that explores some of the more complex issues of relationships, family and friendship, while laughing all the way. Gavin lives with his foster family in Middling and, having been moved from one foster home to another, he is keen to keep a low profile, in the hope that he will not have to move again. Although with the recent arrival of a young baby, aka 'the Tiny Horror', Gavin feels sure he's soon to be moved on and the last thing he needs is to become 'the centre of attention'. However, when Niki Apple and her rather unusual family move next door, Gavin soon realises that remaining unremarkable is much harder when you're the subject of attention of a Galactic Princess on the run from her parents.
Author David Solomons manages to describe the potential emotional trauma of foster care and feuding parents, alongside feline bounty hunters, alien chefs and a fleet of armed spacecrafts, without getting too serious and while still managing to pack in no end of witty retorts and loads of laughs. This brilliant story will inevitably make its reader think about their own family and friendships. An easy read for any Key Stage 2 independent reader, that is no doubt going to be a popular read in schools and homes this summer.
336 pages / Reviewed by Sam, teacher
Suggested Reading Age 9+
Jane
Niki is a tall girl with long black hair. Or, if you're Gavin, she's your new neighbour who's a 'fruitcake with extra crazy currants'. She also happens to be Dread Princess Xyllara, heir to the throne of the Dark Galaxy (which might explain her super-sized ego) and is on the run from her parents D'Rek the Destroyer and Pamnatakrocula the Pitiless (Derek & Pam). Gavin is not meant to know this, nor that Sam and Mercedes are her bodyguards, not Niki's parents, and Bart is just for 'spare parts'.
Indeed, there's a lot that is not meant to happen: the memory-wiping toothbrush malfunctioning, the spaceship's AI refusing to venture into the dark and, instead, taking up residence in a toy unicorn. Strangest of all is that 'unremarkable' Gavin should repeatedly save the day and, in the end, strike up a lasting friendship (of almost equals) with the impossibly annoying Niki.
Weird, silly and increasingly funny as the story progresses,  A Beginner's Guide to Ruling The Galaxy is a book that will certainly entertain, from an already well-established comic writer. Certainly one recommend to children in Key Stage 2, and even to teachers for a class read.
336 Pages / Reviewed by Jane Rew
Suggested Reading Age 7+
Elen
A Beginner's Guide to Ruling the Galaxy is a fabulous read and children looking for a book packed with adventure and laughs - and a spaceship or two - will love it.
Gavin is an ordinary child who attracts unwanted attention in the form of Niki, his new neighbour, who takes an immense interest in how ordinary he is. It turns out that Niki is actually a galactic princess, the daughter of a feuding king and queen who want her back and nothing - including planet Earth - is going to stand in their way as they fight over which one of them their daughter will end up living with. 
From an AI computer ending up with the body of a stuffed unicorn and terrified of space after watching weeks of streamed films, to a bounty hunter turned loyal friend in the shape of a cat, the story is peppered with distinctive characters that add to the story's appeal.  Gavin's eventual spiky but loyal friendship with Niki and the lengths her adoptive family will go to to help her also bring warmth and heart to the story.
The author is an obvious Star Wars fan, but there are also echoes of Hitchhiker's Guide to the Galaxy, for any adults sharing this with children. Readers of the series My Brother is a Superhero will be thrilled to see a new series by David Solomons and I know many children who will be reaching for A Beginner's Guide to Ruling the Galaxy this summer!
336 pages / Reviewed by Elen
Suggested Reading Age 9+
Other titles