A Clock of Stars: The Shadow Moth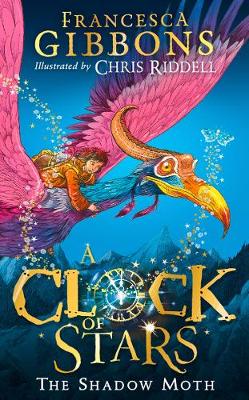 By Author / Illustrator
Francesca Gibbons, Chris Riddell
Genre
Fantasy
Age range(s)
9+
Publisher
HarperCollins Publishers
ISBN
9780008355036
Format
Hardback
Published
01-10-2020
Synopsis
With all the magic of Narnia and the humour of Mary Poppins, this is a future middle grade fantasy classic - and the beginning of an unforgettable journey...
Imogen should be nice to her little sister Marie. She should be nice to her mum's boyfriend too. And she certainly shouldn't follow a strange silver moth through a door in a tree.
But then... who does what they're told?
Followed by Marie, Imogen finds herself falling into a magical kingdom where the two sisters are swept up in a thrilling race against time - helped by the spoiled prince of the kingdom, a dancing bear, a very grumpy hunter... and even the stars above them.
Thrilling, sharply funny, and with characters you will fall in love with, A Clock of Stars is a timeless fantasy from an astonishing new voice.
Reviews
Bryony
A Clock of Stars: The Shadow Moth is by debut author Francesca Gibbons. The first in a planned triology, this book is a magical fantasy adventure full of heart, hope and humour.

We are introduced to Imogen and her younger sister, Marie. Their mum has a new boyfriend and Imogen is finding it hard to deal with this. After saving a strange silver moth from her kitchen, Imogen is surprised when she sees it again. Following it leads to a door in a tree which in turn leads to a mysterious and magical kingdom. Ever the big sister, she is irritated by the fact Marie has followed her through the door. Though this quickly becomes worry when it appears there is no easy way out and things aren't going to be easy.

The girls face an adventurous journey to try to find their way back helped by the aloof and spoiled young prices and heir-apparent, a reluctant hunter and many others. Monsters roam the land looking for justice after a unique object of theirs was stolen.

Imogen is a brave and independent protagonist who is relatable to young girls. She learns a lot about herself and changes over the course of the book, as do the other children, Marie and Miro. The baddies are fun to read about and have good ways for advancing the plot.

Gibbons writes well with good language choices. There are some excellent descriptive passages, especially in the forest, and the reader is swept along with Imogen, Marie and Miro through her words. This book contains incredible illustrations by Chris Riddle. He is the perfect choice for this adventure and his style of line drawing capture the liveliness of the characters. His creature drawings add to the fun and give us as much of an idea of the the story as the words do in places.

This book is a fun adventure which fans of Narnia will love. The plot is fast paced and the short chapters help move the action along. However, there are several plot points that run concurrently and can become a little confusing at times. Younger readers may struggle with this element and the fact it is over 500 pages long. This book requires good focus to make it to the end! But it is worth it and the reader will feel satisfied by the ending and left wanting just a little more, knowing there are two more books planned. Year 4 and up will enjoy this text greatly.

496 pages / Ages 8+ / Reviewed by Bryony Davies, teacher
Suggested Reading Age 9+
Rhiannon
A Narnia for the modern age, A Clock of Stars is a magical adventure following two sisters that don't always get along. Imogen and Marie find themselves in a fantasy world after following a mysterious moth through a door in a tree but once on the other side, the door disappears and they are trapped!

As night closes in, they seek refuge in a nearby village, only to find that it is beset by monsters called the skret on a regular basis and they have narrowly escaped with their lives! The question of how to get home becomes complicated as Imogen and Marie have to work together with a cast of strange characters, all battling their own flaws, in a race against time.

The first in a highly-anticipated trilogy, A Clock of Stars: The Shadow Moth is an enjoyable read aloud featuring colourful and eye-catching illustrations by Chris Riddell. While aimed at children age 8-12, this charming fantasy novel is an excellent read for the whole family to enjoy.

496 pages / Ages 8+ / Reviewed by Rhiannon Cook, school librarian.
Suggested Reading Age 9+
Other titles