A Curse So Dark and Lonely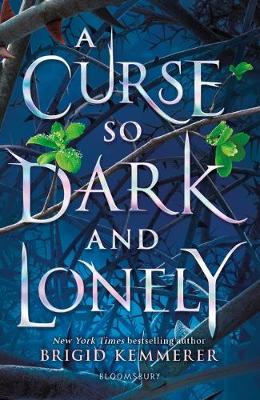 By Author / Illustrator
Brigid Kemmerer
Genre
Fantasy
Age range(s)
14+
Publisher
Bloomsbury Publishing PLC
ISBN
9781408884614
Format
Paperback / softback
Published
29-01-2019
Synopsis
In a lush, contemporary fantasy retelling of Beauty and the Beast, Brigid Kemmerer gives readers another compulsively readable romance perfect for fans of Marissa Meyer.
Fall in love, break the curse.  It once seemed so easy to Prince Rhen, the heir to Emberfall. Cursed by a powerful enchantress to repeat the autumn of his eighteenth year over and over, he knew he could be saved if a girl fell for him. But that was before he learned that at the end of each autumn, he would turn into a vicious beast hell-bent on destruction. That was before he destroyed his castle, his family, and every last shred of hope.
Nothing has ever been easy for Harper. With her father long gone, her mother dying, and her brother barely holding their family together while constantly underestimating her because of her cerebral palsy, she learned to be tough enough to survive. But when she tries to save someone else on the streets of Washington, DC, she's instead somehow sucked into Rhen's cursed world.
Break the curse, save the kingdom.  A prince? A monster? A curse? Harper doesn't know where she is or what to believe. But as she spends time with Rhen in this enchanted land, she begins to understand what's at stake. And as Rhen realizes Harper is not just another girl to charm, his hope comes flooding back. But powerful forces are standing against Emberfall . . . and it will take more than a broken curse to save Harper, Rhen, and his people from utter ruin.
Reviews
Lucy
Prince Rhen, the heir to Emberfall, is cursed. Forced to repeat the autumn of his 18th year over and over, he can only be freed by love. But at the end of each autumn he is transformed into a beast hell-bent on destruction, and after so many failed attempts, his kingdom and its people are barely holding on.

Harper's life has never been easy, but she's learned to be tough enough to survive. She won't let anything hold her back, not her cerebral palsy or her mother's deteriorating health. But when she is sucked into Rhen's world, nothing is as it seems. Powerful forces are standing against Emberfalll ... and it will take more than a broken curse to save it from utter ruin.

A Curse So Dark and Lonely - a modern spellbinding retelling of Beauty and the Beast? - ok, you got me! Absolutely hooked from start to finish in a genre that I wouldn't ordinarily choose. Harper is a fantastic, feisty, opinionated and believable heroine - she's not going to pull the 'damsel in distress' card and sit around waiting to be rescued! She's resourceful, quick thinking and brave. Her cerebral palsy affects her only with regards to her movement and it certainly doesn't define her in any way.

Rhen is a tortured hero with a heart and a secret. He has to deal with the knowledge that he has killed his family and that he is a danger to his people. That the only way to break the curse is for a woman to fall in love with him. He has tried to break it by bringing about his own death multiple times, but he just wakes up again on the day of his 18th birthday each new season. Rhen is fiercely guarded by Grey. Grey is loyal, kind and understanding - another wonderful character.

And the ending? Oh my goodness! Twists, turns - what a nail-biter! I really didn't want to leave Emberfall - roll on the sequel! A Heart So Fierce and Broken is due in January 2020.

496 pages / Ages 14+ / Reviewed by Lucy Georgeson, school librarian.
Suggested Reading Age 14+
Linda
Over the years there have been many retellings of the classic tale of Beauty and the Beast. This is what the author wanted to complete and she has managed it, but with a much darker theme woven into the love story. A Curse So Dark and Lonely is simply enchanting and well worth the read.

Harper - who is not a usual heroine, has a disability that affects her but doesn't define her (cerebral palsy) - is taken against her will from the streets of Washington DC into the parallel world of Emberfall. She is confused and disoriented, but that doesn't stop her trying to escape and find her way back home. She meets Rhen, but even though he greets her warmly and attempts to reassure her that she will come to no harm, she obviously doesn't trust him.

Rhen is the King of Emberfall; he is a hero with a tortured soul who carries a deep dark secret. Due to a curse that has been placed on him, he is now destined to repeat the year of his 18th birthday again and again with devastating consequences until he finds true love. The only person he can trust is Grey, his Commander, who is constantly at his side (and who, by the way, is another great character). To complete the mix is Lilith, an evil sorceress, who shows no mercy and loves to torture and torment Rhen at any given moment.

I loved the drama of this book. The duel narrative of the main protagonists Harper and Rhen. The excellent writing and the amazing imagination of the author. Oh, and the monster, think 'Game of Thrones' for this one and you won't go far wrong!

A Curse so Dark and Lonely doesn't have a dull moment, it keeps the reader engaged and engrossed straight from the first page to the last and then leaves you wanting more. Although this fabulous retelling is a love story, it's only suitable for 14+ confident / non confident readers due to some of its subject matter of death, violence, sexual references, suicide, abuse, abduction and torture. However, you must not let any of this put you off, you will not be disappointed. Sadly, just got to wait until next year for book 2, A Heart so Fierce and Broken. Can't wait to get my hands on it!

496 pages / Ages 14+ / Reviewed by Linda Brown, school librarian.
Suggested Reading Age 14+
Other titles