A Dinosaur Ate My Sister: A Marcus Rashford Book Club Choice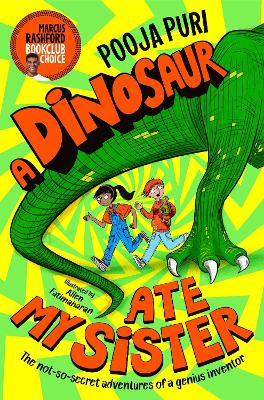 By Author / Illustrator
Pooja Puri, Allen Fatimaharan
Genre
Funny Stories
Age range(s)
7+
Publisher
Pan Macmillan
ISBN
9781529070668
Format
Paperback / softback
Published
24-06-2021
Synopsis
A Dinosaur Ate My Sister is the first book selected in the Marcus Rashford Book Club.  'The perfect story to escape into and find adventure. Pooja is super talented and I'm a big fan!' - Marcus Rashford MBE

This brilliantly illustrated, laugh-out-loud, wacky adventure through time by Pooja Puri is the perfect blend of The Hitchhiker's Guide to the Galaxy and Jurassic Park.  Before you start reading, there are a few things you should know:
1. I, Esha Verma, am a genius inventor extraordinaire.
2. There is nothing I cannot invent. This includes words.
3. I did not mean to send my sister back to the Age of the Dinosaurs. That was HER OWN FAULT (Mum and Dad, if you're reading this, please take note).

Esha Verma, her snotty apprentice Broccoli and his cunning pet tortoise have a dream. They are going to win the legendary Brain Trophy - the ultimate inventing prize. This year's entry: A TIME MACHINE.  But the day before the competition, Esha's IGNORAMUS big sister hijacks the time machine and is lost in the Cretaceous age.  With help from a new recruit for The Office of Time, Esha and Broccoli will have to face hungry dinosaurs, mysterious black holes and malfunctioning inventions to get them back in time.

The Marcus Rashford Book Club is a collaboration between Marcus Rashford and Macmillan Children's Books, inspiring children to develop a love of reading and literacy as a life skill.
Reviews
Sam
A Dinosaur Ate My Sister by Pooja Puri is a very amusing adventure story about the antics and inventions of 'Genius Inventor Extraordinaire' Esha Verma and her apprentice James Bertha Darwin, aka Broccoli, and his tortoise Archibald. This is the perfect book choice for those young readers who are yet to be convinced by the idea of reading for pleasure.
Its short chapters and first person journal style format, with ever changing fonts and side notes, will grab the readers focus. Brought to life brilliantly with super illustrations by Allen Fatimaharan, it is no wonder that A Dinosaur Ate my Sister was the first book selected for the Marcus Rashford Book Club.
Esha Verma is determined to win the Best Inventor of the Year award, having been runner up with her previous three inventions, she is determined that this year The Brain Trophy will be hers. Unfortunately, things don't quite go to plan and when Esha's sister, Nishi, interferes with the time travel machine that the young inventor and her apprentice are working on, she finds herself back in the age of the dinosaurs.  With help from a new recruit for The Office of Time, Esha and Broccoli now have to race against time to save Nishi before she gets eaten!
Young readers will no doubt giggle their way through this action-packed adventure in time. Written in a similar style to the popular diary adventures by Jeff Kinney, I am sure that this fab story will fly off the shelves in any lower KS2 (7+) classroom.
304 Pages / Reviewed by Sam Phillips 
Suggested Reading Age 7+
Other titles