A Giant Dose of Gross: Discover the World's Most Disgusting Animals!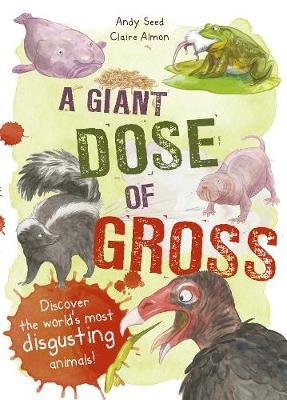 By Author / Illustrator
Andy Seed, Claire Almon
Genre
Adventure
Age range(s)
9+
Publisher
QED Publishing
ISBN
9780711243507
Format
Hardback
Published
15-10-2019
Synopsis
Nature's most disgusting creatures take centre stage, in this humorous but enlightening collection of downright disgusting creatures.

From puking vultures and farting goats to stinky opossums who pretend to be dead, this title will include disgusting facts exploring each animal's unusual skills and how they use them to survive. Humorous illustrations celebrating weird and wonderful creatures will delight any child with an interest in animals and nature, particularly those with a fondness for the grosser things in life.
Reviews
Sarah
I try to actively encourage children in my class to read non-fiction texts as well as fiction and like to have them readily available in my classroom. This and 'The Clue is in the Poo' are great texts for pupils to be able to dip in and out of as and when they can. My class love being able to pick up facts or snippets of information they can then pass on and share with others, and these books give them the opportunity to pick up such facts and then share them with others. From a science leads perspective, I think these books do a great job at sparking children's interest and encouraging their curiosity in the world around them. The set-up of the book actively encourages them to ask questions of their own. I think it is particularly important in today's world for pupils to have an interest in the natural world as so much of it is at threat. It is a perfect book for those interested in nature, especially the more dirty aspects; and what child doesn't love poo at some point? This book could be used by pupils to generate and answer questions for themselves in pupil-led enquiry. There are clear links to the science curriculum, including the identification and classification of animals, strong links also to digestion and habitats. Further links could be made to geography and the environmental requirements of plants and animals as well as the changes these plants and animals face. This book could also be used as stimuli for outdoor learning and forest school activities where pupils could track and identify animals within their locality, under supervision of course. This and The Clue is in the Poo are most appropriate for KS2 pupils (7-11). 64 pages / Ages 7+ / Reviewed by Sarah Lynham, teacher
Suggested Reading Age 7+
Other titles