A Great Big Cuddle: Poems for the Very Young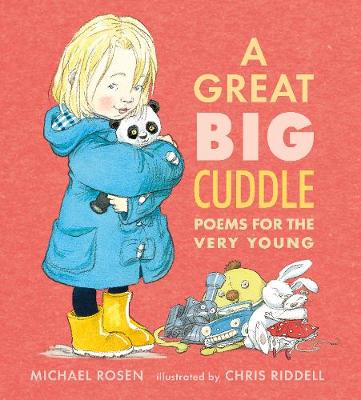 By Author / Illustrator
Michael Rosen, Chris Riddell
Genre
Adventure
Age range(s)
3+
Publisher
Walker Books Ltd
ISBN
9781406343199
Format
Hardback
Published
03-09-2015
Synopsis
Two of the biggest names in children's publishing, Michael Rosen and Chris Riddell, come together in a new poetry collection.

Two of the biggest names in children's publishing, Michael Rosen and Chris Riddell, come together in a new poetry collection. The poems in A Great Big Cuddle fizz off the page with sound and rhythm, energy and laughter, as Rosen captures in the most remarkable way what it means to be very, very young. A child's world with all its details and feelings - toys and games, animals and made-up creatures, likes and dislikes - is vividly conjured up in the most memorable, playful language, and Chris Riddell has produced some his most extraordinary pictures ever to bring this world to life. It's a book that will be enjoyed by the oldest grown-up and the youngest child - and a future classic.
Reviews
Alison
What a treat! This great BIG book of poems comes from the work of not one, but two children's laureates and is a delight from start to finish. There is everything that you could possibly ask for in a collection of poetry for young children: Rosen's beautifully judged poems set alongside and in amongst Riddell's bold (and BIG) illustrations, all complemented by BIG, colourful fonts. There's a counting rhyme: 'Party Time' (p.4) populated by animals (some real, some imaginary) and a robot making their way to a little girl's party: 'Ten ten / Where? When? / Nine nine? Are we on time? /...' As we would hope from any collection for young children, there are plentiful opportunities to develop their phonological awareness. From the opening 'Tippy-tappy' (p.1) to the voice percussion of 'Boing! Boing!' (p.8) and the musicality and fun of 'Music' (p.11): it's all here. I particularly like the way Riddell counterpoints his BIG cuddly, friendly animals with charming illustrations of small, young children. In 'Finger Story' (p.20) a huge orangutan on one page delicately extends his fingers to play finger games with the diminutive little girl opposite him: 'Fingers in bed / Fingers wake up / Fingers stretch / Fingers shake up...' Are all the creatures benign? In 'Lunchtime' (p.24) a huge, green dragon towers over a small boy as they munch on sweetcorn together: 'Time for lunch / Munch munch / Time for a munch / crunch crunch... '. The typeface diminishes as the cobs are consumed. The child has slight look of alarm in his face... the dragon looks predatory... Who knows?! There's a narrative thread in 'Once' (p.32) although it's sheer, delightful nonsense: a family of blue beasts - Gom, Flom and Chom - encounter the terrible Berrible who roars 'like the stormy sea' / "Out the way, Gom, / The Flom and the Chom! / Your mom is dinner for me!" This one definitely has a happy ending. A BIG like for this book! 80 pages / Ages 3+ / Reviewed by Alison Kelly, consultant.
Suggested Reading Age 3+
Other titles