A Puppy's First Christmas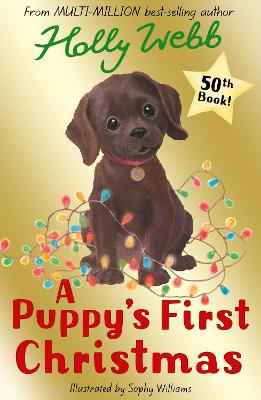 By Author / Illustrator
Holly Webb, Sophy Williams
Genre
Animals
Age range(s)
7+
Publisher
Little Tiger Press Group
ISBN
9781788953429
Format
Paperback / softback
Published
12-11-2021
Synopsis
Aria is excited to celebrate her puppy's first Christmas - they'll make snowmen and eat lots of food, and she's even bought him a special present with her pocket money! But when Aria's family come to stay, Jackson becomes over-excited and scares Aria's younger cousin.
On Christmas morning things only seem to get worse. Jackson is shut out of the living room while gifts are being opened, Aria can't find his present and then the puppy eats Grandma's fluffy winter boots! With her parents refusing to take her side, will Aria and Jackson get their perfect Christmas after all?
Celebrate the wintry wonder of the 50th story in best-selling author Holly Webb's Animal Stories series. Perfect for fans of Zoe's Rescue Zoo, Magic Animal Friends and Michael Morpurgo!
Find out more from author Holly Webb
Reviews
Lucy
A lovely festive treat! This story is all about a young girl called Aria who is celebrating her puppy's very first Christmas. She has lots of ideas about how to make it special, with lots of long walks in the snow and building snowmen together. Aria builds her excitement for these special occasions, however, when some of her family come to stay, things don't turn out exactly as she had planned. Cheeky Jackson (the puppy), ends up eating her Gran's fluffy winter boots and causing lots of other problems which soon put a stop to Aria's plans.
A Puppy's First Christmas is a very festive tale which children can enjoy as their own excitement of Christmas builds. It includes relatively short chapters which are manageable to young readers with large text and plenty of pictures scattered throughout. The happy ending is bound to put a smile on everyone's face.
128 pages / Reviewed by Lucy Newton, teacher
Suggested Reading Age 7+
Catherine
I have seen many of Holly Webb's books in our school library. They seem to be very popular with our pupils, but I have never actually read any of them - so this was my first one. I have to say, I couldn't put this book down. I absolutely loved it!
A Puppy's First Christmas is a cosy, Christmassy story about Aria and her new puppy, Jackson. It is Jackson's first Christmas and Aria is looking forward to this special time. However, her family come over to stay and things are not so good. Gran doesn't like dogs and tells Jackson off all the time. Jackson gets into trouble for knocking over Aria's younger cousin so he is locked away and then he eats Gran's boots!
I really liked the character Aria. Most children's books have a main character who is bold and daring, but Aria is very quiet and shy. She cannot cope with lots of noise and parties, so perhaps this book would relate with children who have a similar personality. Of course, anyone who loves dogs will enjoy this book, too. The relationship between Aria and Jackson is so heartwarming. I also really liked the illustrations by Sophy Williams. They are soft, pencil-drawn pictures with a Judith Kerr feel about them.
I would recommend this book for anyone in Years 2 -3 and it would also be enjoyed as a read aloud story for Year 1 children.
128 pages / Reviewed by Catherine Kus, teacher
Suggested Reading Age 7+
Other titles