A World Full of Animal Stories: 50 favourite animal folk tales, myths and legends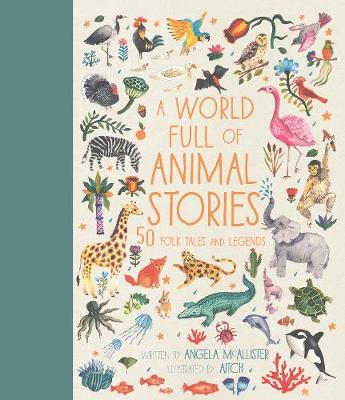 By Author / Illustrator
Angela McAllister, Aitch
Genre
Adventure
Age range(s)
5+
Publisher
Frances Lincoln Publishers Ltd
ISBN
9781786030443
Format
Hardback
Published
05-10-2017
Synopsis
This beautiful book of stories takes readers on a journey around the world with 50 best-loved tales, featuring creatures big and small.
Prepare for a story time like no other as you delve into this beautifully-illustrated collection of classic stories featuring tales about your favourite animals from every corner of the globe. This anthology of animal stories brings together the most loved animal-themed fables, myths and legends including The Three Little Pigs, The Ugly Duckling, Why the Swallow's Tail is Forked and the story of Ananse and the Python.
Lively retellings from best-selling author Angela McAllister are brought to life with sumptuous illustrations from Romanian-born illustrator, Aitch, in this treasury to treasure for a lifetime. For story lovers young and old this is the perfect anthology for all the family and animal lovers everywhere.
Reviews
Kyle
This book allows you to travel the world as you learn the folk tales and origins behind some of the animals that inhabit the each country. Accompanied by beautiful illiustrations, these short tales are easy to follow and understand, even for children as young as five. The mixture of well known and new stories also works well to make sure anyone can access the book. For example, many children will be familiar with the story of The Three Little Pigs, The Three Billy Goats Gruff and The Ugly Duckling and will enjoy reading them again but they will equally enjoy learning about different cultures through the telling of other stories such as How the Kangaroo Got Her Pouch, Why Hippo Lives in the Water and The Nodding Tiger. This collection of stories was used well in a topic about 'Around the World' and, being short in their length, we were able to read many of the stories when we had a few spare minutes in our day. Primarily used to help us learn about countries in the world and where to find them, we also found good quality links to English and PHSE through working with this book. The children enjoyed locating the countries and continents once they had heard their stories and making comparisons to stories they had already heard. The children even worked towards writing their own country themed stories in an attempt to create their own book for our own library. The morals within some of the stories allowed for deep and meaningful circle time discussions. Overall, this book is a wonderful collections of short stories which would only improve any library it becomes part of. 127 pages / Ages 5+ / Reviewed by Kyle Matravers, teacher.
Suggested Reading Age 5+
Other titles