A World Full of Wildlife: and how you can protect it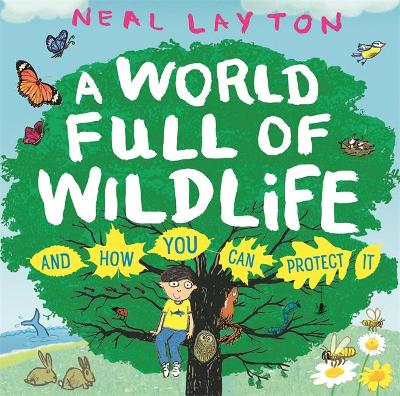 By Author / Illustrator
Neal Layton
Genre
Environment
Age range(s)
5+
Publisher
Hachette Children's Group
ISBN
9781526363237
Format
Hardback
Published
02-09-2021
Synopsis
Every animal and plant on earth is part of an incredible WEB OF LIFE. But living things are disappearing all over the world, and it's a big problem. Award-winning author-illustrator Neal Layton is here to introduce the concept of biodiversity to younger readers, explaining what it is, why it's so important, and how the actions of humans are hurting it. But he's also FULL of ideas for how you can help! From building a bug hotel to growing flowers on a windowsill and eating more organic food, A World Full of Wildlife will get young readers excited about how they can make a difference to keep the web of life bursting with energy.

This brilliant non-fiction picture book is perfect for readers aged 5-7 who love nature and want to help the environment.

Also available in this series:  A Planet Full of Plastic, A Climate in Chaos
Reviews
Jemma
This book's message is so important and is delivered in a way that is accessible to younger children. To begin with, we learn about habitats and the amazing variety of life that lives in them. This is then linked to web of life; how everything is connected from the billions of microorganisms in soil to the gazelles that the leopards eat on the grasslands.
My daughter was really engaged with the book at this point so when the page turned to show how humans are negatively effecting the web of life, it hit home and she was disheartened. She gained an understanding of how over-fishing, logging and pollution are causing nature to disappear. However, the uplifting ending to this book gave her hope that we can help save the planet.
The examples of small things we can do to help are the perfect take-aways from this story and we will look out for more organic produce when shopping for our vegetables. I love how my daughter is driving this small change in our household - all because of this book.
The illustrations feel unique and engaging through the use of mixed media and different styles of art; cartoons layered on real-life images are eye catching and the food webs are a great visual to explain how everything is connected. The language used is technical (e.g. biodiversity, pollution, habitats) but easily understood because the story is clear and the images help describe the meaning.
A World Full of Wildlife and How You Can Protect it is a fabulous book to read as a way to introduce how human actions are hurting the Earth. It highlights the beauty of biodiversity and gives achievable ideas on what we can do to help protect our planet. I will definitely be reading this book with my Primary 7 class at school when we begin our project on the Sustainable Development Goals.
Picture book / Reviewed by Jemma Jeffrey, teacher
Suggested Reading Age 5+
Other titles