A Climate in Chaos: and how you can help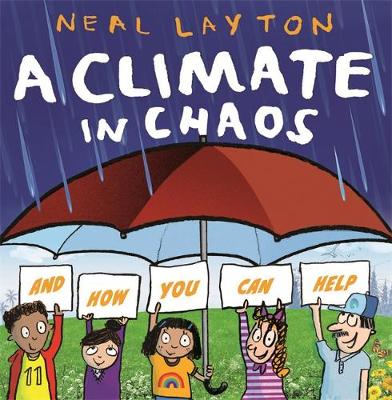 By Author / Illustrator
Neal Layton
Genre
Environment
Age range(s)
7+
Publisher
Hachette Children's Group
ISBN
9781526362308
Format
Hardback
Published
14-05-2020
Synopsis
Our world is warming up, and it's a big problem. Award-winning author-illustrator Neal Layton is here to explain what climate change is, what's causing it and why it's dangerous for animals and humans alike. But he's also FULL of ideas for how you can help! From eating lots more veggies to walking and cycling and thinking carefully about what we need to buy, A Climate in Chaos will get young readers excited about how they can make a difference to keep Planet Earth happy.

This brilliant non-fiction picture book is perfect for readers aged 5-7 who love nature and want to help the environment, including those who may be feeling worried and confused about what climate change is.

Also available in this series: A Planet Full of Plastic.
Reviews
Lucy
This book tackles the difficult subject of climate change. Such a huge and complex topic is difficult for many adults to understand so trying to explain it to children can be hard. Instead of giving reams of tricky facts to understand, this book breaks down the important pieces of information into small chunks using child friendly language (almost a bit of humour too!).
It explains the difference between weather and climate, how the climate has changed on Earth over the years, the effect that greenhouse gases can have, how some of our animals are effected by these changes and how we can reduce our impact on the planet.
This book could be a useful reference point for younger children, however, I would recommend it for KS2 children (8+ years) if they are going to use it to gain a real understanding of the subject. It includes some difficult vocabulary that may be too much for less confident readers but it would be a useful resource to use either at home or in class, with adult support. At the back of the book, there are ideas for how they can help in their own small way, as well as information on children who are doing their bit on a larger scale including Greta Thunberg and Sahil Doshi. Useful to inspire any like-minded children!
Picture book / Reviewed by Lucy Newton, Teacher 
Suggested Reading Age 7+
Other titles