Adia Kelbara and the Circle of Shamans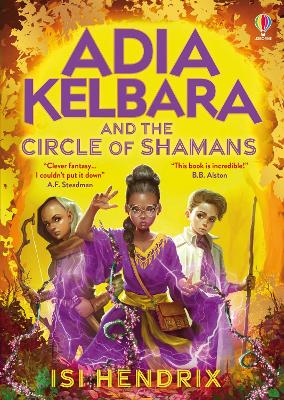 By Author / Illustrator
Isi Hendrix
Genre
Fantasy
Age range(s)
9+
Publisher
Usborne Publishing Ltd
ISBN
9781803706542
Format
Hardback
Published
28-09-2023
Synopsis
Life in the Swamplands is tough for twelve-year-old orphan Adia. Her aunt and uncle believe she is an ogbanje, a demon-possessed child thought to bring misfortune. And when Adia manifests mysterious powers, accidentally destroying her village, she starts to think they might be right.  Adia flees to the faraway Academy of Shamans, hoping someone at the school can figure out what is wrong with her and fix it. But she doesn't expect to stumble across a bunch of squabbling deities with a secret...

Joining forces with a snarky Goddess, a 500 year old warrior girl and a status-obsessed soldier boy, Adia goes on a mission through hidden realms to save her kingdom. But if she is to succeed, she must learn to wield her mysterious powers and figure out who she really is.

Discover an action-packed new series from a brilliantly exciting debut author, perfect for fans of SCHOOL FOR GOOD AND EVIL and NEVERMOOR.  "An immersive, funny, clever fantasy with real emotional depth. I couldn't put it down!" A.F. Steadman, author of Skandar and the Unicorn Thief.  "This book is incredible! With a dazzling cast of characters wrapped up in a rich, imaginative afrofantasy world, Adia's thrilling journey will have you eager to turn the next page!" B.B. Alston, #1 New York Times bestselling author of Amari and the Night Brothers.  "A spellbinding story of empowerment and liberation...readers of all ages will do well to pick up this first entry in a powerful new fantasy series." Soman Chainani, New York Times bestselling author of the School for Good and Evil series. 
Reviews
Jennifer
Adia Kelbara and the Circle of Shamans is a fantastic, vivid and energetic fantasy quest with its roots and landscape planted in Nigerian history, folklore and culture.
The main character is a wonderfully endearing 12 year old orphan, Adia. Adia lives in the poor Swamplands with her ultra-strict and unforgiving aunt and uncle - who have taken her in out of a sense of duty but condemn and dismiss her as a 'ogbanje', a child demon, and implicate her in the mysterious death of their older son (and her only friend) the year before.
Adia doesn't conform or have any trust in her village's beliefs in praying to the Bright Father and converting to the ways of the missionaries and, after fearing her inner demon has unleashed an earthquake at her home and that of her surrounding neighbours, she escapes the Swamplands on the run. At the Academy of Shamans, Adia hopes to find work, freedom and for someone with the power to lift the ogbanje curse from her.
Nothing is as she expected, however …the Academy students appear to be rich shams trying to culturally appropriate Shamanistic traditions rather than true fledging Shamans. The Emperor has become a feared figure and is, in fact, possessed by a demon which is intent on destroying the land in its search for the most powerful Shaman to help it become the ultimate ruler of all. Adia accidently stumbles across the mythical Alusi (the ancient Guardian Gods of the Stars) and finds herself centre stage in an epic quest to free the Emperor from his demon master and and save the lands from burning.
The mystery and magic of the Alusi, however, is far less of a wonderous experience than Adia may have believed. On Earth, the 'Gentle Ginikawa' goddess is a bad tempered, impatient, trash can-kicking, fire-starting diva .The HorrorBeyond (the legendary place that parents often threatened their children with, like a naughty step punishment) does actually exist and must be faced and survived.
So begins a fast-paced and deadly quest facing mortal and other worldly dangers. It is richly imagined, high in energy and entertaining in its lively characters and their often tetchy, developing relationships. As well as a snappy, demanding Goddess, Adia forms an alliance with a 500 year old warrior girl and finds herself reunited with family she believed lost to her forever. Her own sense of self is explored as the real truth behind her 'demon' abilities comes to light.
As an adventure story, Adia Kelbara and the Circle of Shamans is dramatic and perilous in all the right places with a sense of fun in character wisecracks, banter and burgeoning bonds of trust and friendship. It is, however, so much more than a brilliant fantasy quest, exploring as it does aspects of religion and spirituality, racial and social inequality and loss of self belief / loss of owning a place in the world and weaves these huge themes and questions throughout the plot, experiences and emotions of the book.
This is a powerfully entertaining and bold story with such a potential to take the reader into more amazing new adventures.
336 pages / Reviewed by Jennifer Caddick, teacher
Suggested Reading Age 9+
Other titles