Agent Zaiba Investigates: The Haunted House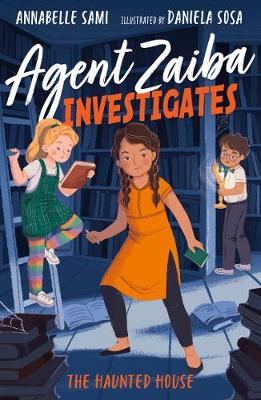 By Author / Illustrator
Annabelle Sami, Daniela Sosa
Genre
Mystery & Detective
Age range(s)
7+
Publisher
Little Tiger Press Group
ISBN
9781788953368
Format
Paperback / softback
Published
01-04-2021
Synopsis
Determined to be the world's greatest detective, Zaiba is always on the lookout for a crime to solve!
When a new family moves to the village, Zaiba is intrigued to hear about the strange happenings in their home. Things go missing, objects are smashed and unfriendly messages are painted on the walls. There have always been rumours that the house is haunted, but is a ghost really causing all this trouble? Zaiba and her team are convinced that the culprit is very much alive - and won't stop until they get what they want...
The third book in a fun, fresh and exciting new detective series, for readers not quite ready for Robin Stevens, Katherine Woodfine and High Rise Mystery.
Reviews
George

- Age 10
This book had a lot to live up to after reading the first two books in this series - and boy did it live up to that strongly! A new family arrives in town and Zaiba and Poppy are trusted with welcoming the two children. What none of them expected to happen was a series of mysterious events in the new family's house. Detectives - looks like we have another case on our hands!
Our favourite detectives are back at it again with 4 new helpers: Olivia-the eldest child of the new family; Flora-the youngest of the new family; Layla, the five year old wannabe, and Ade- the show off from Zaiba's school. The one warning I'd give the scare-factor is higher in this story, don't say I didn't tell you. So far this was my favourite Agent Zaiba book and I can't wait for the next instalment, The Smuggler's Secret.
Suggested Reading Age 7+
Evie

- Age 10
Agent Zaiba, Agent Poppy and Agent Ali add some new recruits to the Snow Leopard Detective Agency (UK Branch) to investigate the Haunted House. Olivia and Flora's mom and dad (Courtney and Jack) throw a house-warming party. Meanwhile, Zaiba investigates the supernatural things, like a shiny new padlock on a rusty old sewage pipe; messages written in blood red pens; an orange brick flying through a window smashed. Is is a ghost or an intruder? If you want to know, read Agent Zaiba Investigates: The Haunted House.
Suggested Reading Age 7+
Ashin

- Age 10
This book is a great addition to the series that I loved, as it just immersed me into the story and made me feel as part of the detective crew. I would recommend this book and this series to 6, 7, 8, 9 and 10 year olds, or anyone who loves detective books. It's a funny, entertaining and mysterious read.
Suggested Reading Age 7+
Noel

- Age 10
Agent Zaiba The Haunted House is an amazing detective story about a girl called Zaiba and her friends (Poppy, Olivia and Flora) and her little brother Ali. Will they solve the mystery of the haunted house?
Suggested Reading Age 7+
Jenny
I love the Agent Zaiba books ; such a great, modern and fun detective series in a really accessible form for younger readers who want a bit of drama and peril in their stories. Zaiba is a likeable, confident , keen super sleuthing schoolgirl - the youngest and possibly most enthusiastic member of the Snow Leopard Detective Agency UK . This time round is Zaiba up against a crime more supernatural than one solved by science and facts?
At friend Olivia's new home, Oakwood Manor, there are some very odd goings on and Olivia's mum is living on the edge of her nerves... It is definitely a case for the S.L.D.A . This book is just glorious to read. Sami embraces the classic detective scenes and settings brilliantly. Someone is trying to scare the new owners into leaving their home and during a party for new neighbours , things turn increasingly sinister. Of course , the action takes place during a wild storm with a cast of possibly suspicious characters . There are missing bracelets, lights suddenly cutting out, threatening notes and secret passageways galore. The moments of drama, danger and peril are pitched at just the right level for the book's younger readers.
A trail of clues is laid for Zaiba( with the reader tagging behind) to follow. As a Zaiba fan of her first two mysteries, I tried to log every little detail but still couldn't keep up with Zaiba's methodical and intuitive detecting skills! Daniela Sosa again illustrates the book and is instrumental in bringing the characters to life and making them seem relatable and engaging. Zaiba leads a clue hunting gang of diverse, lively, curious minded youngsters that run rings around the adults in the story (and this reader!). 
There is great representation within the book that occurs naturally and adds to the freshness and relevance of the book to its readers. It is a fast paced, thrill a minute mystery with positive messages of the importance of friendship and teamwork . A real joy to read.
256 pages / Reviewed by Jenny Caddick, teacher
Suggested Reading Age 5+
Other titles