Agent Zaiba Investigates: The Smuggler's Secret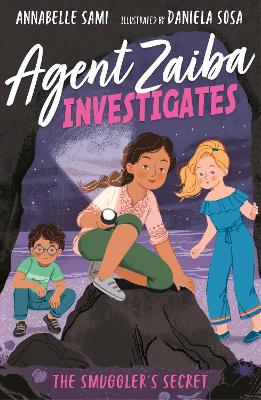 By Author / Illustrator
Annabelle Sami, Daniela Sosa
Genre
Mystery & Detective
Age range(s)
7+
Publisher
Little Tiger Press Group
ISBN
9781788953375
Format
Paperback / softback
Published
03-02-2022
Synopsis
Determined to be the world's greatest detective, Zaiba is always on the lookout for a crime to solve!
Zaiba is excited to visit an historical shipwreck and attend the reveal of its mystery cargo! But the big event is ruined when the priceless artefact goes missing. With stories of smuggling rooted in the seaside town's past, Zaiba's investigative instincts are buzzing. Will she and her team be able to uncover the coast's secrets and find the treasure before it's lost again forever?
The fourth book in a fun, fresh and exciting new detective series, for readers not quite ready for Robin Stevens, Katherine Woodfine, HIGH RISE MYSTERY and NANCY DREW.
Reviews
Ayona

- Age 10
This book is very adventurous and mysterious because it is about an artefact being lost/missing but this girl (Zaiba) and her team set out to find the artefact and the people who hid it. My favourite character was Ali (Zaiba's brother) because when Zaiba said something about Poppy and Mariam, Ali is really funny. I would definitely recommend this book to a person who really likes adventurous books.
Suggested Reading Age 9+
Olivia

- Age 10
Agent Zaiba Investigates the Smugglers' Secret has the perfect amount of mystery. I love how there is a team called the Snow Leopard Detective Agency, which includes Zaiba, Poppy, Ali and Mariam. The team love history and find out there is a priceless artefact. They go down to Chessil Bay to see it in a museum , but it has been stolen! I recommend this book to someone who likes mystery books.
Suggested Reading Age 9+
Gerline

- Age 9
I really like Agent Zaiba Investigates: The Smugglers' Secret because I like how they help each other find the criminal. My favourite part is when they were in the boat ride because it would be interesting to see underwater. I would recommend this book to the people who like to investigate because this book is all about detective work. It is a fun book to read.
Suggested Reading Age 9+
Jennifer
I love the adventures of young Zaiba and her super sleuthing skills . This is book four featuring Zaiba and her friends of the Snow Leopard Detective Agency (although each book works perfectly as a stand-alone read for any reader on their first mission with the gang). Agent Zaiba Investigates: The Smuggler's Secret features a hunt for a missing priceless artefact from a nearby sunken shipwreck .
Zaiba's school History club heads to Chesil Bay for an exciting boat ride to see the shipwreck and attend the unveiling of the mystery artefact in a special ceremony at the local museum. Zaiba's determined detective skills are dusted off and put to the test (to her delight) when - shock, horror - the artefact dramatically disappears from within a locked room.
This is a fast paced, fresh and modern mystery. Zaiba is always on the alert and her eagerness and enthusiasm carries the reader along right beside her, paying attention to the details and to Zaiba's observational notes as she tries to deduce who the guilty party is.
There is a diverse and intriguing set of characters to suspect: the distinguished older man with a briefcase, the over dramatic actor, and a family of keen historians are amongst the possible suspicions. Zaiba and her crew include analytical younger brother Ali, cousin Mariam and confident, drama-loving best friend Poppy, and they are high energy, fun and daring young detectives.
There is a great sense of peril and tension at just the appropriate level for the younger middle grade reader. The discovery of a smuggler's cave, of secret tunnels and entrances in the museum and the investigation of the various alibis sees Zaiba in a race against time (and the tide) to find the missing treasure and name and catch the thief.
Agent Zaiba Investigates: The Smuggler's Secret is an enjoyable and exuberant read. It is the classic detective genre, refreshed, updated and styled cleverly for young readers just ready to sink their teeth into solving puzzling crimes.
256 pages / Reviewed by Jennifer Caddick, teacher
Suggested Reading Age 7+
Other titles