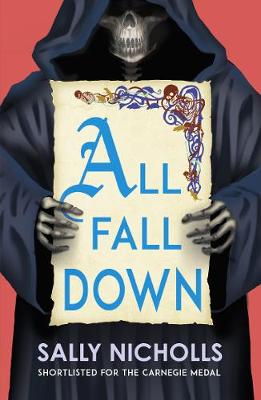 By Author / Illustrator
Sally Nicholls
Genre
Historical Fiction
Age range(s)
11+
Publisher
Andersen Press Ltd
ISBN
9781783449316
Format
Paperback / softback
Published
05-09-2019
Synopsis
A deadly contagion races through England...Isabel and her family have nowhere to run from a disease that has killed half of Europe. When the world she knows and loves ends for ever, her only weapon is courage.The Black Death of 1349 was the deadliest plague in human history. All Fall Down is a powerful and inspiring story of survival in the face of real-life horror.
Q&A with author Sally Nicholls
Reviews
Joanne
I love a good historical fiction novel and this one did not disappoint. All Fall Down is a gripping narrative that will have you hooked right from the offset; the moment I read the blurb for this novel, I could already think of at least 10 of my students who will be queuing up to read this book.

This story is fantastically engaging for teen readers and for those who are looking for something a bit more 'real'. Frequently I get requests from parents for recommends of books that are historically based or fiction, but with a non-fiction feel, and this is one I will be recommending to all those parents. What a truly superb story! It is a real rollercoaster of emotions reading this one, so be prepared with a box of tissues.

All Fall Down is based in 1349, the year of the Black Death / Plague / Pestilence. The narrator is teenager Isabel who lives in a little farming village with her large family. She narrates a time before the Pestilence came to her village and her fears of hearing it get so close. Before you know it, as a reader, you are hooked with the narrative of this very real girl and her fears for her family and their wellbeing. Guiltily, I found myself skipping ahead, just to find out who dies and who survives (sorry!) because I was desperate to know.

Soon, the Pestilence has arrived in her village and the Church / funeral bell begins ringing very frequently as more and more people are killed by the disease. Isabel tells her heartbreaking tale of how she tried to protect her family and the lengths she has to go to in order to try to survive.

With twists and turns in the narrative, and a true depiction of the horror people faced during this time period, Nicholls (author) has fantastically brought history to life. I have loved reading this novel and also learnt a lot too thanks to the historical notes in the back; I did not know the Black Death killed 45% of the Population in the UK. Thank you Sally Nicholls for a fascinating and heartbreaking read.

256 pages / Ages 12+ / Reviewed by Joanne Hewish, teacher
Suggested Reading Age 11+
Lynsey
All Fall Down opens in the Yorkshire village of Ingleforn with the prophetic account of how that year it rained every day, the sheep died and the crops failed and how as the year progresses, the stories that the travellers to Ingleforn share with the news-hungry villagers change to news of a deadly new sickness sweeping through the cities of England and across Europe.

It is through the eyes of 13-year-old peasant girl Isabel that the unfolding horror of the Black Death reveals itself. At first an abstract and unlikely sickness affecting only sinners in distant cities, but as the sickness draws closer and eventually reaches her home village, Isabel realises that no one is safe.

All Fall Down is an unsparing and naked realising of how the Black Death wrought havoc on everyday people, but also how it became the mechanism for social change - not only societal change but also the beginning of change for women's rights.  Beautifully interwoven through the book is a story of growing up, of life continuing despite grief and loss, and of the choices that we make. It's about love and family. It's about courage and hope. Isabel is and engaging and relatable protagonist.

This book, whilst an incredible work of historic fiction in its own right, would work wonderfully as a companion novel whilst teaching the Black Death - the facts that we teach need to be humanised and All Fall Down does that perfectly.  But, please be warned, this book does not shy away from the bloody and merciless. You will be moved, you will cry and you will truly get an insight into the lives (and deaths) of medieval peasant families.

256 pages / Ages 12+ / Reviewed by Lynsey Southern, school librarian
Suggested Reading Age 11+
Jacob

- Age 11
Because it is fantastical and yet shocking about what had happened at the time of King Edward and how many were not immune to the illness.
Suggested Reading Age 11+
Erena

- Age 14
Personally I did not particularly enjoy this book as I found it very sad and depressing, it is not the sort of book that I would typically enjoy. However it was a well written book with well developed characters that you become attached to throughout, meaning that when misfortune happens you feel lots of empathy towards the characters. I would recommend this book to anyone who enjoys apocalyptic style stories
Suggested Reading Age 14+
jo

- Age 13
It was gripping until the end
Suggested Reading Age 11+
Callum

- Age 13
I would recommend this book as it's a thrilling novel for most teenagers about tragedies as it has it shows many emotions on how they try and fight the black death.
Suggested Reading Age 11+
Other titles