Amazing Activists Who Are Changing Our World: People Power series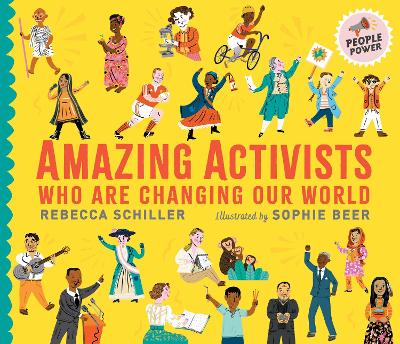 By Author / Illustrator
Rebecca Schiller, Sophie Beer
Genre
Non Fiction
Age range(s)
7+
Publisher
Walker Books Ltd
ISBN
9781406397024
Format
Hardback
Published
07-04-2022
Synopsis
Discover the stories of 20 amazing activists who are caring for our planet and its people.

Fascinating facts about each activist's life and times are accompanied by bright and accessible illustrations, making this book ideal for young children wanting to learn about incredible people who through their brave actions have changed the world for the better.

A practical activity to inspire activism is included alongside each eye-opening story to encourage children to stand up for what they believe in and discover their own activist powers.  Positive, uplifting and packed full of information, this book will show children that no one is too small to make a difference.

Activists featured: Sonita Alizdeh; Rachel Carson; Favio Chavez; Mahatma Gandhi; Jane Goodall; Helen Keller; Martin Luther King Jr; Nelson Mandela; Wangari Maathai; Aditya Mukarji; Emmeline Pankhurst; Autumn Peltier; Boyan Slat; Gareth Thomas; Greta Thunberg; Harriet Tubman; William Wilberforce; Ai Weiwei Emmanuel Ofosu Yeboah; Malala Yousafzai.
See also in the People Power series:  Caring Conservationists;  Inspiring Inventors
Other titles