Amazing Animals: 100+ Creatures That Will Boggle Your Mind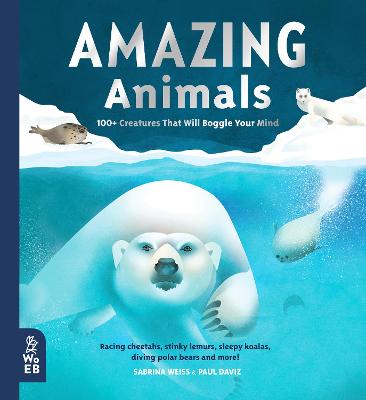 By Author / Illustrator
Sabrina Weiss, Paul Daviz
Genre
Animals
Age range(s)
7+
Publisher
What on Earth Publishing Ltd
ISBN
9781912920358
Format
Hardback
Published
03-02-2022
Synopsis
Discover over 100 of the world's most remarkable creatures in this beautifully illustrated tour of Earth's wildlife.

Animals come in all sorts of weird and wonderful shapes and sizes. From the record breaking tongue of a chameleon to the dashing dance of the peacock spider, you'll learn about the most amazing examples from air, land and sea. Discover playful dolphins, sleepy koalas and even a fish that keeps its babies safe in its own mouth, uncovering the secrets of their survival, the incredible habitats they call home as well as the environmental threats putting them in danger.

A central gatefold offers a world map which reveals the locations of all the animals included in the book.
Also in the series:  Amazing Islands
Reviews
Jacqueline
Amazing Animals lives up to its title with some extraordinary animals featured alongside some truly mind-boggling facts. Children love facts like this and so finding out that the Froghopper bug can jump over a hundred times its own length or that some octopuses use tools is like catnip.
Part of the Our Amazing World series from What on Earth books, this is a truly magnificent book. I am not usually a non-fiction sort of reader and even then, if I do read non-fiction, I usually prefer photos. This book, however, entirely captured me with the extraordinary illustrations. The octopus illustration, for example, makes a very odd looking creature extraordinarily beautiful.
At the centre is a world map, featuring all the animals in the book. There are also all the correct features of a good non-fiction, helpful for teachers, such as contents, index and glossary as well as a full page of sources. The text is quite small and dense so this is a book more for KS2 - but that will not prevent younger children being drawn in by the pictures. A must have for every school library.
64 pages / Reviewed by Jacqueline Harris, teacher
Suggested Reading Age 7+
Other titles