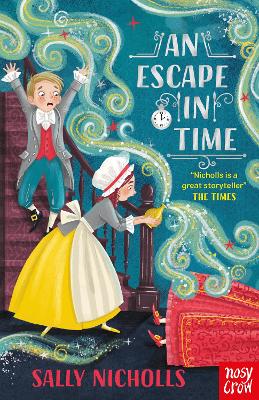 By Author / Illustrator
Sally Nicholls, Rachael Saunders
Genre
Historical Fiction
Age range(s)
7+
Publisher
Nosy Crow Ltd
ISBN
9781788001243
Format
Paperback / softback
Published
06-05-2021
Synopsis
Alex and Ruby are back in their THIRD time-slip adventure, tumbling back into the time of the French Revolution! From multi-award-winning author Sally Nicholls comes another brilliant action-packed adventure for 7+ readers, beautifully illustrated by Rachael Dean.When Alex and Ruby fall through the mirror in their aunt's house, they find themselves in a different historical period, each time with a different task to perform before they can return to the present. From Edwardian crime capers to Victorian Christmasses, their time-slip stories are always exciting and beautifully told.When a furious French aristocrat lands in Alex and Ruby's hallway, they have to hide her in Regency England. Can they stop her causing chaos? Probably not...
Full of action and humour and featuring exciting black-and-white illustrations throughout, this is another superb time-slip story which brilliantly brings history to life as part of an adventure. 'A clever vehicle for introducing the differences between then and now in an accessible way, with a fast-paced plot and a lovely spooky ending' - The Times on A Chase in Time. Have you read Alex and Ruby's other adventures: A Chase in Time, A Christmas in Time and A Secret in Time? Cover illustration by Isabelle Follath.
Reviews
Donna
Alex and Ruby are once again transported by the magic mirror in Applecott House to a different period in history. One of the things I love about these books is that Sally Nicholls, through her stories, manages to present information about what life was like in the past in a way that is easy for children to digest. In this adventure, they are taken to 1795, Regency England; a dangerous time for the aristocracy during the French Revolution. Ruby discovers that Georgian clothes are just as uncomfortable as those in all their previous adventures.
An Escape in Time begins with Jeanne d'Abenny (Countess d'Allonette), her son Camille (Baron de Connett) and Camille's English governess - Miss Eleanor Crouchman - being saved from certain death by Guillotine. The Countess was part of the Queen's court at Versailles, after the Count died. The story introduces us to Frederick Pilgrim, who lived in the house during this period in time. He is to be married to Miss Isabella Broderick (who is none too happy that there are other ladies staying with her betrothed and is extremely jealous).
If you have read the other 'In Time' books, you will know that there is always a reason for Alex and Ruby to go through the mirror to adventure in a different time! A lovely read, again!
201 pages / Ages 7+ / Reviewed by Donna Ritchie, teacher
Suggested Reading Age 7+
Other titles