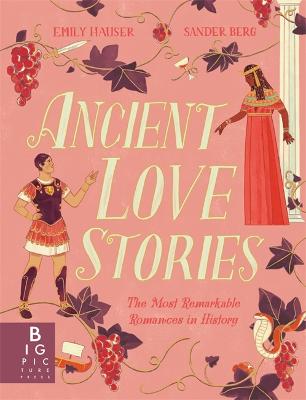 By Author / Illustrator
Sander Berg, Emily Hauser
Genre
Romance & Relationships
Age range(s)
11+
Publisher
Templar Publishing
ISBN
9781800783225
Format
Hardback
Published
28-09-2023
Synopsis
We don't have to look to works of fiction to find tales of true love. The pages of history are crammed with stories about love that are, quite literally, true. And many of them are among the greatest love stories ever told.

Ancient Love Stories brings together some of the most remarkable romances in history - from tales of fearless queens and besotted emperors to men who died fighting for the men they loved. These accounts of passion, jealousy, hope and longing show that perhaps little has changed over the last three thousand years - love, above all, has endured.   Written by award-winning classicist Emily Hauser and with beautiful artwork by illustrator Sander Berg.
Reviews
Sue
Ancient Love Stories retells some of the greatest romances in history, showing that love is a familiar theme across time and culture. The book starts by introducing Sappho, who knew 'how to write about love'. Acknowledging we know little of her, the author explores her life and her love for women, the fragments of her writing and her harsh treatment for trying to break societal boundaries and conventions.
The story of Anthony and Cleopatra may be well known to many through Shakespeare's play, whereas that of Zhuo Wenjun and Sima Xiangru is perhaps less so, yet each tells of deep, life-changing love. There is the fascinating story of the lovers of Pompeii, the incredible tale of Frances Howard and Robert Carr and the love story which resulted in the building of the Taj Mahal, that of Shah Jahan and Mumtaz Mahal.
An intriguing collection of stories, each thoughtfully illustrated.
96 pages / Ages 12+ / Reviewed by Sue Wilsher, teacher
Suggested Reading Age 11+
Other titles