And Everything Will Be Glad to See You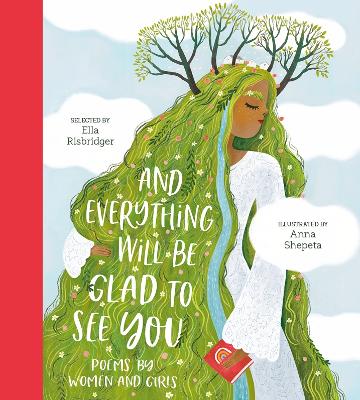 By Author / Illustrator
Ella Risbridger, illus Anna Shepeta
Genre
Poetry
Age range(s)
7+
Publisher
Nosy Crow Ltd
ISBN
9781788009218
Format
Hardback
Published
31-08-2022
Synopsis
A forceful, passionate and uplifting collection of poems by women and girls that is guaranteed to inspire, delight and empower.  From well-loved poets, including Maya Angelou, Wendy Cope, Lucille Clifton and Christina Rossetti, to newer voices such as Amanda Gorman, Yrsa-Daley Ward and Ada Limon, this outstanding collection from talented anthologist Ella Risbridger has poems for every mood and every moment. Ella's selection is wide-ranging but accessible and will appeal to poetry lovers both young and old alike.  With sumptuous finishes including cloth binding, full colour illustrations throughout, textured paper jacket, ribbon marker, and head and tail bands, this is the perfect gift to begin a lifelong love of poetry.
Reviews
Sue
Nosy Crow have set a real precedent for beautifully presented poetry anthologies and this is no exception. The striking cloth bound cover with its stunning illustration is both tactile and tempting. The collection contains a wealth of poems from well-loved, familiar voices to newer poets whose work is a treat to discover.
However, this anthology only contains poems from women and girls. Ella Risbridger, the writer who selected these works, offers a full explanation for her reasons for this in a passionate, enthusiastic introduction (and afterword) to the reader so I will not dwell on this here, but will focus on the poems in And Everything Will be Glad to See You: Poems by Women and Girls!
Although not organised into sections, there is a cohesive feeling to the anthology as the poems seem to flow from one to the next. Each spread glows with Shepeta's beautiful illustrations which capture the essence of the words they accompany. A number of the poems are not only by women, but about women such as Rosa Parks, Malala Yousafzai and Harriet Tubman. Readers can discover the power and beauty of poems such as 'Carving' (Imtiaz Dharker), 'Stars and Dandelions' (Misuzu Kaneko), 'Dancing' (Yang Kuei-Fei) and 'Remember' (Joy Harjo) alongside the classic joy of Eleanor Farjeon's timeless 'Cats'.
There are many poems here which teachers could thread into their teaching or share as part of a story time, exposing their classes to the wonderful range of poets and their work. The beautiful presentation of the collection makes it the perfect gift to pass on the love of poetry.
144 pages / Reviewed by Sue Wilsher, teacher
Suggested Reading Age 7+
Other titles