Are Mummies Scared Of Monsters?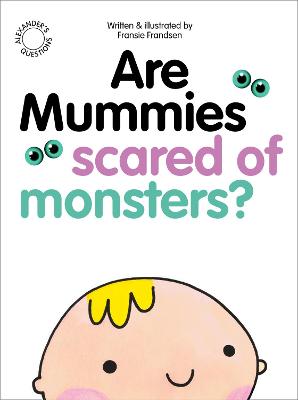 By Author / Illustrator
Fransie Frandsen
Genre
Mental Health & Wellbeing
Age range(s)
5+
Publisher
Whitefox Publishing Ltd
ISBN
9781912892556
Format
Paperback / softback
Published
24-03-2022
Synopsis
Are Mummies scared of monsters?  There's a noisy monster under Alexander's bed.  Baby T's monster has a rumbling tummy.  Daddy has monstrous problems at work.  And Mummy's sister finds monsters in a faraway place.  But what about Mummy?  Join Alexander in his latest colourful quest to find the answer to the puzzling question, Are Mummies scared of monsters?
Reviews
Lizi
There's a monster underneath Alexander's bed and he decides he needs to investigate who is afraid of monsters and who is not! The story is written with humour and is relatively short. Whilst most of the book is simple and easy to follow, there are some nuances (Daddy's 'monstrous' problem at work, for example) that may need explaining to younger readers. The language choice is great - whilst the sentences are easy to read, it uses a wide range of vocabulary and is good for introducing speech to younger readers.
I love the artwork in this book, it's mixed media full of cartoon-like drawings, photographs and collaged materials. Each page is interesting and engaging.
My toddler is a bit of a monster-phobe but this story has been great for showing that monster's are only in stories and that monsters are scared of Mummies! She's asked for it many times, the simplistic text appealing to her. I'm not sure I'd use it in the classroom as part of a lesson but it would be a good one to share at Story time and a great chance to discuss language and the afore mentioned nuances.
Picture book / Reviewed by Lizi Backhouse, teacher
Suggested Reading Age 5+
Other titles